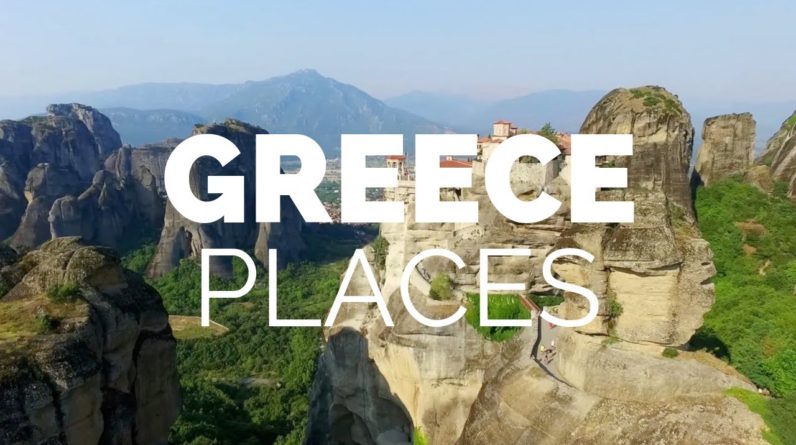 Known for its plethora of ancient ruins, whitewashed villages, sunny beaches, tasty cuisine and friendly atmosphere, it is no wonder that Greece ranks among Europe's top travel destinations. Greece is made up of a mountainous mainland and hundreds of islands where each one offers its own share of stunning landscapes, historic sites and cultural delights. Here's a look at the best places to visit in Greece: Number 10. Cape Sounion Situated at the southernmost tip of the Attica peninsula, Cape Sounion is best known as the site of the ancient Greek temple of Poseidon, the god of the sea. The remains are perched on the headland, surrounded on three sides by the sea.
The sunset over the Aegean Sea, as viewed from the ruins, is a sought-after spectacle.
The site is also a popular day-excursion for tourists from Athens. Number 9. Thessaloniki Thessaloniki is Greece's second-largest city and the capital city of the Macedonian region of Northern Greece. Lively festivals, social events and a buzzing nightlife make this city the cultural capital of Greece.
Comprised of a historic city center and commercial district, Thessaloniki offers both old and new attractions from its Byzantine walls, White Tower and Turkish baths to colorful food markets and museums.
The city's nightlife is unmatched. From small tavernas to nightclubs and other entertainment venues, Thessaloniki offers it all. Number 8. Mykonos Mykonos is famed as a cosmopolitan destination amongst the Greek islands.
Mykonos Town is a stunningly picturesque Greek town with a maze of tiny streets and whitewashed houses. Although the streets are lined with small shops, boutiques, cafes, bars and restaurants, Mykonos Town has not completely lost its identity. Thanks to strict building regulations its traditional Cycladic architectural style and character has remained firmly intact. Number 7. Halkidiki Halkidiki is a trident-like peninsula near the city of Thessaloniki, sporting excellent beaches.
The three separate peninsulas can be roughly summarized as follows: Kassandra has the nightlife, Sithonia has the beaches and Athos has the monks. Being closest to Thessaloniki, Kassandra is more built-up, while the more quiet Sithonia has campgrounds, hidden coves and clear waters. Both are popular with Greek and Eastern European tourists. Much of the easternmost peninsula belongs to the Mount Athos monastic community. It's accessible by boat and open to male pilgrims only.
Number 6. Peloponnese Shaped much like a large leaf, Peloponnese was traditionally called Morea, which means mulberry leaf. Located in the southernmost region of both Europe and Greece, Peloponnese is a wide peninsula connected to the mainland by the Rio-Antirrio bridge.
Interspersed with classical Greek temples, Venetian fortresses, Byzantine churches and Mycenaean palaces, the peninsula echoes the ancient cultures and events from its extensive history. Among these ancient ruins is Olympia, where the first Olympic Games were hosted in honor of Zeus.
Number 5. Delphi Second only to the Acropolis, Delphi is Greece's most popular archaeological site. Located about two and half hours from Athens along the slopes of the awe-inspiring Mount Parnassus, Delphi was once revered by the ancient Greeks as the center of the earth. Dedicated to the god, Apollo, Delphi was an important oracle. In ancient times, people would come to this sacred spot to inquire of the priestess for advice on a wide range of topics from farming to relationships and politics.
Significant ruins and structures include the Temple of Apollo, the Athenian Treasury, the theater and hippodrome that once hosted events of the ancient Pythian Games.
Number 4. Meteora The Greek word meteora means "suspended in the air," and this phrase aptly describes the spectacular cliffs that rise more than 1,200 feet into the air overlooking the villages of Kalambaka and Kastraki in the northern Greece. What makes these cliffs even more inspiring are the historic monasteries perched along the summits. Dating back to the 14th and 16th centuries, the monasteries at Meteora were built by monks seeking spiritual isolation and freedom from religious persecution.
Number 3. Crete The largest of the Greek islands, Crete is a spacious land of pleasing contrasts where landscapes range from stunning coastline to rugged mountains and rolling countryside dotted with olive trees. Bustling cities spread beyond to quiet villages centered around outdoor coffee shops. History lovers will want to explore the many historic and archaeological sites that dot the island such as Knossos Palace, which dates back to the Minoan civilization. Number 2.
Athens Inhabited for more than 3,000 years, Athens is widely known as the cradle of Western civilization and the birthplace of democracy. The city presents a confusing blend of historical and modern features. Athens is famous for its archaeological ruins and monuments such as the famous Acropolis, the Parthenon, the Ancient Agora and the Theatre of Dionysos just to name a few.
However, Athens is not just about ancient ruins. This bustling city is also an important center for culture and nightlife.
Number 1. Santorini Part of the Cyclades, Santorini is famous for its dramatic views, stunning sunsets, the white-washed houses, and its very own active volcano. Fira, the capital of Santorini, is a marriage of Venetian and Cycladic architecture, whose white cobblestone streets bustle with shops, tavernas, hotels and cafes, while clinging on the edge of a high cliff. If you arrive by sea you can take a cable car up from the port or alternatively take a trip on a mule up the 588 zigzagging steps..
7 Kinds of Interesting Travellers
One point that I have located is that when taking a trip, there will certainly be people from all walks of life. Rich people, bad individuals, smart people, stupid people, funny individuals, unfortunate individuals, inspiring people, absurd people …
7 Different Types of Travel
There are as numerous kinds of travel consisting of combinations of the kinds listed below. We choose our traveling locations and also kinds of travel based upon numerous factors. There is no right or upside-down for every person. Consider the options and just go for it and also enjoy the views, seems, little as well as exhilarations of brand-new areas.
3 Common Styles of Travellers
We all like to travel and we take a trip for various factors. Nevertheless, we such as to take a trip in our favored method. The costs of taking a trip differ significantly with each travel design. Know that worth can be attained in all styles of travel with the ideal chances. It is not uncommon for travelers to choose alternating styles of traveling for various experiences.
How to Check the Brakes and Do a Brake Test During Pre-Trip
There is a great deal involved in a full and extensive pre-trip as anyone who has driven for a while can inform you. It is a great deal greater than simply inspect a 'couple of' things.
Studying Online to Improve Travel Safety
With online traveling safety and security training, you can rapidly and also conveniently discover just how to remain safe during international traveling. Find out extra about just how to enhance traveling safety with on-line training.
5 Kid-Friendly Activities for Your Mountain Retreat
For kids, finding an excellent trip resort is extra concerning activities as well as exactly how those activities will develop into enduring memories. While they will absolutely value gorgeous mountain sceneries as well as experiences, it's all concerning what can they do from sunrise to sundown that will make their trip a good one. That makes choosing the right area important for parents that do not intend to be stuck in a situation where they delight in the holiday however the kids discover it boring. So what makes an excellent mountain retreat for youngsters? Activities. Things to do. At all times. Right here are 5 kid-friendly activities for you next hill resort.
Five Travel Tips To Stay Cool While Traveling In Summers
I'm not a big follower of the summertime season, so I like to travel in the winter seasons and spring. I absolutely fear the idea of taking a trip in summertimes as a result of the warm. Summertimes are warm and moist as well as despite which part of the world you are traveling summertimes are always aggravating. Packing your travel luggage, carrying it to the automobile, driving up to the airport, then dragging your travel luggage at safety checkpoints all is difficult job as well as makes you sweat especially much more throughout the summer period.
Adequate Planning Ensures a Hassle Free Traveling Experience
The secret to a stress-free travel is proper preparation. It is suggested to take into consideration all the feasible contingencies that might arise throughout the journey while packing for a trip.
If You're a Smart Traveler, You Won't Fall For This Tourist Trap
Just how to be a clever tourist without making adverse effects on cute pets in the country you go to? Prevent this typical traveler catch picture prop and understand the reason.
Things to Carry When Travelling
Seeking to go taking a trip for a few days? As a female, it can be difficult to divide the essentials from the non-essentials. Right here is an appearance are things you require to always lug with you on your journeys.
Travel Tips That Can Make Your Adventure Memorable
It is a clever suggestion for you to take place a getaway every now and then. This will really aid in rejuvenating your mind and life you can carry out better.