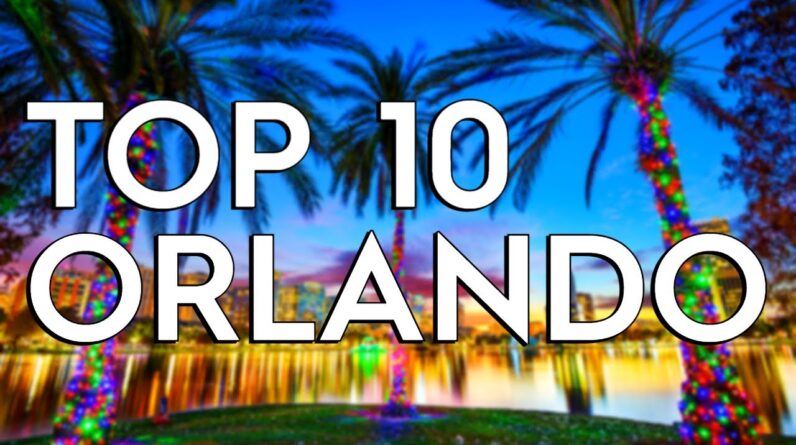 Experience More Than Just Theme Parks: The Top 10 Things to Do in Orlando
Orlando, Florida, is undoubtedly one of the world's most popular destinations, attracting millions of visitors every year. With its abundance of theme parks, it's no secret that Orlando is a top choice for families seeking thrill and adventure. However, there's more to Orlando than just theme parks. From beautiful parks to exciting wildlife preserves, this Florida city has something for everyone. In this article, we will highlight the top 10 things to do in Orlando that go beyond the theme park experience.
10. Gatorland Orlando
Located just south of Orlando City, Gatorland Orlando is a popular tourist destination for nature and wildlife enthusiasts. With a sprawling 110-acre site, this theme park and wildlife preserve is known as the "Alligator Capital of the World." Gatorland promises a fun and interactive experience for visitors of all ages with its observation tower, alligator and crocodile shows, swamp walk, zip-line, alligator training sessions, and daily shows. With so much family-friendly entertainment on offer, Gatorland is a great day out in Orlando.
9. SEA LIFE Orlando
Recently opened in 2015, SEA LIFE Orlando is already a popular attraction for families visiting Orlando. Located on International Drive, the Aquarium offers a variety of exhibits that the whole family can enjoy together. One of its unique features is a 360-degree ocean tunnel that simulates the experience of walking across the ocean floor. Visitors also have access to an interactive rock pool where education hosts explain the lives of coastal creatures, allowing visitors to touch everything in the exhibit, including sea stars and hermit crabs. With over 5,000 sea creatures on display, SEA LIFE Orlando is great for all ages.
8. Old Town in Kissimmee
Free to enter and peruse, Old Town in Kissimmee is a retro landmark and a recreation of a classic Florida town. It offers amusement rides, souvenir shops, and lots of food options. Relax as you stroll through 18-acres of beautiful, tree-lined brick streets and discover over 70 unique and affordable shops and restaurants. You'll find free weekly live entertainment and events, family-friendly attractions, and rides that every generation, young and old, can enjoy together.
7. Disney's Magic Kingdom
Disney's Magic Kingdom is the first-ever theme park in Disney World and remains one of its best attractions. The iconic Cinderella Castle stands as the park's centrepiece, lit up every night at 22:00 by the famous fireworks display. Visitors are welcomed into a whole world of Disney-inspired shows, parades, rollercoasters, rides, and simulators, most of which cater to younger kids. Among the six different 'lands' are Adventureland, Fantasyland, Frontierland, Tomorrowland, Main Street, and Liberty Square. With something for everyone, Disney's Magic Kingdom is a must-visit for families.
6. Kraft Azalea Garden
Located off the beaten path, Kraft Azalea Garden is a public space that the average visitor may not realise exists. Situated on the shore of Lake Maitland, this secluded and unique 5.22-acre park is ideal for a relaxing visit. Pack a picnic and soak up the serenity this lakeside park offers. Then break out your bird-watching binoculars and see how many birds you can spot. You can also enjoy the beauty of the azaleas in bloom and the enormous cypress trees throughout the park.
5. Kennedy Space Centre
Situated on the eastern coast of Florida, around 45 minutes from downtown Orlando, the Kennedy Space Centre is one of the region's most popular attractions. While the site was initially created as a spaceport by NASA, it is now home to various attractions that cater to curious minds of all ages. Visitors can get up close with the original Apollo Saturn V rocket, stand nose-to-tail with the enormous Atlantis Space Shuttle, take a trip out of the ozone in a simulator, or arrange for lunch with a veteran astronaut. The Kennedy Space Centre is a truly out-of-this-world experience.
4. Lake Eola Park
Located near downtown Orlando, Lake Eola offers splendid views, a 9-mile walking trail, and some beautiful swans. The park is recognised as the centrepiece of Orlando, a picture-perfect sanctuary where you can stroll beside a picturesque lake, stop for a picnic lunch in the shade of sprawling oaks, and soak in the colours and perfume of fragrant gardens as you enjoy a leisurely stroll.
3. Cornell Fine Arts Museum
On the beautiful campus of Rollins College, the Cornell Fine Arts Museum holds more than 500 paintings, artefacts and archaeological fragments. The museum has a broad range of paintings, prints, drawings, and sculptures. The collection extends from ancient to contemporary art, with a particularly strong emphasis on European and American art from the 14th through the 20th century. If you love art, The Cornell Fine Arts Museum is a must-see during your Orlando visit.
2. Fort Christmas Historical Museum & Park
Fort Christmas is easily one of the best free things to do in Orlando. It is located in Christmas, just off State Road 50, twenty miles east of Orlando. Visitors can see the full-size replica of Fort Christmas, which was originally built for the Second Seminole Indian War. Included are seven restored pioneer homes and exhibits showing pioneer life from the 1870s through the 1930s. Key themes are homesteading, cattle, citrus, hunting, fishing, and trapping. The park has three picnic pavilions that have large barbecue grills, electrical outlets, and water hoses. There is also a playground with swings, a slide, a fort-looking jungle gym, and an area for small children. Fort Christmas Historical Museum and Park offer a great family day out!
1. Universal Island of Adventure
Topping the bill of things to do in Orlando has to be Universal's Islands of Adventure. While other theme parks in the area tend to cater to certain age groups or tastes, Islands of Adventure has it all. Live action stunt shows entertain the kids, rollercoasters and themed rides tower overhead, and immersive simulators place you in the middle of your favourite movie. Opened in 1999, Islands of Adventure is made up of seven different areas, with the latest 'Wizarding World of Harry Potter' pulling in the most visitors each day, alongside the likes of 'The Lost Continent,' 'Toon Lagoon,' 'Jurassic Park' and 'Marvel Super Hero Island.' It's no surprise that Universal's Islands of Adventure is a top attraction in Orlando.
Conclusion
In conclusion, Orlando is more than just theme parks and offers an abundance of activities and attractions that cater to all ages and interests. From wildlife encounters to cultural experiences, Orlando promises a diverse and exciting range of things to do that not only make for a fantastic vacation but also provide lifelong memories. So, whether you're planning a family vacation or a weekend getaway, make sure to check out the top 10 things to do in Orlando beyond the theme parks.