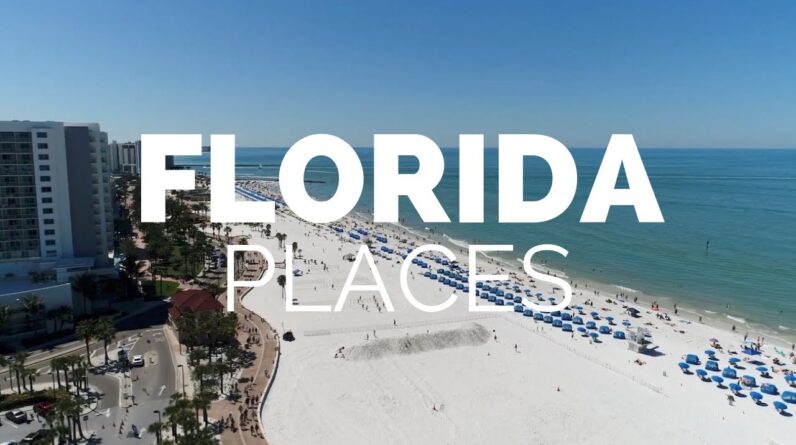 Exploring the Best of Florida: From Beaches to Space Centers
When most people think of Florida, they envision sunshine, beaches, them parks, and alligators. However, this former Spanish colony has a lot more to offer than just these attractions. Bordered by the Atlantic Ocean and the Gulf of Mexico, Florida has mile upon mile of white sand beaches and moderate climate that makes it a popular tourist destination all year round. This article will take you through the ten best places to visit in Florida, including unique and iconic attractions.
Number 10: Kennedy Space Center
Located on the coast of Florida, Cape Canaveral boasts of various space-related attractions, including the renowned Kennedy Space Center. Set up as NASA's primary launch site for human spaceflight in 1968, the space center presently exists to launch unmanned rockets. Here, visitors can learn about the early pioneers of space exploration while also experiencing the thrilling tension and excitement surrounding the rush to the moon. Additionally, visitors can participate in the Shuttle Launch Experience, which replicates space travel.
Number 9: Naples
With its rustic beginnings, Naples now stands as one of the wealthiest cities in the United States, with its houses selling for more than $40 million. Unique among Sanibel and Captiva Islands, development along the shoreline is restricted to residential property. The city's bay is said to be more beautiful than Naples Bay in Italy, giving it its name. Besides the city's beautiful beach, nearby wildlife refuges make it a popular tourist destination. Naples also boasts of vibrant arts and shopping districts.
Number 8: St. Augustine
St. Augustine is the oldest continuously occupied European settlement in the United States, founded in 1565 by Spanish explorers. Its National Historic Landmark District is a major tourist destination, with narrow colonial streets lined with outstanding restaurants and interesting locally-owned shops, creating a walkable downtown. A trio of grand hotel buildings towers over the reconstructed historic houses. St. Augustine also offers prime access to the Atlantic Ocean and year-round sunshine, like many other coastal Florida cities.
Number 7: Fort Lauderdale
Fort Lauderdale was once a popular Spring Break destination. Today, it is a sophisticated cultural center with an increasingly upmarket social scene. Known as the "Venice of America" due to its expansive canal system, Fort Lauderdale stands on the Atlantic Ocean, about 23 miles north of Miami Beach. It has an impressive tourist infrastructure, including hotels, golf courses, marinas, and museums. The city's Port Everglades is one of the busiest cruise-ship ports globally, and megaships depart daily for the Caribbean, Mexico, and beyond. The most popular section of the city beach is called "The Strip," with numerous eating and drinking establishments along the land side of the beach road.
Number 6: Clearwater Beach
Separated by the Intracoastal Waterway from the city of Clearwater, Clearwater Beach boasts of miles of white sandy beaches, which USA Today named Florida's Best Beach Town in 2013. Besides swimming and sunbathing, visitors can engage in various activities, such as kayaking, fishing, sailing, and dolphin tours. Clearwater Beach also hosts numerous events throughout the year, like the Clearwater Jazz Festival, taking place in October. Visitors can also take in the weekly sunsetting festival at Pier 60, which is a sports fishing pier.
Number 5: Everglades
The Everglades are one of Florida's most significant natural treasures, featuring various ecosystems such as sub-tropical jungles, saw-grass prairies, swamps, and the Western Hemisphere's largest mangrove complex. The Everglades National Park protects most of the Everglades, offering shelter to multiple birds, reptiles, and fish, including endangered species like the American crocodile and the Florida panther. Visitors can arrange boat tours to the Ten Thousand Islands, a labyrinth of mangrove islands, from the Gulf Coast Visitor Center. Other visitor centers offer ranger-led tours and programs, and airboat tours are one of the most thrilling ways to experience the Everglades.
Number 4: Tampa Bay Area
Tampa Bay, a large natural harbor that includes the cities of Tampa and St. Petersburg, is one of the prime destinations in the Gulf of Mexico. Tampa is the home of the NFL's Tampa Bay Buccaneers. Family-oriented activities include Busch Gardens, a theme park with Florida's best roller coaster rides, and a zoo dedicated to animals from Africa's Serengeti Plain. St. Pete Beach, located near Tampa Bay, was named TripAdvisor's best beach in the United States in 2012, thanks to its white sand beaches and clear water.
Number 3: Orlando
Orlando is the theme-park city, with more theme parks than any other place globally, such as Walt Disney World, Epcot Center, Universal Studios, SeaWorld, and Gator Park. These theme parks, which bring 51 million visitors annually to this city of two million people in central Florida, make it one of the most visited cities in America. Additionally, the city serves as home to the University of Central Florida, which has the second-largest enrollment of any college in the United States. The city enjoys less impact from hurricanes than other Florida regions, making it a great place to experience Florida.
Number 2: Miami
Miami is one of the most vibrant cities in the USA, famous for its Latin culture and sizzling nightlife. Located off the coast of the Atlantic Ocean in southeastern Florida, Miami is a major port city managing the highest number of passenger cruise ships globally. Attracting tourists from all over the world, Miami is a melting pot of ethnic cultures with an extensive selection of thrilling attractions and activities. One of Miami's main attractions is its sunny beaches, ranging from family-friendly scenes to party scenes. Miami Beach, located across the bay from Miami on a barrier island, boasts of its Art Deco architecture and glamorous South Beach.
Number 1: Florida Keys
The Florida Keys are a 120-mile-long chain of tropical islands curving around the base of the Florida peninsula, connected to the mainland by a series of bridges. One of the most spectacular bridges is the Seven Mile Bridge in the Lower Keys, which has featured frequently as a film location in movies like True Lies and Fast 2 Furious. US Highway 1, also known as the "Overseas Highway," runs from Key Largo through the Lower Keys and finally to Key West, the most iconic of the Florida Keys. Visitors to the Florida Keys can explore its unique history, diverse marine life, and enjoy several water activities like snorkeling, diving, kayaking, and more.
Conclusion
In conclusion, Florida has various destinations to visit, all of which offer unique experiences. From the space center to the beaches, and the unique natural environments, visitors will be spoilt for choice when visiting Florida. The cities, towns, and islands all offer different experiences, making Florida an ideal vacation destination, whether traveling solo, with friends, or with family.