If you're seeking an unforgettable adventure filled with stunning landscapes, vibrant culture, and unique wildlife, traveling to Australia should be at the top of your list. From the iconic Sydney Opera House to the breathtaking Great Barrier Reef, Australia offers a plethora of natural wonders and urban delights for all types of explorers. With its warm weather, friendly locals, and countless outdoor activities, Australia is the perfect destination to immerse yourself in a true paradise. So pack your bags, embrace the spirit of adventure, and get ready to embark on an extraordinary journey through the land Down Under
Natural Beauty of Australia
Australia is renowned for its stunning landscapes that will take your breath away. From the rugged Outback to the picturesque coastlines, there is something for everyone to marvel at. The country is home to diverse landscapes, including ancient rainforests, impressive mountain ranges, and vast deserts. The sheer beauty and diversity of the Australian landscape make it a paradise for nature lovers and outdoor enthusiasts alike.
Stunning Landscapes
One cannot talk about the natural beauty of Australia without mentioning its iconic landmarks. From the iconic Uluru, rising majestically from the dusty red plains of the Northern Territory, to the spectacular Twelve Apostles along the Great Ocean Road in Victoria, Australia boasts some of the most breathtaking natural formations in the world. The vibrant colors of the Kimberley's Bungle Bungle Range and the stunning gorges of Karijini National Park are also a sight to behold.
Great Barrier Reef
No trip to Australia would be complete without a visit to the Great Barrier Reef, one of the seven wonders of the natural world. This vast ecosystem stretches over 2,300 kilometers and is home to an abundance of marine life, including colorful coral reefs, tropical fish, and majestic sea turtles. Whether you choose to snorkel, scuba dive, or take a scenic helicopter ride, exploring the Great Barrier Reef is an experience that will stay with you forever.
Unique Wildlife
Australia is famous for its unique wildlife, much of which is found nowhere else on earth. From cuddly koalas to playful kangaroos, encountering these fascinating animals is a must-do while visiting the country. Take a trip to Kangaroo Island, often referred to as Australia's Galapagos, where you can observe sea lions, wallabies, and an array of bird species. Explore the Daintree Rainforest in Queensland, where you might spot a cassowary, the prehistoric-looking flightless bird. Australia's wildlife will leave you in awe of the incredible biodiversity found in this part of the world.
Rich Indigenous Culture
Australia's Indigenous culture is as diverse and vibrant as its natural landscapes. The Aboriginal people have a deep connection to the land, and their culture and traditions have been passed down for thousands of years.
Learn about Aboriginal history
Visiting Australia gives you the opportunity to learn about the rich history and ancient traditions of the Aboriginal people. Explore ancient rock art sites in Kakadu National Park or venture into Arnhem Land to experience the traditional way of life. Engage with the local Aboriginal communities and gain a deeper understanding of their customs and spiritual beliefs.
Traditional art and performances
Aboriginal art is recognized and admired worldwide for its unique style and deep storytelling. From intricate dot paintings to vibrant ceremonial dances, experiencing Aboriginal art and performances is a true cultural immersion. Attend a traditional corroboree or visit art galleries that showcase the works of talented Aboriginal artists. Immerse yourself in the world's oldest living culture and gain a new appreciation for Australia's Indigenous heritage.
Adventure and Outdoor Activities
For adrenaline junkies and outdoor enthusiasts, Australia offers a wide range of thrilling activities to get your heart pumping and your spirits soaring.
Surfing
With over 30,000 kilometers of coastline, Australia is a paradise for surfers. From the renowned breaks of Sydney's Bondi Beach to the world-class waves of Western Australia's Margaret River, there is a surf spot to suit every level of experience. Whether you're a seasoned pro or a beginner wanting to learn, catching a wave in Australia is an exhilarating experience like no other.
Scuba diving
Australia is home to some of the best diving sites in the world, thanks to its incredible marine biodiversity. Dive the pristine waters of the Great Barrier Reef and marvel at the vibrant coral gardens and abundant marine life. Explore the underwater caves of the Nullarbor Plain or dive with playful seals in South Australia. Whether you're an experienced diver or a beginner, Australia's underwater world will leave you in awe.
Hiking
Australia's vast and diverse landscapes provide endless opportunities for hiking and exploring. Embark on the famous Overland Track in Tasmania and trek through ancient rainforests and alpine meadows. Discover the dramatic landscapes of the Blue Mountains near Sydney or hike to the summit of Mount Kosciuszko, the highest peak in mainland Australia. With numerous national parks and walking trails, there is always a new adventure waiting to be discovered.
Thriving Cities
Australia's cities offer a vibrant mix of culture, entertainment, and thriving urban environments. Each city has its own unique character and attractions, making it worth exploring.
Sydney – The Harbor City
Sydney, Australia's largest city, is famous for its stunning harbor and iconic landmarks. Take a stroll along the Sydney Opera House, visit the historic Rocks district, or soak up the sun on the pristine beaches of Bondi and Manly. Indulge in world-class dining, shop at trendy boutiques, and immerse yourself in the bustling atmosphere of this cosmopolitan city.
Melbourne – Cultural Hub
Melbourne is known for its vibrant arts scene, multicultural cuisine, and eclectic street art. Explore the laneways and alleys adorned with colorful graffiti and discover hidden bars and cafes. Immerse yourself in art and culture at the National Gallery of Victoria or catch a live performance at one of the city's many theaters. Melbourne's unique blend of creativity and sophistication makes it a haven for artists and art lovers alike.
Brisbane – Outdoor Lifestyle
Located in the tropical state of Queensland, Brisbane offers a relaxed and outdoor-focused lifestyle. Explore the South Bank Parklands, a riverside oasis with lush gardens, sandy beaches, and vibrant markets. Visit the Lone Pine Koala Sanctuary and get up close and personal with these adorable marsupials. With its warm climate and friendly locals, Brisbane is the perfect city to unwind and bask in the laid-back Australian lifestyle.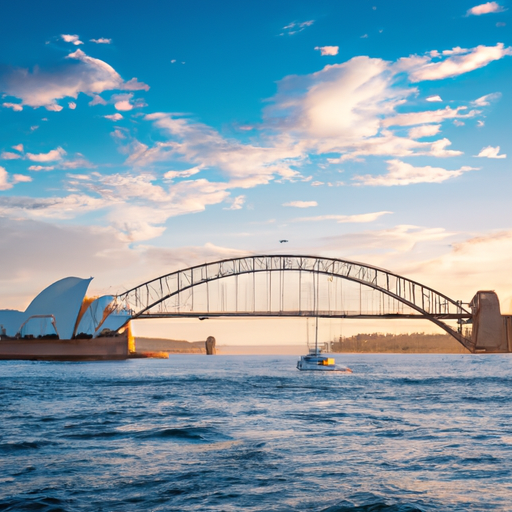 Food and Wine
Australia is a food lover's paradise, with its fresh local produce, multicultural influences, and world-class wine regions.
Fresh Seafood
Being surrounded by oceans on all sides, Australia is renowned for its abundance of fresh seafood. Enjoy succulent prawns, freshly shucked oysters, and mouthwatering fish, straight from the pristine waters. Whether you're indulging in a seafood feast at a waterfront restaurant or enjoying a simple fish and chips picnic on the beach, the flavors of Australia's seafood are sure to delight your taste buds.
Gourmet Produce
From farm-fresh vegetables to premium cuts of meat, Australia's gourmet produce is second to none. Explore the bustling farmers markets and taste the array of local cheeses, cured meats, artisan bread, and delectable desserts. With its diverse climate and fertile soil, Australia produces a wide range of high-quality ingredients that inspire chefs and food enthusiasts from around the world.
Wine Regions
Australia is home to world-renowned wine regions that produce exceptional wines. From the cool climate wines of the Yarra Valley in Victoria to the renowned Shiraz of the Barossa Valley in South Australia, there are countless wine regions to explore and sample. Take a vineyard tour, meet passionate winemakers, and savor the flavors of Australia's award-winning wines. Whether you prefer red, white, or sparkling, Australia's wine regions have something to satisfy every palate.
Unique Festivals and Events
Australia is known for its vibrant and diverse festivals and events that celebrate everything from arts and culture to food, sports, and music.
Sydney New Year's Eve
Sydney's New Year's Eve celebrations are world-famous, attracting millions of spectators from around the globe. The city comes alive with fireworks, light shows, and music, creating a magical atmosphere along the iconic Sydney Harbour. Celebrate the start of the new year in style and witness one of the most spectacular fireworks displays in the world.
Melbourne Cup
The Melbourne Cup, Australia's most prestigious horse race, is a significant event on the social and sporting calendar. Known as the "race that stops a nation," it brings together fashion, entertainment, and thrilling horse racing. Join the excitement and indulge in a day of glamour and excitement at Flemington Racecourse.
Vivid Sydney
Vivid Sydney is an annual festival of light, music, and ideas that transforms the city into a mesmerizing wonderland. Marvel at the stunning light installations that illuminate the iconic Sydney Opera House and Harbour Bridge. Immerse yourself in the vibrant atmosphere of live music performances, thought-provoking talks, and interactive art displays. Vivid Sydney is a celebration of creativity and innovation not to be missed.
World-Class Beaches
Australia's beaches are renowned worldwide for their pristine beauty and crystal-clear waters. Whether you're looking to relax on sandy shores or engage in thrilling water activities, Australia's beaches have it all.
Whitehaven Beach
Located in the Whitsunday Islands, Whitehaven Beach is a tropical paradise with its pure white silica sand and crystal-clear turquoise waters. Stretching over seven kilometers, this untouched retreat is often voted as one of the world's best beaches. Take a leisurely stroll along the shoreline or snorkel in the vibrant coral gardens to discover a world of marine wonders.
Bondi Beach
No visit to Sydney is complete without a trip to Bondi Beach, Australia's most iconic beach. Surrounded by trendy cafes, bars, and boutique shops, Bondi offers a lively atmosphere and endless opportunities for beachside fun. Learn to surf, take a refreshing dip in the ocean, or simply relax on the golden sands and soak up the sun. Bondi Beach is the perfect place to experience the quintessential Australian beach culture.
Great Ocean Road
Stretching along the south-eastern coast of Victoria, the Great Ocean Road showcases rugged coastlines, towering cliffs, and dramatic rock formations. Witness the famous Twelve Apostles, limestone stacks that rise majestically from the Southern Ocean. Explore picturesque seaside towns, spot koalas in the eucalyptus forests, and take in breathtaking ocean views at every turn. The Great Ocean Road is not only a scenic drive but also a journey through some of Australia's most spectacular coastal landscapes.
Historical Sites
Australia has a rich history that dates back thousands of years, and exploring its historical sites allows you to step back in time and gain a deeper understanding of the country's past.
Port Arthur
Located in Tasmania, Port Arthur is a UNESCO World Heritage-listed convict site that offers a fascinating glimpse into Australia's colonial history. Explore the ruins of the former penal colony and learn about the harsh conditions endured by convicts during the 19th century. Take a guided tour, visit the museum, and immerse yourself in the stories that shaped Australia's convict past.
Uluru-Kata Tjuta National Park
Uluru, also known as Ayers Rock, is one of Australia's most recognizable landmarks. Located in the heart of the country's Red Centre, this massive sandstone rock formation holds great cultural and spiritual significance to the Aboriginal people. Explore the surrounding Kata Tjuta rock formations, take a guided walk around the base of Uluru, and witness the breathtaking colors of the rock at both sunrise and sunset. This ancient site is a testament to the enduring presence of Indigenous culture in Australia.
Sydney Opera House
The Sydney Opera House is an architectural marvel and an iconic symbol of Australia. Designed by Danish architect Jørn Utzon, this UNESCO World Heritage-listed site attracts millions of visitors each year. Take a guided tour of the opera house and learn about its fascinating history and unique design. Attend a world-class performance or simply admire the stunning sails from the outside. The Sydney Opera House is a must-visit destination for art, culture, and design enthusiasts.
Thriving Art and Music Scene
Australia's cities are vibrant hubs for art and music, with a thriving creative scene that offers a diverse range of experiences.
Street Art in Melbourne
Melbourne is renowned for its vibrant street art scene, with laneways and alleys adorned with colorful murals and graffiti. Explore famous street art hotspots such as Hosier Lane and AC/DC Lane and witness the creativity and expression that fills the city's walls. Discover hidden art installations, independent galleries, and street performers that contribute to Melbourne's reputation as a street art capital.
Sydney Opera House performances
The Sydney Opera House is not only an architectural masterpiece but also a world-class performing arts venue. From ballet and opera to theater and concerts, the opera house hosts a diverse range of performances that cater to all tastes. Experience the magic of a live performance against the backdrop of the stunning harbor and enjoy the talent of renowned artists and ensembles from around the world.
Live music venues
Australia has a rich music scene, with live music venues scattered across its cities. Whether you're into rock, jazz, indie, or electronic music, there is always a gig or a music festival happening somewhere. Discover up-and-coming local artists at intimate venues or catch world-famous bands and artists at iconic concert halls. Get swept up in the infectious energy of Australia's live music scene and create unforgettable memories.
Friendly and Laid-Back Atmosphere
One of the things that makes Australia truly special is its friendly and laid-back atmosphere. Australians are known for their warm and welcoming nature, making visitors feel right at home.
Welcoming locals
Australians are renowned for their friendliness and hospitality. Locals are always ready to lend a helping hand, offer travel tips, or strike up a conversation. Don't be surprised if someone offers to show you around their city or invites you for a barbecue. Australians' easygoing and approachable nature will make your trip even more enjoyable and memorable.
Relaxed lifestyle
In Australia, the pace of life is often slower and more relaxed compared to other countries. Embrace the laid-back lifestyle and take time to enjoy the simple pleasures. Whether it's sipping a coffee at a sidewalk café, going for a leisurely stroll along the beach, or simply enjoying the stunning sunsets, Australia encourages you to slow down, unwind, and appreciate the beauty of life.
In conclusion, Australia, with its natural beauty, rich Indigenous culture, adventure activities, thriving cities, delicious food and wine, unique festivals, historical sites, vibrant art and music scene, and friendly atmosphere, is a dream destination for travelers seeking an unforgettable experience. From exploring the breathtaking landscapes to immersing yourself in the ancient traditions, Australia has a myriad of experiences to offer to every traveler. So pack your bags and get ready to embark on an adventure of a lifetime in the Land Down Under!