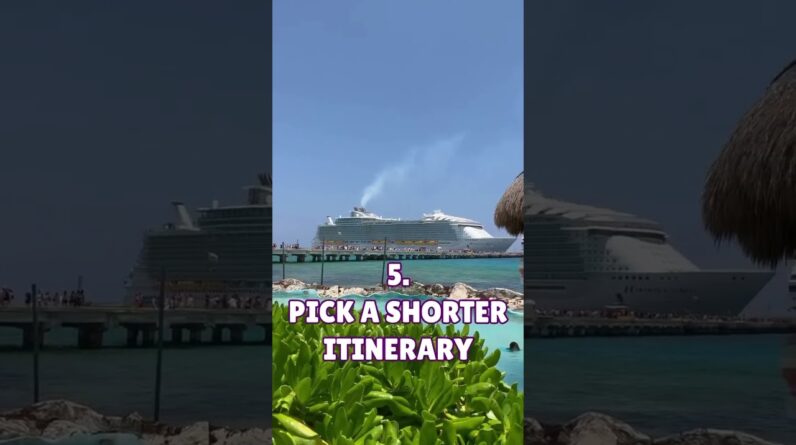 Welcome to our blog post, where we are excited to share with you 10 foolproof cruise money saving tips that always work! If you're looking to embark on a cruise adventure without breaking the bank, you're in the right place. We understand the importance of getting the most out of your travel budget, and we're here to help you make every penny count. Our tried and tested money-saving strategies will ensure that you can enjoy all the incredible experiences and luxuries a cruise has to offer, without worrying about overspending. So, join us as we reveal our insider secrets to saving money on your next cruise vacation!
Introduction
Are you dreaming of a fabulous cruise vacation but worried about breaking the bank? Well, worry no more! We are here to share with you ten foolproof cruise money-saving tips that always work. With these tried and tested strategies, you can enjoy a delightful cruise experience without emptying your wallet. So pack your bags, grab your sunscreen, and get ready to set sail on an unforgettable adventure!
Tip 1: Book during Off-Peak Times
One of the best ways to snag the cheapest cruise deals is by booking during off-peak times. Peak seasons, such as summer vacations and holidays, tend to drive up the prices. By choosing to cruise during less popular times, like shoulder seasons or weekdays, you can save a significant amount of money. So, be flexible with your travel dates and watch those prices drop!
Tip 2: Start Planning Early
To score the best deals, it's crucial to start planning your cruise vacation at least six months in advance. This will give you ample time to research various cruise lines, destinations, and itineraries. By keeping a watchful eye on prices and promotions, you can pounce on those irresistible deals as soon as they become available. Early birds always get the worm, or in this case, the perfect cruise deal!
Tip 3: Keep an Eye on Promotions
While researching your cruise options, make sure to watch for promotions from both cruise lines and travel agents. Cruise lines often offer special discounts, onboard credits, or free upgrades to attract more passengers. Travel agents, on the other hand, may have exclusive deals and packages that you won't find elsewhere. So keep your finger on the pulse of the latest promotions and grab those savings!
Tip 4: Consider Older or Smaller Ships
Choosing an older or smaller ship can help you save a significant amount of money. While these ships may lack the flashy amenities of newer, mega-sized vessels, they often provide a more intimate and cozy cruising experience. Plus, older ships tend to offer lower base fares and reduced onboard expenses. So hop aboard a charming, cost-effective cruise ship and enjoy a more intimate voyage.
Tip 5: Opt for a Shorter Itinerary
If you're looking to lower the cost of your cruise, opting for a shorter itinerary is a smart move. Longer cruise vacations usually come with higher price tags due to additional port visits and onboard activities. By selecting a shorter voyage, you can enjoy the cruise experience at a fraction of the cost. Don't worry; even a shorter cruise can be packed with excitement and relaxation!
Tip 6: Sail from a Nearby Port
Want to eliminate expensive airfare expenses from your cruise budget? Sail from a nearby port! By embarking from a port within driving distance, you can avoid the hefty costs associated with flying. This way, you can allocate that saved money towards shore excursions, onboard entertainment, or even treating yourself to a special meal. It's a win-win situation!
Tip 7: Consider Booking an Inside Cabin
While a balcony stateroom or a suite may seem tempting, booking an inside cabin is an excellent way to cut down on costs. Since you'll be spending most of your time exploring the ship and enjoying various onboard amenities, the size of your cabin becomes less relevant. With an inside cabin, you can save a substantial amount of money while still enjoying all the exciting activities a cruise ship has to offer.
Tip 8: Go for a Guaranteed Cabin
Booking a guaranteed cabin can provide you with better rates and potential upgrades. When you choose this option, you are guaranteed a cabin within a specific category, but the actual assignment will be determined by the cruise line closer to the departure date. While it involves a bit of uncertainty, it often leads to significant savings and sometimes even an unexpected upgrade to a higher category stateroom. It's like playing a fun game of cabin roulette!
Tip 9: Enlist the Help of a Travel Agent
To find the best cruise deals, always make use of a knowledgeable travel agent. These experts have access to exclusive discounts, insider knowledge, and personal relationships with various cruise lines. They can help you navigate the sea of options and find the itinerary that perfectly matches your preferences and budget. With a travel agent by your side, you can be confident that you're getting the best bang for your buck.
Tip 10: Avoid Additional Costs
Finally, to ensure maximum savings, avoid additional costs that can quickly add up during your cruise. Packages like drink packages, Wi-Fi, and specialty dining may seem tempting, but they often come with hefty price tags. Instead, consider bringing your own beverages, taking advantage of free Wi-Fi in ports, and exploring the wide array of complimentary dining options already available onboard. By being savvy and opting out of these extras, you can keep your budget intact.
Conclusion
A cruise vacation doesn't have to break the bank. By following these ten foolproof cruise money-saving tips, you can enjoy an incredible getaway without stressing over your budget. From booking during off-peak times and watching for promotions to choosing older or smaller ships and cutting down on additional costs, these strategies are sure to make a significant difference in your overall expenses. So, get ready to set sail on a fantastic adventure while keeping your wallet happy!
FAQs
Q: How can I find the cheapest cruise deals?

A: Booking during off-peak times and keeping an eye on promotions are great ways to find the cheapest cruise deals.

Q: When should I start planning my cruise vacation?

A: It's best to start planning at least six months in advance to have ample time to research and snag the best deals.

Q: Are older or smaller ships worth considering?

A: Yes, older or smaller ships can provide a more cost-effective cruise experience without compromising on enjoyment.

Q: What are the benefits of booking an inside cabin?

A: Booking an inside cabin can help you save money while still enjoying all the exciting amenities of a cruise ship.

Q: Why should I consider using a travel agent?

A: Travel agents have access to exclusive discounts and insider knowledge, making them valuable in finding the best cruise deals.