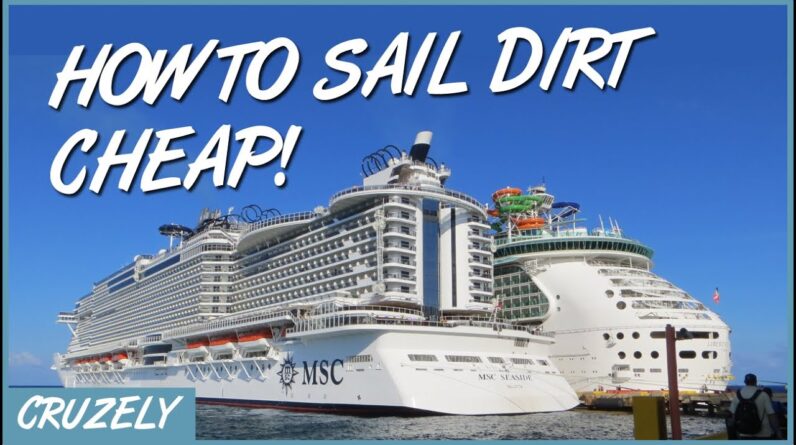 How to Sail for Dirt Cheap
We all love a good deal on a cruise, and the truth is, you can spend as much as you want on setting sail. The key to sailing drastically cheaper is being smart and following the advice shared in this article. Thousands of cruises sail each year and thousands of cabins are on each one of those ships – if you are smart, you can find cabins that give you an entire cruise for less than the cost of a flight alone to most vacation spots.
Be Flexible
Being flexible is by far the most important aspect of what you'll pay. Cruise lines like Carnival and Royal Caribbean tend to have the highest demand when school is out. To sail for cheaper, be flexible and look for dates outside of peak times, such as summer, spring break, or Christmas. Optimal times to cruise with the lowest fares include January and February, as well as the time between Thanksgiving and Christmas.
Consider All Options
Being open to sailing with different cruise lines can increase your chances of finding dirt cheap cruises. After having sailed on multiple lines, it's evident that the experiences are more similar than different. Use aggregator sites like Orbitz to search all the lines at once and filter by price, making it easier to find deals.
Stick to Third-Party Sites
Search one site and be done. Using a third-party search site like Orbitz can give you an idea of what's out there. Once you find a cruise you like, go directly to the cruise line website to book. Don't waste time going from one site to another to compare prices as they will largely be the same.
Sail on an Older Ship
Newer, bigger ships tend to be priced higher than older vessels. Older ships don't have the same buzz or amenities as new ships, but this means they are priced lower to ensure they still sail full. Opting for an older ship can save you hundreds of dollars on your cruise.
Last-Minute Cruise Deals
Last-minute cruise deals are not always the answer to finding dirt cheap cruises. During normal operations, cruise ships usually sail full, and prices can fluctuate. It's rare to see a drastically discounted rate right before a cruise date. If you want to sail for as cheap as possible, focus on booking a bare bones room and be wary of upgrade offers.
Ignore Sales
It makes sense to buy something when it's on sale, right? In cruising, sales don't genuinely affect the overall price. Cruise lines run sales constantly, and the total price often doesn't change much. If you're waiting on sales to book your trip, you might be surprised that prices stay relatively consistent.
Be Aware of Port Fees and Taxes
When booking a cruise, the headline price will grab your attention, but be aware of port fees and taxes. These charges can make a big difference in the overall cost of your cruise.. Keep these fees in mind when searching for cheap cruises.
Book Early and Check Prices
If you find a price you like, go ahead and book it. Booking early can lock in a good price and give you a wide choice of cabins. Check back occasionally to see if the price has changed and call the cruise line for any adjustments to get some money back.
Bonus Tip: Let the Cruise Line Pick Your Cabin
Save money by letting the cruise line pick your cabin. This option can give you a better deal and can be selected during the booking process. There is a chance that you'll end up with an undesirable cabin, but in many cases, this has proven not to be an issue.
Conclusion
By following the advice laid out in this article, you can experience a fantastic cruise vacation for dirt cheap prices. The key is to be flexible, consider all options, and stay on top of fees and taxes. Happy cruising!