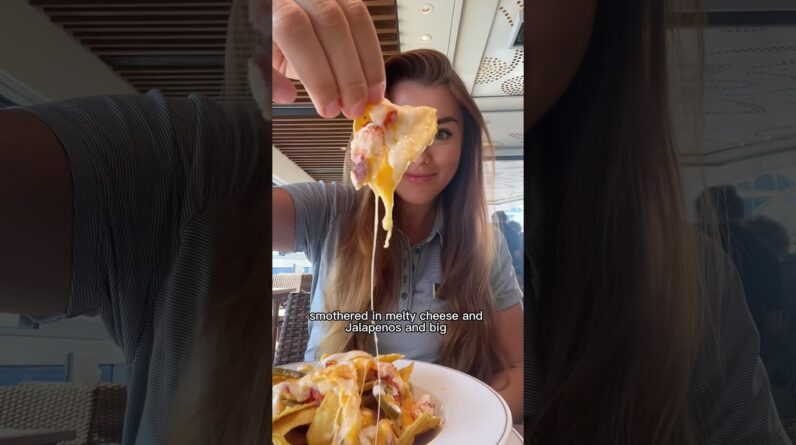 Breakfast: A Decadent Start to the Day with Apple Crumble Cakes and Chocolate Treats
Starting the day off on a cruise ship is always an exciting experience, given the extensive breakfast options available. On this particular day, the mess offered delectable apple crumble cakes. When heated up, these cakes were irresistibly soft, with a buttery cinnamon topping and generously sized chunks of sweet apples. The perfect start to a day at sea!
In addition to the apple crumble cakes, the mess had also prepared little chocolate cakes in cups. Although the cake itself was a bit on the dry side, the rich chocolate ganache on top more than made up for it. Combining the flavors of the apple crumble cakes and the chocolate treats made for a satisfying, indulgent breakfast.
Pro Tip: Heat up your breakfast items for the best taste and texture
It's always worth investing a few extra moments to heat up breakfast items like apple crumble cakes or pastries. A little warmth can transform an ordinary treat into something extraordinary, enhancing the texture and bringing out the flavors.
Lunch: Indulging in a Delectable Serving of Lobster Nachos
Lunchtime on a cruise ship provides a bounty of mouthwatering options, but on this day, the craving for lobster nachos just couldn't be ignored. These scrumptious nachos were smothered in generously melted cheese, accented with tantalizing jalapenos, and studded with large, tender chunks of lobster.
Perhaps the most impressive aspect of these nachos, however, was the quality of the tortilla chips. These chips are an absolute must-try on the ship; they're incredibly crispy and boast a perfectly seasoned, salty flavor that simply can't be found anywhere else.
Exploring Nutritious Lunch Options for Health-Conscious Travelers
Of course, not everyone is looking to indulge during their cruise vacation. For those seeking lighter fare, cruise ships typically offer a wide variety of healthier lunch options, such as salads, grilled fish, and lean meats.
Dinner: Satisfying Cravings on Burger Night and a Taste of Leftover Cheesecake
When the sun starts to set on the horizon, dinner options on a cruise ship can seem nearly limitless. During this particular day, it was Burger Night at the mess—a delight for any burger enthusiast.
To get the most enjoyment out of the experience, it's essential to properly heat up the burger, allowing the cheese to melt just a bit. After adding generous helpings of mayo, ketchup, a slice of tomato, and nestling it all inside a delightfully soft bun, the result was a slightly juicy burger, even if it lacked a bit in seasoning.
But what really set the night apart was the unexpected discovery of leftover cheesecake from tea time. The raspberry cheesecake, in particular, was a highlight; it featured a crunchy, flaky pastry that could only be described as broulade. Its intense sweetness was complemented perfectly by the deeply rich chocolate cheesecake, which boasted a deliciously brownie-like base.
Pairing Dinner with the Perfect Beverage
No meal aboard a cruise ship would be complete without the perfect drink to accompany it. Whether it's a glass of wine with dinner or a refreshing iced tea during a leisurely lunch, there's something for everyone when it comes to cruise ship beverages.
Conclusion: An Amazing Day of Dining and Unexpected Discoveries on a Cruise Ship
Living on a cruise ship definitely has its culinary perks. From irresistible breakfast pastries to satisfying lunchtime lobster nachos, and indulgent dinners of juicy burgers and exquisite cheesecake, there's never a dull moment when it comes to food.
So whether it's your first time setting sail or you're a seasoned cruiser, be sure to explore the vast range of dining options available on your next voyage and indulge in both old favorites and new discoveries. Bon voyage and bon appétit!