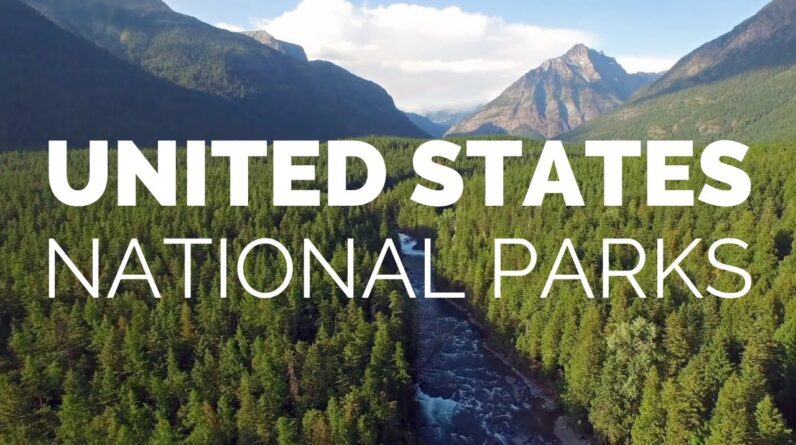 The United States of America is a vast country with a variety of climates and ecosystems. From the temperate rainforests and pine-clad mountains of the Pacific Northwest to the deserts and scrublands of the Southwest, there is no shortage of natural wonders to explore. That's why the country boasts some of the world's most spectacular national parks, each dedicated to preserving the landscapes that make America unique. In this article, we will explore the 25 best national parks in America, each of which offers something different and amazing for visitors of all ages.
Big Bend (Texas)
Big Bend National Park, located in Texas, is known for its dramatic meander of the Rio Grande. With one side of the river belonging to the USA and the other side belonging to Mexico, the park is full of diversity. At almost the same size as Rhode Island, Big Bend offers a plethora of trails to explore. Although the Chisos Basin is the most popular area of the park, it is the Chihuahuan Desert that really captures the essence of nature. Home to real-life roadrunners and coyotes, visitors can witness the beauty of the desert without ever leaving the park boundary.
Saguaro (Arizona)
Saguaro National Park is located in the heart of Arizona's desert region and is home to the classic southwest American cactus that the park is named after. Separated into Eastern and Western portions of the park, the two areas are divided by the city of Tucson. There are many trails to be explored, providing visitors with stunning views of its desert landscape. The Rincon Mountain District is the larger, eastern portion of the park and offers adventurous horseback rides and camping opportunities. Meanwhile, the Tucson Mountain District is well worth the effort, with its spectacular views just waiting to be discovered.
Shenandoah (Virginia)
Located just 75 miles from Washington D.C., Shenandoah National Park is a breathtaking natural wonder that bursts with an abundance of wildflowers in summer and brilliant oranges and reds during autumn. There are lengthy hiking trails to be discovered in this national park, with part of these trails making up around 100 miles of the Appalachian Trail. The climb up to the peak of Old Rag Mountain is strenuous but offers unforgettable views. For those with limited time or energy, the Skyline Drive means stunning vistas from the comfort of your car.
Mesa Verde (Colorado)
Mesa Verde National Park is the perfect spot for nature adventurers, as well as those hoping to learn more about mysterious, centuries-old cultures. This is the site where ancient Puebloans once lived in their cliff dwellings, although how they left, or where they went, remains a mystery. It is forbidden to walk off-trail or enter the ancient dwellings without a ranger, but the Mesa Top Road Circuit that loops around ten of the excavated pueblos offers a chance to learn more about these fascinating old dwellings.
Death Valley (California)
Death Valley National Park may sound like somewhere that's quite hot and challenging, but there's actually an abundance of nature to be enjoyed here. From huge boulders to canyons carved by gushing streams, sand dunes that sing, and soaring mountains to tackle, this national park is full of surprises. True to its title, it is nevertheless a scorching area: one of the hottest spots in the US. For an incredible panoramic view from atop the Black Mountains, visitors can climb to Dante's View and enjoy looking over the southern portion of Death Valley Basin.
Crater Lake (Oregon)
Crater Lake National Park, located in the heart of Oregon, is named after the spectacular lake formed by a volcanic eruption around 7,700 years ago. At 1,943 feet deep, it's the deepest lake in the entire United States. Visitors can marvel at the surrounding craggy mountain peaks which are reflected in the sparkling waters of this magnificent lake's mirror-like surface, making for some truly awe-inspiring photo opportunities. With over 90 miles of trails to explore, this national park is perfect for hiking and nature enthusiasts.
Acadia (Maine)
Acadia National Park is New England's one and only national park, dating back to 1916, and is situated on the coast. The park boasts some dramatic views of this region's storied shoreline, with visitors able to enjoy mountain hikes, strolls along the shore, beautiful bike rides, and drives with stunning vistas that will induce oohs and ahhs. From dense forests and languid lakes to boulder-strewn beaches dotted with lonely lighthouses, there's a surprisingly varied landscape to discover. The famous Mount Desert Island offers sandy beaches and islands to explore.
Canyonlands (Utah)
Canyonlands National Park in Utah is a truly otherworldly place. With a landscape more like you would expect on Mars than Earth, the largest national park in Utah is all about its canyons. These snake around its ancient landscape, which is also punctuated by 1,000-foot-tall White cliffs above the Colorado and Green Rivers, as well as strange rock formations. The park itself is divided into four sections by the rivers forming a Y shape in this rocky stretch of land. Island in the Sky is the most popular area of the park, with incredible views.
Redwood (California)
Redwood National Park lies on the northwestern Pacific Coast in California and is home to some of the tallest trees in the world. The park offers an enigmatic mix of lush coastal scenery and lush prairielands. The ancient redwood trees have branches covered in moss and ferns and are some of the most ancient trees on the planet. There are plenty of trails for visitors to take, as well as campgrounds and backcountry sites for overnight stays.
Grand Teton (Wyoming)
Grand Teton National Park is located in the Rocky Mountains and offers a wild wilderness of 12 peaks sculpted throughout the ages by glaciers. This includes the impressive 13,775 feet tall Grand Teton peak. The beautiful landscape is begging to be hiked, with captivating canyons filled with fresh forests to explore and fragrant wildflowers that provide pops of color. This rugged land also plays host to all manner of beasts, including elks, moose, and bears.
Mount Rainier (Washington)
Mount Rainier National Park – located in Washington state, close to the urban areas of Puget Sound – is named after the active volcano that last erupted as recently as 1854. With 26 glaciers, it is a hiker's paradise, with fabulous hiking trails lacing the foothills and carpets of flowers blooming in spring and summer. Many people try to climb to the snowy peak of Rainier, but it's tough going, with only half the adventurers that attempt the climb making it all the way to the top.
Sequoia (California)
Sequoia National Park is named after the giant redwoods that grow here, also known as the Sequoiadendron giganteum. These trees are some of the largest living organisms on earth and are awe-inspiring to witness in person. Drive-through trees and caves are just a few examples of the park's unique features. Be sure to check out Eagle View to take in breathtaking vistas of the Sierra Mountains.
Arches (Utah)
Arches National Park, located in Utah, is another national park encompassing Martian badlands, with a sandstone landscape that seems to be out of this world. From rock arches to pink and red-striped buttes, this park is full of intricate rock formations. Landscape Arch is one of the largest natural arches in the world and measures 306 feet across. Visitors can explore the park's many short hiking trails, as well as participate in rock climbing and canyoning. The Fiery Furnace – a famous formation – is a must-visit for those seeking to witness nature's beauty firsthand.
The Next 11 Best National Parks
The remaining 11 best national parks in America are:
– Zion (Utah)
– Yosemite (California)
– Olympic (Washington)
– Glacier (Montana)
– Rocky Mountain (Colorado)
– Everglades (Florida)
– Yellowstone (Wyoming, Montana and Idaho)
– Bryce Canyon (Utah)
– Grand Canyon (Arizona)
– Joshua Tree (California)
– Denali (Alaska)
Zion (Utah)
Zion National Park, located in Utah, is home to some of the most breathtaking sandstone cliffs in the world. From towering sandstone rock formations to flowing canyons, this park offers a vast array of hiking trails to explore. Angel's Landing, a strenuous trail that is known for its stunning views from the top, is a favorite for many visitors.
Yosemite (California)
Yosemite National Park is located in California and is known for its towering granite cliffs, thundering waterfalls, pristine forests, and crystal-clear lakes. The park is a popular destination for hikers and rock climbers alike, with iconic landmarks like Half Dome and El Capitan offering breathtaking views of the surrounding wilderness.
Olympic (Washington)
Olympic National Park, located in Washington, is a diverse park that offers everything from alpine peaks to temperate rainforests. From hiking and fishing to exploring the park's marine areas, there's something for everyone here. The park's most famous attraction is the Hoh Rain Forest, with its towering trees and lush fauna.
Glacier (Montana)
Glacier National Park in Montana offers stunning views of jagged peaks and glacier-carved valleys. With an abundance of hiking trails, visitors can explore the park's vast wilderness and view wildlife such as elk, deer, and mountain goats in their natural habitat.
Rocky Mountain (Colorado)
Rocky Mountain National Park is located in Colorado, offering visitors breathtaking views of the Rocky Mountains. From skiing and snowshoeing in the winter to hiking and camping in the summer, this park offers something for everyone year-round. Trail Ridge Road, the park's most famous scenic drive, offers views of peaks over 14,000 feet high.
Everglades (Florida)
Everglades National Park in Florida is unique, offering visitors a glimpse into a completely different environment. With a vast swampland filled with wildlife such as alligators, manatees, and birds, the park is also essential for the protection of endangered species. Visitors can explore the park by canoe or kayak, or walk on the many boardwalks that crisscross the swampland.
Yellowstone (Wyoming, Montana and Idaho)
Yellowstone National Park spans three states – Wyoming, Montana, and Idaho – and is one of America's first national parks. The park offers visitors stunning views of geysers, hot springs, and wildlife such as bison and grizzly bears. Old Faithful, the park's most famous geyser, can be seen erupting every hour or so.