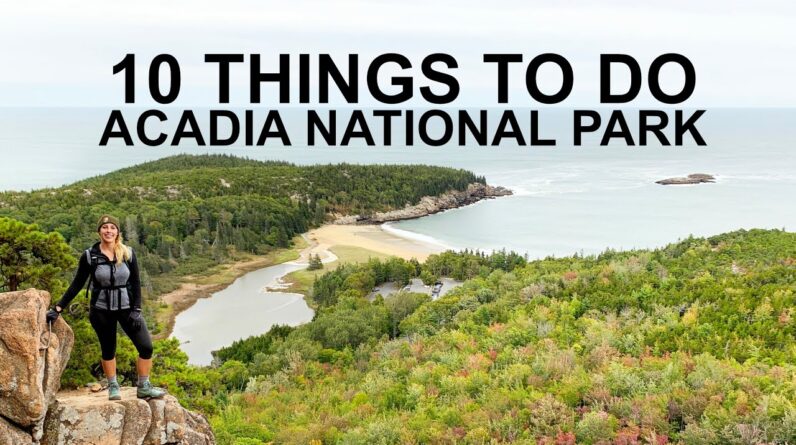 Discover The Beauty Of Acadia National Park
Nestled in the heart of Maine, the Acadia National Park is a paradise for those looking for adventure, fun, and beautiful natural landscapes. In this article, we will explore 10 great things to do in this spectacular park, from hiking to enjoying the local cuisine. Whether you're an adrenaline junkie or simply looking for a relaxing getaway, Acadia has something for everyone. So let's dive in and explore the wonders this national park has to offer.
1. Unwind At Sand Beach
Located on the eastern side of Mount Desert Island, Sand Beach is a beautiful spot where you can relax and take in the stunning views of the ocean. It is one of the few beaches in the area with sand, thanks to its protected cove location. Be sure to explore the tide pools during low tide and keep an eye out for interesting marine life.
Parking and Facilities
With a large parking lot, Sand Beach is easily accessible for visitors. Arrive early to secure a parking spot, as it fills up quickly. Restrooms and changing rooms are available on-site.
2. Visit Bass Harbor Lighthouse
Located on the south end of Mount Desert Island, the historic Bass Harbor Lighthouse is an iconic sight that you won't want to miss. With its picturesque backdrop of rugged cliffs and crashing waves, it's easy to see why this lighthouse is one of the most visited spots in the park.
Parking and Access
Though parking spaces are limited, the lighthouse is accessible by car. You can't go inside the lighthouse, but you can walk a short trail to reach a beautiful viewpoint.
3. Explore Jordan Pond
Whether you prefer hiking, kayaking, or simply relaxing by the water, Jordan Pond is a must-visit. With its serene waters and breathtaking backdrop of mountains, this pond offers a range of activities for visitors of all ages. Don't forget to try the famous popovers at the nearby Jordan Pond House.
Trail and Wildlife
The 3.4-mile loop around Jordan Pond is relatively flat, making it an enjoyable hike for all skill levels. Be on the lookout for wildlife such as beavers and loons.
4. Hike The Precipice Trail
If you're craving an adrenaline-pumping adventure, the challenging Precipice Trail is the perfect hike. With its steep cliffs, breathtaking views, and exhilarating ladder sections, this trail is not for the faint of heart.
Trailhead and Difficulty
The trailhead is located north of Sand Beach, with a parking lot off Park Loop Road. Keep in mind that this trail is best suited for experienced hikers without a fear of heights.
5. Walk The Ocean Path
Spanning from Sand Beach to Otter Point, the Ocean Path is a stunning coastal hike that offers incredible views of the rocky shoreline and crashing waves. Along the way, be sure to check out Thunder Hole, a popular spot where the ocean waves create a thunderous sound as they crash into a small cave.
Trail Length and Highlights
The entire path is 4.5 miles and offers numerous viewpoints and photo opportunities.
6. Discover Bar Harbor
No trip to Acadia would be complete without a visit to the charming town of Bar Harbor. Boasting delicious restaurants, quaint shops, and a picturesque harbor, Bar Harbor is the perfect spot to relax and enjoy local Maine culture.
Things To Do In Bar Harbor
While in Bar Harbor, be sure to try some delicious seafood at one of the many local eateries. Additionally, you can go shopping or simply stroll along the harbor for a relaxing day out.
7. Conquer The Beehive Trail
Similar to the Precipice Trail, the Beehive Trail is a thrilling hike featuring steep climbs, ladders, and narrow ledges with breathtaking views. If you're up for a challenge and not afraid of heights, this trail is a must-do.
Trailhead and Difficulty
You can access the Beehive Loop Trail from the Sand Beach parking lot. Keep in mind that this trail is best suited for experienced hikers without a fear of heights.
8. Drive Park Loop Road
For a more leisurely exploration of Acadia, take a scenic drive along Park Loop Road. This route offers stunning views of the park's diverse landscapes, including rugged coastline, calm glacial lakes, and dense forests.
Exploring The Park
With plenty of pull-off areas and parking lots along the route, you can easily explore several points of interest on foot, such as trailheads and lookout points.
9. Adventure On The Bar Island Path
For a unique hiking experience, head to the Bar Island Path at low tide. This trail takes you across a land bridge that is submerged during high tide, connecting the town of Bar Harbor to Bar Island.
Trail Details and Timing
Plan your hike around low tide to ensure you have enough time to explore the island and return safely. Watch for interesting marine life and bird species as you cross the land bridge.
10. Experience Sunrise On Cadillac Mountain
Finally, end your Acadia adventure by witnessing a breathtaking sunrise from the summit of Cadillac Mountain. As the highest point on the eastern seaboard, this vantage point offers awe-inspiring views that you'll never forget.
Parking and Timing
Arrive at least an hour before sunrise to secure a parking spot and find your perfect viewing location. Bundle up and bring some hot cocoa, tea or coffee to stay warm during this unforgettable experience.
In conclusion, Acadia National Park offers a wealth of activities and experiences for visitors of all ages and abilities. With its stunning coastlines, lush forests, and picturesque towns, Acadia is a destination you won't want to miss. So pack your bags and get ready for an unforgettable adventure. Happy exploring!