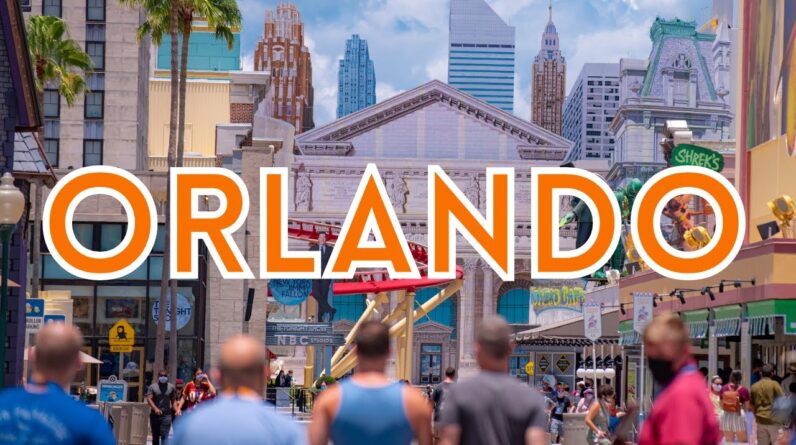 Welcome to Orlando: The Adventure Capital of America
The theme park capital of the world, Orlando, Florida, has virtually endless attractions and entertainment options on offer. In this guide, we'll walk you through Universal CityWalk, internationally renowned International Drive, and impressive Disney Springs while showcasing some of the must-see spots that make Orlando a dream destination for tourists.
Magic Awaits at Universal CityWalk
With two theme parks, Universal Studios Orlando is perhaps the most famous of all the entertainment options in the city. The Harry Potter experience is a popular highlight, and if you're visiting, consider buying a two-park pass to get the most out of your time here.
However, our focus lies on Universal CityWalk – a buzzing district filled with shopping, dining, and entertainment venues that don't require park admission. Here, you'll find a great view of the Universal campus, with signature spots like the Hard Rock Cafe, Margaritaville, and Grill & Brew among others.
CityWalk is perfect for spending hours shopping, relaxing, and taking in the atmosphere that has made Universal Studios a household name. Keep in mind, though, that this is just the beginning of your Orlando adventure!
International Drive: Fun and Flavor in the Heart of Orlando
Ride the Thrills at Icon Park
Located on International Drive, Icon Park offers another fantastic option for a day out without breaking the bank. With amusement rides that are individually priced, you can control your spending and still have a blast on exhilarating attractions like the Icon Park Ferris Wheel, the StarFlyer, and the terrifying Slingshot ride.
Dine and Discover
International Drive is also home to countless dining options that suit a range of palates and budgets. Choose from establishments like the Sugar Factory, Tin Roof, Yard House, and more for a meal that satisfies both your taste buds and your wallet.
Additionally, the area boasts several other attractions perfect for unwinding with friends and family. Play a round of mini-golf at Pirate's Cove, or wander among the beautiful outdoor spaces that line the famous street.
Disney Springs: The Magic of Disney, No Park Required
Offering a taste of the world-renowned Disney experience without requiring park passes, Disney Springs is an outdoor mall and entertainment area perfect for a day of shopping and fun.
Visit the Rainforest Cafe and its beautiful lake, watch live shows at various locations, or explore stores like the World of Disney for a taste of the incredible attention to detail that has made Disney a brand synonymous with imagination.
World-Class Dining
Disney Springs is home to a wide array of eateries, from classics like the Boathouse to unique options such as the Paddlefish. Enjoy waterfront dining or something more casual, all within an environment that celebrates the spirit of Disney.
Planning Your Orlando Adventure
To make the most of your Orlando experience, we recommend spending at least five to seven days exploring the city – this will allow you to get a taste of each major area (Disney Springs, International Drive, and Universal CityWalk) and enjoy the unique offerings of each.
Keep in mind that if you plan to visit each theme park, the cost can add up quickly. However, with careful planning and prioritization, your Orlando adventure can deliver memories that last a lifetime.
Final Thoughts
In conclusion, the countless attractions and entertainment options that await you in Orlando make it easy to see why it's known as the adventure capital of America. We hope this guide has inspired you to plan a visit filled with excitement, discovery, and unforgettable memories. Don't forget to subscribe and stay tuned for more travel guides from around the world!