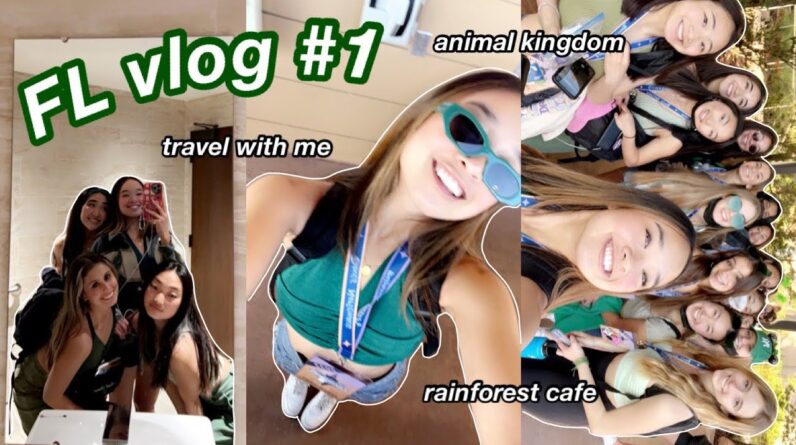 Nicole's Florida Adventure: A Travel Vlog
Introduction
Hey guys, it's Nicole and welcome back to my channel! Today, I am going to take you guys on my travel adventure to Florida. I am so excited to share my experiences with you.
Departure Day
We start the video with my departure day where we are leaving for Florida. The first shot shows me with my luggage and my family, all ready to leave. We say goodbye to our house and head towards the airport.
As we arrive at the airport, we check-in and I show my viewers our green tickets. After the check-in, we then head to TSA for security. Once we go through security, we reach our gate, and we have a little bit of time before our flight. We decide to grab some coffee at the coffee bean, and I introduce Isla and Danny, who are with me.
One thing that I forgot to mention earlier was that it's Wednesday. We are taking a red-eye flight as we are travelling from California to Florida. Our flight leaves later that night, and we will reach Florida early Thursday morning.
We then board the plane and settle in for our long flight. Our journey consists of a five to six-hour flight, and we finally reach Orlando at 5 a.m., their time. As soon as we reach, we take a bus to our hotel. The first thing we have planned is breakfast with our team.
Exploring Animal Kingdom
We start our first day in Florida by heading straight to the Animal Kingdom. We get dressed and take the bus to the park. We are all excited to see the animals, and I decide to show my viewers all the little things that we see along the way.
We catch glimpses of monkeys and have a lot of fun at the Rainforest Cafe, right outside the Animal Kingdom. We then enter the park and check out the pins that they have available. I decide to buy a pink pin with a crown on it, which I add to my backpack.
Throughout the day, we ride on various rides, and I continue to capture all the high points of the day through my vlog camera. We ride on the Avatar ride, which was fantastic, and as the day winds down, we head back to the hotel and rest up for the night.
Hotel Time and Dinner Reservation
As the day progresses, I show my viewers the hotel that we will be staying in while in Florida. I take a quick room tour and introduce my roommates, and we decide to change into our bathing suits and head out to the pool.
Later, we decide to grab dinner at a steakhouse, and I show my viewers how we all got dressed up for the evening. We have a great dinner together, and as the night winds down, we head back to our hotel rooms.
The Last Day
On our last day, we prepare to head back home. We pack our bags and tidy up our hotel room before we head out for our last meal in Florida. We grab breakfast and record some final moments before we head out.
As we wait for our shuttle back to the airport, I express how much fun I have had and how much I will miss Florida. As the video comes to a close, I thank my viewers for joining me on this journey, and I sign off.
Conclusion
In conclusion, I had a fantastic time in Florida, and I'm glad that I could take my viewers along with me on this adventure. I had some amazing experiences, and I hope my video inspires you to visit Florida someday soon. Thank you for reading and watching!