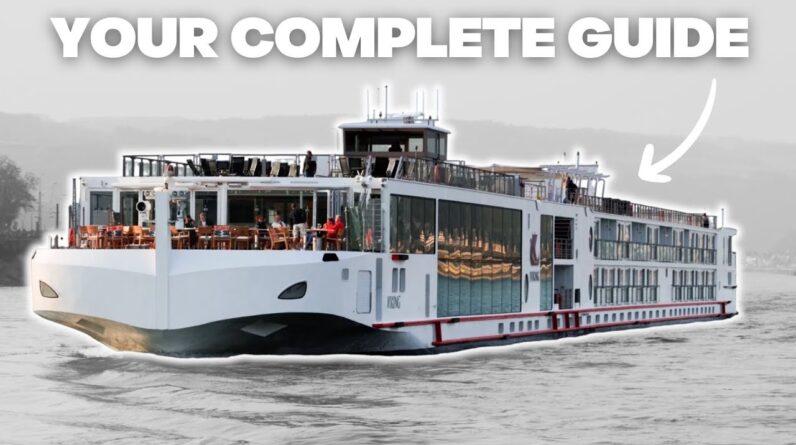 A Complete Guide to Viking River Longships
Introduction to Viking River Longships
Welcome to our complete guide to Viking River longships! With over 60 near-identical longships sailing on the rivers of Europe, there's a good chance you'll find this guide insightful and useful. We'll discuss their innovative design, features, dining options, various staterooms and suites, and give you all you need to decide if Viking is right for you.
History of Viking River Cruises
Viking has been sailing guests around Europe's rivers since its founding in 1997. After using a fleet of pre-owned ships, the company decided to design a ship like no other. The first Viking longship was launched in 2012, featuring an innovative design that fits under the low bridges and locks on the rivers. This design allowed Viking to offer larger suites and increase the total capacity to 190 guests in 95 staterooms.
Spotting a Viking Longship
Viking_longships are recognizable by their square bow design, which increases interior room space, and their off-center placement of the main cabin corridors. This allowed the company to offer balcony staterooms on the starboard side, while the port side features a mixture of suites and staterooms with Juliet balconies.
Since the launch of the first longship in 2012, Viking has christened numerous longships, earning a Guinness World Record in 2014 for naming 18 ships in three ceremonies over five days. Today, Viking operates 55 near-identical longships, with shorter and reduced capacity designs also available in certain regions.
Features of a Viking Longship
A Viking longship's interior is designed with clean, uncomplicated lines and modern Scandinavian style. The front of the ship is dedicated to public areas, the middle features the reception area and two-story atrium, and the rear of the ship houses the accommodations.
Reception Area
The fully glazed reception area is open and flooded with natural light, spanning the middle and upper decks. Here, you'll find seating areas, a small shop, a future cruise desk, an elevator, and the entrance to the main restaurant.
Main Restaurant
Located on the middle deck, the restaurant features large, floor-to-ceiling windows, a central cooking station, and a variety of seating options. It's important to note that there are no tables for two in the entire restaurant, but couples can find tables for two in the Aquavit Terrace.
Upper Deck and Viking Lounge
On the upper deck, guests can enjoy the Viking Lounge, a comfortable space with a bar and ample seating for socializing. The resident entertainer provides live music, and guest entertainers often bring the local culture to life.
Aquavit Terrace
The Aquavit Terrace is the perfect place for alfresco dining or enjoying a drink. With indoor-outdoor space and large glass doors that open to the elements, the Terrace is a popular spot for all times of day.
Sun Deck
The sun deck features simple and functional design, with a walking track, plenty of seating, and shade provided by hydraulic canopies and large parasols. There is no pool or hot tub, and while some may miss these amenities, the included walking tours on Viking cruises can provide a substitute.
Staterooms and Suites on Viking Longships
There are five categories of staterooms on Viking longships: standard, French balcony, veranda, veranda suite, and explorer suite. All rooms feature a modern, Scandinavian design with light woods and creams, providing a fresh and inviting atmosphere.
Standard and French Balcony Staterooms
Standard staterooms are located on the waterline and offer a unique "swan's eye view" of the river. French balcony staterooms are the same depth as standard staterooms, but offer a French balcony for added light and air.
Veranda Staterooms and Suites
Veranda staterooms feature a narrow balcony that offers private outdoor space. Veranda suites have a separate bedroom and living area, with a balcony in the living area and a French balcony in the bedroom.
Explorer Suites
Explorer suites are located at the rear of the upper deck and offer a luxurious, exclusive experience.
Dining on Viking Longships
The dining options on Viking longships include the main restaurant and the Aquavit Terrace, both of which offer the same menus with daily changing selections and always-available classics. Breakfast can be enjoyed in the Aquavit Terrace or the main restaurant, while lunch and dinner offer a wider range of choices among appetizers, main courses, and desserts.
Throughout the day, guests can enjoy complimentary tea, coffee, and cookies at the coffee stations, along with fresh fruit and late-night treats.
Conclusion
Viking River longships offer a modern, functional, and comfortable cruise experience. With plenty of public spaces, comfortable accommodations, and delicious dining options, all you need to do is decide if Viking is the right choice for your next river cruise.