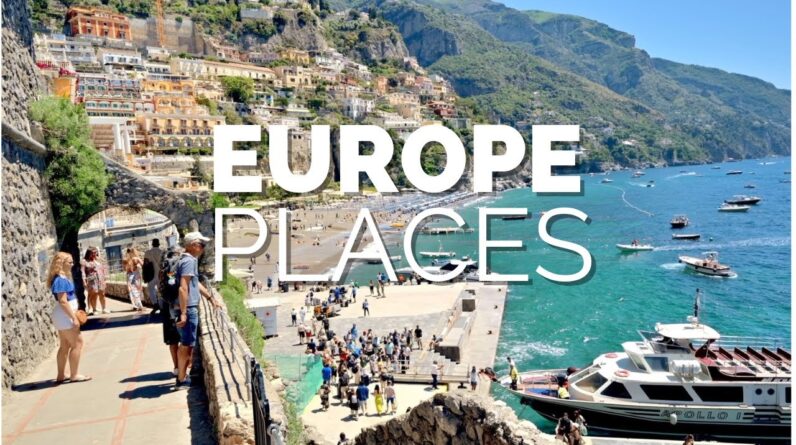 The Ultimate Travel Guide: Top 50 European Destinations to Explore Discover the enchanting wonders of Europe as you embark on a journey through its rich history, vibrant cultures, and breathtaking landscapes. In this comprehensive travel guide, he will take you on an unforgettable expedition to the top 50 European destinations. From ancient cities steeped in intriguing tales to picturesque coastal towns, every corner of this diverse continent offers a unique and captivating experience. So, grab your passport, pack your bags, and get ready for an extraordinary adventure that will leave you with memories to last a lifetime. Your European exploration begins here.
The Ultimate Travel Guide: Top 50 European Destinations to Explore
Introduction
Europe, the second smallest continent, has a magnetic charm that attracts over half of the world's tourists. From its diverse landscapes to its well-preserved cultural heritage, Europe offers a plethora of destinations for explorers. In this ultimate travel guide, we will unveil the top 50 European destinations that should be on every traveler's bucket list. So grab your passport, pack your bags, and get ready for an enchanting journey through Europe!
1. Peloponnese, Greece
Discover the wonders of classical Greece in Peloponnese. This region boasts a treasure trove of ancient sites, including the iconic Temple of Apollo Epicurius and the ancient city of Olympia. Immerse yourself in Greek history as you explore Byzantine churches, medieval castles, and charming villages.
2. Copenhagen, Denmark
With its vibrant waterfront and colorful townhouses, Copenhagen is a city that captivates the hearts of visitors. Indulge in the charming atmosphere as you wander along Nyhavn, the picturesque harbor lined with restaurants and cafes. Don't miss the chance to visit Tivoli Gardens, one of the world's oldest amusement parks, for a delightful experience.
3. Istria, Croatia
Istria, located in the heart of the Adriatic, offers a diverse array of landscapes, towns, and activities. Explore the stunning coastline with crystal-clear waters and hidden coves. Wander through picturesque hilltop towns like Rovinj and Motovun, known for their medieval architecture and breathtaking views.
4. Bruges, Belgium
Step into a fairytale in Bruges, a city straight out of a storybook. Lose yourself in its medieval streets, adorned with charming canals and historic buildings. Admire the intricate architecture of the iconic Belfry of Bruges and indulge in delicious Belgian chocolate and waffles as you explore this picturesque city.
5. Belgrade, Serbia
Belgrade, the hip capital of Eastern Europe, is a city that seamlessly blends history with modernity. Delve into its long and eclectic past as you visit the imposing Belgrade Fortress and the vibrant Skadarlija district. Experience the vibrant nightlife scene and taste the local cuisine, which reflects the city's diverse cultural influences.
6. The Scottish Highlands, Scotland
Escape to the dramatic scenery of the Scottish Highlands, where breathtaking landscapes and folklore abound. Discover the mystique of Loch Ness and stand in awe of the towering mountains and cascading waterfalls. Immerse yourself in the rich Scottish culture and sample traditional dishes like haggis and Scotch whisky.
7. Malta
Uncover the hidden gems of Malta, a Mediterranean paradise boasting a warm climate and stunning natural landscapes. Explore the UNESCO World Heritage sites of Valletta, the capital, and the ancient Megalithic Temples. Indulge in the crystal-clear waters of the Blue Grotto and unwind on the golden beaches that dot the coastline.
…
Conclusion
Europe truly offers a smorgasbord of destinations, each with its own unique charm and allure. From the ancient ruins of Greece to the fairytale-like cities of Belgium, Europe has something for every traveler. So embark on a voyage of discovery and immerse yourself in the rich history, diverse cultures, and breathtaking landscapes that await you in the top 50 European destinations. Bon voyage!
FAQs – Frequently Asked Questions
Q: How many tourists visit Europe each year?
A: Europe attracts over half of the world's tourists, with millions flocking to its shores every year.

Q: Which European country receives the most tourist visitors?
A: France consistently ranks as one of the most visited countries in the world, with its iconic attractions like the Eiffel Tower and Louvre Museum.

Q: Are European destinations safe for travelers?
A: Europe boasts a safe and efficient infrastructure, making it a popular choice for travelers seeking a secure and memorable experience.

Q: Can I explore Europe on a budget?
A: Yes, Europe offers a range of budget-friendly options, from affordable accommodations to inexpensive local cuisine.

Q: How can I plan my European itinerary?
A: Research your desired destinations, consider travel seasons, and create an itinerary that balances your interests and time constraints.