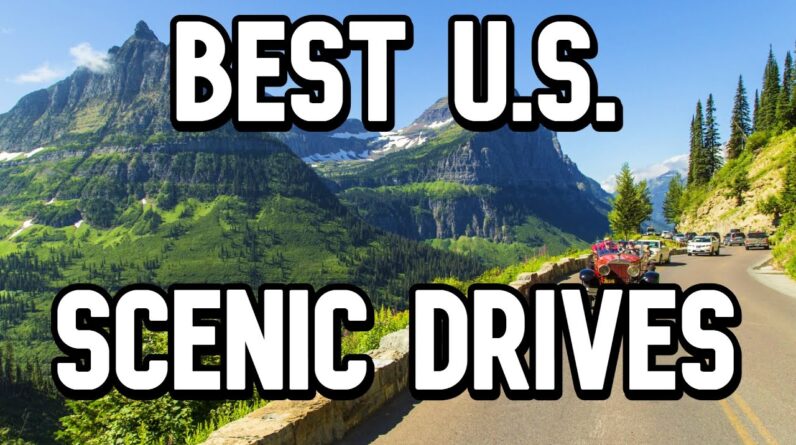 Experience the Unforgettable Landscapes with Top 10 Scenic Drives in American National Parks
There is an overabundance of breathtaking scenery in American national parks and one of the best ways to immerse yourself in vast landscapes is going on a scenic drive — by car, bus, bike, or even on foot. Despite having 63 national parks under my belt, I can confidently assert that the following ten scenic drives are, without a doubt, the most captivating routes you can take in America's natural wonderlands.
The Thrill of Death Valley Scenic Byway
Canyonlands National Park
Just kidding, it's actually at Death Valley National Park. The thrill of the Death Valley Scenic Byway is unrivaled, with shocking elevation changes turning your drive into a bizarre roller-coaster ride through the desert. This road is your pathway to stunning views of the park, from the expansive Mesquite Flat Sand Dunes and other haunting dune fields to mysterious badlands, towering canyons, expansive desert areas, and starkly beautiful salt flats.
Ross Maxwell Scenic Drive: An Unforgettable Voyage
Big Bend National Park
The Ross Maxwell Scenic Drive at Big Bend National Park is a long and surreal journey through the desert. While it could be pretty unbearable in the hot summer, this drive is a feast for the eyes at any other time of the year. You'll get to visit roadside stops like Tuff Canyon, Mule Ears, and Sodal Vista, which are all scenic spots that make Big Bend an underrated national park.
Hurricane Ridge Road: In the Heart of the Mountains
Olympic National Park
Venturing up the Hurricane Ridge Road promises an awe-inspiring journey right in the heart of the stunning mountains of Olympic National Park. This road is truly a wildlife-lover's paradise, with opportunities abound to spot elk in their natural habitat and panoramic mountain vistas that change with every turn.
Yosemite Valley Road: Iconic Landscapes at Every Turn
Yosemite National Park
While Yosemite National Park is home to many incredible routes, the Yosemite Valley Road is simply unforgettable. This road takes you on an intimate tour through the park's most iconic sights. Cliffs, waterfalls, and wildlife – it has all the makings of an adventure, offering far more than you could ever capture in a single frame.
General's Highway: A Royale Commute
Sequoia and Kings Canyon National Parks
The beautiful General's Highway in the Sierra Nevada mountains spans two different parks — Sequoia and Kings Canyon National Parks. This lengthy scenic drive is one of the best ways to absorb the breath-taking beauty of these famous Californian national parks.
Trail Ridge Road: Rocky Mountain Highs
Rocky Mountain National Park
If it's panoramic vistas you're after, put Trail Ridge Road in Rocky Mountain National Park at the top of your scenic drive list. Drive up to the dizzying heights of over ten thousand feet, where you can look down at the wonderful views of alpine lakes and towering snowy cliffs.
Grand Loop Road: The Heart of Yellowstone
Yellowstone National Park
Grand Loop Road is the essence of Yellowstone National Park, offering a nature-packed journey through one of America's favourite parks. From mountains to geysers, forests to waterfalls, it's a narrative experience that tells the ongoing ecological story that is Yellowstone.
Zion Canyon Scenic Drive: Marvel at Nature's Grandeur
Zion National Park
There's something entirely magical about the Zion Canyon Scenic Drive. It encapsulates the power and grandeur of nature in ways words and pictures can't do justice. From the stunning waterfall to the Temple of Sinawava, every moment of this drive is a spectacle.
Going to the Sun Road: A Mesmerizing Journey
Glacier National Park
Driving the Going to the Sun Road in Glacier National Park is akin to watching an artist paint panoramic landscapes with unfathomable speed and precision. The road leads through unforgettable views of lakes, glaciers, and waterfalls set against the backdrop of striking mountain peaks.
Denali Park Road: Unmatched Beauty
Denali National Park
For sheer, awe-inspiring beauty, nothing matches a drive on the Denali Park Road in Denali National Park. With a view of Denali, North America's tallest peak, and a chance to see hundreds of species of wildlife, it is easily the number one scenic drive in any national park.
In Conclusion
The most captivating and unforgettable experiences often don't come tied with a price tag. Some of the biggest pleasures come free, wrapped in unadulterated nature that can only be felt deep down in our senses, making our journey through life worthwhile.
And remember, whether on foot, bike, bus, or car, these roads are awaiting your arrival to offer an immersive experience in America's national parks. So buckle up, drive safe, and let nature do the talking!