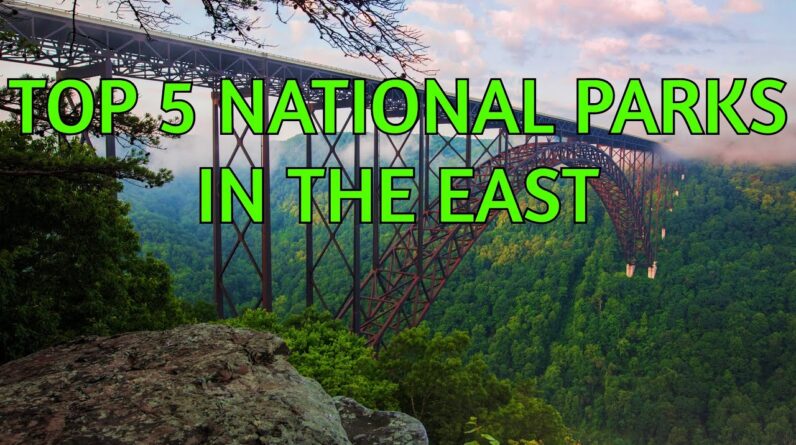 Top 5 Eastern National Parks: Discovering America's Overlooked Gems
When people think about their favorite national parks, many times they envision the breathtaking landscapes of the western United States. Grand Canyon, Yellowstone, Yosemite – the list goes on. However, while the western parks may be the most popular, there are hidden gems in the eastern United States that are equally stunning and offer unique experiences. Today, we'll be exploring my personal top five eastern national parks and sharing why I believe they're worth a visit.
New River Gorge National Park, West Virginia
The Youngest Eastern National Park
Iconic Bridge and Lush Scenery
Number five on my list is New River Gorge National Park in West Virginia. Though it's only been designated as a national park since last year, New River Gorge has quickly earned its place among top eastern parks. The iconic New River Gorge Bridge is the most well-known site in the park, but it's the surrounding mountains and lush forested hills that truly make this location special.
Unforgettable Hiking Experiences
New River Gorge offers several fantastic hikes, such as the Sandstone Falls Trail. The area's serene atmosphere and memorable views of the canyon create an experience that will make you appreciate why it's now a national park.
Mammoth Cave National Park, Kentucky
The Longest Cave System in the World
Incredible Underground Formations
Ranking number four is Mammoth Cave National Park in Kentucky. Boasting the longest cave system globally, Mammoth Cave is a must-see for anyone traveling through the eastern United States. Tours through the cave reveal mind-blowing formations like Frozen Niagara and massive rooms filled with stalactites and stalagmites.
Aboveground Beauty and Wildlife
The park offers more than just caves, though. Aboveground, you can enjoy hikes along the Green River, take in the striking landscape of forested mountains, and encounter a variety of wildlife, including deer.
Virgin Islands National Park, U.S. Virgin Islands
A Unique Coastal Getaway
Ram Head Trail and Beaches Galore
Coming in at number three is Virgin Islands National Park, located on the island of St. John. This charming coastal park features the captivating Ram Head Trail, where you'll climb a rugged mountain to find stunning views of the island. Of course, the park is best known for its pristine beaches and unparalleled snorkeling experiences.
Underwater Wonders Await
If you're an avid snorkeler, you'll appreciate the abundance of marine life at Virgin Islands National Park. You'll spot sharks, stingrays, sea turtles, and an impressive variety of colorful reef fish.
Dry Tortugas National Park, Florida
A Remote Island Experience
Fort Jefferson and Abundant Wildlife
Number two on my list is Dry Tortugas National Park in Florida. This remote park, accessible only by seaplane or ferry from Key West, offers breathtaking experiences like exploring Fort Jefferson and birdwatching opportunities with numerous species, including egrets, herons, pelicans, and frigate birds.
World-Class Snorkeling Adventures
Dry Tortugas also provides some of the best snorkeling you can find, whether you're exploring vibrant coral reefs or swimming among sea turtles, sharks, and barracuda.
Acadia National Park, Maine
The Best National Park in the Eastern United States
Unrivaled Hiking and Scenic Drives
And finally, number one – Acadia National Park in Maine. From the diverse landscape to the unforgettable hiking adventures, Acadia offers a little something for everyone. Trails like Beehive, Penobscot Mountain, and Acadia Mountain provide nature lovers with endless opportunities to explore.
Iconic Cadillac Mountain and Abundant Recreation
Acadia's crown jewel is Cadillac Mountain, where you'll experience stunning sunrises and sunsets. With its abundant wildlife, unique geological features, and a variety of recreational activities, including an incredible scenic drive, Acadia easily earns the title of best national park in the eastern United States.
In conclusion, while the western national parks may garner the most attention, the eastern United States boasts a diverse collection of parks with their own remarkable landscapes and experiences. So the next time you plan a national park adventure, consider exploring these top five eastern national parks. You might just discover a new favorite destination.