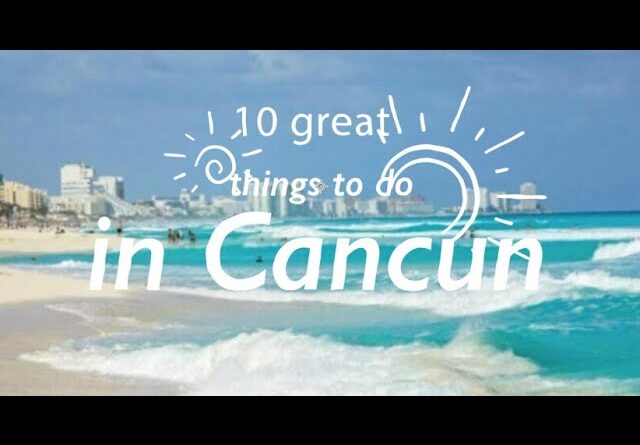 When someone plans a trip to Cancun, they might wonder what activities are worth their time and money. That's why this comprehensive travel guide is here to help. Whether it's exploring the ancient ruins of Chichen Itza or soaking up the sun on the stunning beaches, this guide will reveal the 10 best must-do activities for anyone vacationing in Cancun, Mexico. Get ready to discover all that Cancun has to offer for a truly unforgettable experience.
Discover the Best 10 Must-Do Activities While Vacationing in Cancun, Mexico: A Comprehensive Travel Guide
Cancun, one of Mexico's most popular tourist destinations, boasts a vibrant culture, breathtaking natural beauty, and a wealth of historical and cultural attractions. Whether you are seeking a relaxing beach vacation, an adventurous outdoor experience, or a rich cultural immersion, Cancun has something to offer for everyone.
In this article, we will explore the top 10 must-do activities while vacationing in Cancun, Mexico. From exploring ancient ruins to swimming in crystal-clear cenotes, experiencing the local cuisine to enjoying the legendary nightlife, let's dive into the best things to do in this tropical paradise.
Introduction
Located on the eastern coast of the Yucatan Peninsula, Cancun is a world-renowned destination for its turquoise waters, white sandy beaches, and a rich cultural history that dates back to the ancient Mayan civilization. With a perfect blend of natural beauty, historical sites, and modern amenities, Cancun is the perfect place for those looking to have an unforgettable vacation on any budget.
Here are the top 10 must-do activities while vacationing in Cancun, Mexico:
1. Explore the Ancient Mayan Ruins
The Yucatan Peninsula is home to some of the most well-preserved and significant ancient ruins in the world, and Cancun is no exception. Visitors can explore the Mayan ruins of Tulum and Chichen Itza for a glimpse of the region's rich history and architecture. The Tulum ruins offer breathtaking views overlooking the Caribbean Sea, while Chichen Itza is home to the famous Kukulcan Pyramid, one of the New Seven Wonders of the World.
2. Swim in Crystal-Clear Cenotes
Cenotes, natural sinkholes filled with crystal-clear water, offer a unique swimming and diving experience that you won't find anywhere else. Visitors can swim in cenotes such as Grand Cenote, Dos Ojos, and Cenote Calavera, which are located throughout the Yucatan Peninsula. Some cenotes also offer zip-lining and cliff-jumping for thrill-seekers.
3. Enjoy the Beaches of Cancun
Cancun is famous for its stunning beaches. Playa Del Carmen and Playa Norte are two of Cancun's picturesque and popular beaches, offering crystal-clear waters and white sandy beaches. Visitors can sunbathe, swim, and enjoy water activities such as snorkeling, parasailing, and jet-skiing.
4. Visit Isla Mujeres
Isla Mujeres is a charming island paradise with stunning beaches and a turtle farm for sea turtle conservation. Visitors can explore the island on a golf cart or scooter, visit the Mayan temple, and take a dip in the clear waters of Playa Norte Beach.
5. Explore Tulum's Bohemian Atmosphere
Tulum has a distinctive Bohemian and laid-back atmosphere with boutique hotels, eco-resorts, and yoga retreats. Visitors can enjoy a relaxed beach vibe, delicious food at local restaurants, or shop at the many boutique stores located within the city.
6. Xcaret Park
Xcaret Park offers a mix of nature, culture, and adventure activities such as swimming with dolphins and exploring underground rivers. Visitors can also enjoy cultural performances, experience traditional Mayan ceremonies, or just relax and enjoy the wildlife and nature in the park.
7. Taste the Local Cuisine
Cancun offers a range of dining options, from street food to gourmet restaurants, and visitors can indulge in the traditional Mexican cuisine. Local specialties include tacos, ceviche, and guacamole. Make sure to try the local drink, Margarita, which is made with tequila, lime juice, and triple sec.
8. Experience the Nightlife
Cancun is famous for its legendary nightlife scene with numerous bars and clubs, and visitors can party all night long. Clubs such as Coco Bongo, The City, and Mandala attract visitors from all over the world with live DJs, light shows, and a lively atmosphere.
9. Go on a Day Trip to Chichen Itza
Chichen Itza is one of the most popular tourist attractions in the Yucatan Peninsula and is located only a few hours' drive from Cancun. Visitors can explore the ancient ruins, swim in the cenotes, and enjoy the local food and culture.
10. Relax at a Spa
Cancun offers a range of luxury spas, and visitors can relax and rejuvenate with massages, facials, and other treatments. The Temazcal is a traditional Mayan sweat lodge that is believed to have healing properties and is a popular spa treatment for visitors.
Conclusion
Cancun, Mexico, is a tropical paradise with an abundance of natural beauty, history, and culture. Visitors can experience the ancient Mayan ruins, swim in the crystal-clear cenotes, enjoy the beaches, and indulge in the local cuisine. The city's Bohemian atmosphere, legendary nightlife, and luxury spas offer something for everyone. With so much to do and see, Cancun is the ideal vacation spot for all kinds of travelers.
FAQs:
When is the best time to visit Cancun?
The best time to visit Cancun is from December to April when the weather is mild and there is little rainfall.
How many days do I need to explore Cancun?
A week is an ideal amount of time to explore Cancun and its surrounding areas fully.
Are there any safety concerns in Cancun?
Cancun is a relatively safe city for tourists. However, like any other tourist destination, visitors should take precautions such as not carrying valuables and avoiding unfamiliar or poorly lit areas at night.
Can I drink tap water in Cancun?
It is not advisable to drink tap water in Cancun. Visitors should drink bottled water or water that has been boiled.
Can I take a day trip to Tulum from Cancun?
Yes, Tulum is located only a few hours' drive away from Cancun. Visitors can hire a taxi or rent a car to get there or take a guided tour.