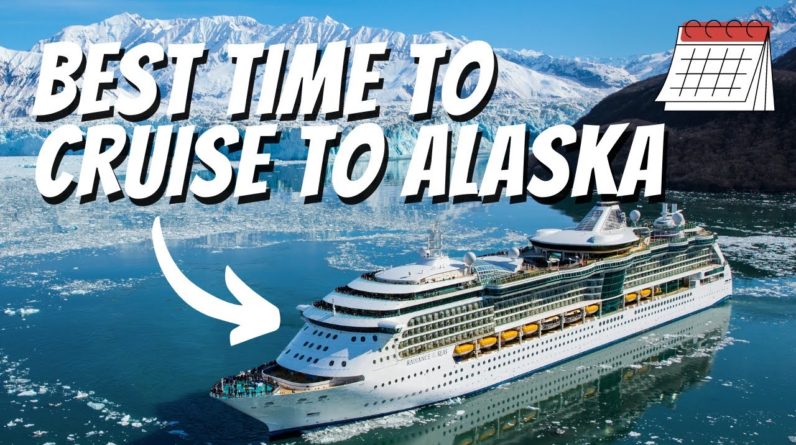 If you are planning an Alaska cruise, but not sure when to go, this video is for you. We break down all of the factors like weather, price, and wildlife sightings to help you decide the best time to take an Alaska Cruise.
Subscribe to the Eat Sleep Cruise YouTube Channel if you love to travel and cruise the world!
https://www.youtube.com/c/EatSleepCruise1
If you enjoy the video, please make sure to give it a BIG THUMBS UP!
BEST TIME TO CRUISE TO ALASKA
0:00 Introduction
1:00 When You Can Cruise to Alaska
1:45 Optimal Weather Conditions in Alaska
4:18 Cheapest Month to Cruise Alaska
5:45 How to Avoid Crowds on an Alaska Cruise
6:45 Best Time to See Wildlife
8:24 Best Time to See Northern Lights
When considering the best time to take an Alaska cruise, the answer is not as clear cut as you would think. There are several factors you need to consider when selecting the best time of year to cruise to Alaska.
For those looking for the best weather conditions, a cruise in mid-July to mid-August is the safest bet. Although, the driest month of the year in the Alaska cruise season is May. So, those looking to stay dry might consider earlier in the season.
Similarly, cruisers who want to save money on an Alaska cruise should consider cruising during the shoulder seasons. The months of April/May and September/October will offer the lowest cruise fares. However, there could be fewer wildlife sightings. Plus, the weather can be more variable during those times. Although, sailing later in the season gives cruisers a chance at seeing the Northern Lights.
For those looking to see wildlife, there really isn't a bad time of year to cruise to Alaska. However, the peak season for sightings of creatures like bears and bald eagles tends to be mid summer.
Learn More About the Best Time of Year to Cruise to Alaska:
ttps://eatsleepcruise.com/best-time-of-year-to-go-on-an-alaskan-cruise
——TRENDING VIDEOS FROM EAT SLEEP CRUISE——
Top Alaska Cruise Tips and Tricks for 2023:
Our Picks for Best Alaska Cruises in 2023:
10 Best NEW Cruise Ships for 2023:
Alaska Cruise Planning Guide:
Make sure to SUBSCRIBE to our channel above to get the latest cruise tips, cruise reviews, packing guides, port guides, travel tips, and more.
Join us on Social Media as we "Sea the World, One Port at a Time."
Instagram:
Facebook:
Twitter:
TikTok:
Pinterest:
Royalty-Free Music Courtesy:
Some Promotional Video Courtesy of respective cruise lines
#alaskacruise #alaska #cruisetips
---
Alaska is one of the top cruise destinations 
for many it's on their bucket list   But unlike the Bahamas or Caribbean cruises 
Alaska's a seasonal Cruise region so when you   Visit the area is extremely important 
if you are thinking of taking Alaska   Cruise then this video is for you as we 
Wade through all the factors you need to   Consider to help you decide when is the 
best time to cruise to Alaska up next Thank you welcome aboard Cruisers I'm Don 
B from eat sleep Cruise where we help you   Plan the perfect Cruise so you can see the 
world one port at a time now the wife and   I are big fans of Alaska cruises and 
Lucille to Alaska several times with   A couple different cruise lines as well as at 
different points in the Alaska cruise season   So we're going to walk you through all 
of the things you need to consider when   Picking when the best time of year to 
go to Alaska is for you and your family   Now for starters you can't sail to Alaska at any 
time of year you want it's actually a seasonal   Region and the Alaska cruise season generally 
runs from late April to early May through the   End of September some Cruise Lines pushing that 
boundary out until the first few weeks in October   Still even within those few months there are 
several factors to consider when picking when   You should go on Alaska cruise among the factors 
that might impact that decision are the weather   Cruise fair prices the potential to see wildlife 
or the Northern Lights as well as the crowd   So you'll soon discover the answer to this 
question isn't as cut and dry as you may think   Speaking of which when considering when you should 
go to Alaska weather conditions are another Factor   You need to consider so let's start there when 
planning your Alaska cruise you probably have   Several questions about the weather like what 
months of the warmest what month is the driest   Now of course you're seeing some beautiful 
pictures of Southeast Alaska unfortunately   Though the summer months in Alaska are not always 
bright and sunny in fact the weather during the   Alaska cruise season can be rather wet now of 
course this isn't a perfect science because   Weather conditions aren't constantly changing but 
historically one benefit of traveling early in   The season is reduced precipitation historically 
May is the driest month of the Alaska crew season   Less rain is good especially for those selfies but 
the weather also tends to be cooler earlier in the   Season but on the flip side if you're looking for 
the warmest weather then mid July to mid-august   Is when you'd want to go still you can expect 
temperature swings of 25 degrees or more in one   Day you could wake up to freezing temperatures 
and by the mid-afternoon be in the mid 60s   During our Alaska cruises in July and August we've 
even had weather upper 70s to near 80 degrees   Now if you're looking to squeeze as much 
sightseeing in as possible the months of   June and July have the longest daylight hours 
during this time of year the sun doesn't set   Until around 10 pm these extended periods of light 
make viewing the surrounding scenery Sailing In  
And Out of ports even more appealing when taking 
everything into consideration average temperatures   Rainfall amounts and hours of daylight it is 
true that the best time to Cruise Alaska for the   Weather is the month of July but as you soon will 
see with great weather comes some other challenges   Now it is true if you wait till later in the 
season you are rolling the dice a little bit   On the weather the rain and cold conditions could 
impact things such as shore excursions for example   We've had shore excursions canceled in September 
due to the wet icy conditions later in the season   Also means less animal sightings because they've 
already set up for hibernation of course this is   Just a general Trend we've cruising Alaska near 
the end of the season twice now and lucked out   With the weather and still saw a good amount of 
Wildlife even sailing in July or August it's been   Hit or miss we actually sailed to Alaska twice 
in 2021 in Late July into early August only a   Few weeks apart in one week had Sunny warm 
weather and the next week rainy cool weather   When it comes to price Alaska cruise fares 
fluctuate considerably depending on a few factors   Pricing can range wildly depending on the 
cruise line itinerary and time of year   Thus when determining the best time to produce 
Alaska in terms of pricing you need to know   About the shoulder season this is a term used 
to describe the beginning and end of a seasonal   Cruise regions as with most seasonal Cruise 
regions the shoulder season is when prices   Tend to be the lowest so if you're looking to save 
money the best time of year to Cruise Alaska would   Be early in the season late April to early May or 
late in the season September into early October   Besides having lower fares you'll have 
created choices for cabins and score   The perfect midship balcony at a lower cost 
if you travel towards the end of the season   You might be able to score some great deals 
on souvenirs too as many local shops are on   Sales to get rid of merchandise before closing 
for the season of course other considerations   Like your cruise departure point round trip 
versus one-way routes type of shore excursions   Airfare and more need to be taken into 
account when budgeting for your Alaska cruise   Besides some shark surgeons being canceled are not 
offered when sailing later in the season we have   Lucked out finding reasonably priced flights 
and hotel stays during this time of year of   Course you should do a little homework first 
just to ensure any cost savings you get on the   Cruise Fair aren't wiped out by paying extra for 
things such as your flights or other added costs   Further if you're looking to avoid the crowds we 
highly suggest you skip cruising it in the middle   Of the season especially July the busiest time of 
year for cruises to Alaska usually coincide with   The warmest weather and summer break if you Cruise 
during this period be prepared to share Alaska   With thousands of other Cruisers now this isn't 
only true about how many individuals are on your   Cruise ship but it also has to do with how many 
ships will be in Port if you take advantage of   Alaska cruises during the shoulder season they'll 
not only save money but you will avoid the crowds  
Especially families in April and May kids are 
usually still in school and they're usually back   To school by September the number of families 
and kids will also of course vary based on the   Cruise line and the cruise ship you choose popular 
Mega ships are Brands like Norwegian Cruise Line   And Royal Caribbean will inevitably have more 
families on board and hence feel more crowded   Besides a Scenic snow-capped mountains fjords 
and Glaciers you're probably traveling to Alaska   To see some Wildlife too many will tell you 
that anytime during the months of May through   September is the best time to Cruise Alaska to 
see wildlife while in general when compared to the   Winter months that's true some months are better 
than others for viewing some types of Wildlife if   You're a whale lover you will have the opportunity 
to see a variety of different species of whales on   An Alaska cruise the most common whales in 
the region are the massive humpback whales   While they are found in the Gulf of Alaska during 
the entire crew season you have the best chance of   Spotting pods during the months of June and July 
it is true that most whale watching tours will   Guarantee a whale sighting but they won't tell 
you what types of whales you'll see or how many   If bears are what you're looking to discover on 
an Alaska cruise then traveling from late June   Through early August will increase your likelihood 
of seeing these creatures especially if you take   Towards it apart from either Juno or Ketchikan 
and again we can talk from first and experience   As we did a bear watching tour in Ketchikan 
in early August and it was fantastic   Luckily bald eagles are around throughout 
the entire crew season in various stages of   Development you can head to the chill cat Eagle 
Preserve to see the world's largest collection   Of bald eagles early in the season Eagles 
will be preparing their nests during Peak   Crew season they'll be caring for their young 
and later in the season late August through   September you might get lucky enough to see 
adult Eagles teaching their young ones to fly   Another benefit of sailing towards the end 
of the Alaska cruise season is a chance to   See the Northern Lights the Aurora season is 
generally from the end of August until mid-april   Typically you have a better chance of seeing the 
Northern Lights further north in Alaska as cloudy   Skies are common in Southeast Alaska still you 
could get lucky during the Alaska crew season   The sun sets the earliest in September the skies 
are the darkest making for the most ideal viewing   Condition on our September cruise we were told 
to be on the lookout for the Northern Lights on   Two separate nights but honestly we never did see 
them but there's always next time as we warned you   Earlier there's really no clear-cut answer to the 
question what is the best time to cruise to Alaska   We've sailed there four different times now 
and have encountered a variety of weather   Seeing diverse wildlife and been able to see 
the amazing glaciers but there have been times   Where it's rained multiple days and the weather 
has impacted itinerary and we weren't able to   See some glaciers we've also gone on tours that 
have guaranteed sightings and not seen wildlife  
Not to mention sailing in different months 
of the year can actually cost you thousands   Of dollars more for the entire trip still for US 
Sailing during the shoulder season has been the   Best mix of price and experience But ultimately 
only you can make the decision on when the best   Time to travel to the region truly is for you and 
your family now don't worry if you're looking for   More Alaska cruise planning advice we're here 
to help we have our expert Alaska cruise tips   Video right here on YouTube where we share our 
expert tips from everything from planning a cruise   Packing how to save the most money as well 
as making the most of your time on board   And ashore our expert Alaska cruise tips 
will ensure your cruise is smooth sailing