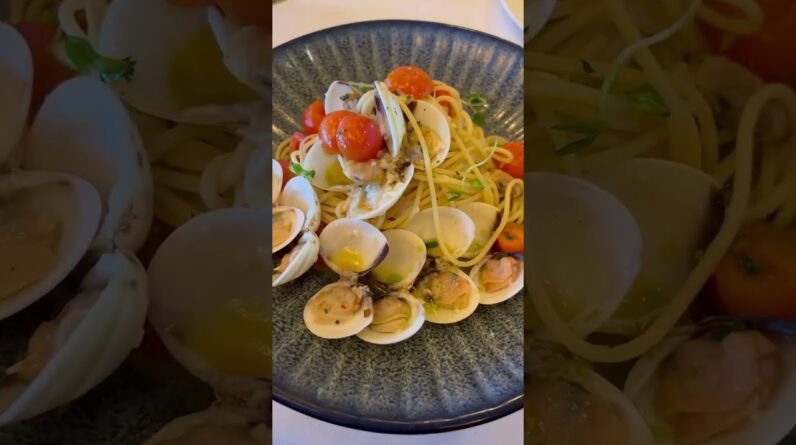 Are you ready for an unforgettable dining adventure on your next cruise? Indulge in the exquisite flavors of seafood at this restaurant, promising a truly unique experience. Get ready to savor the finest catch of the sea while surrounded by the stunning ambiance of a luxury cruise ship. Discover the ultimate culinary voyage that awaits you as you embark on a journey of delectable delights. So hop aboard and let your taste buds be tantalized by the exquisite seafood offerings available exclusively on this remarkable cruise.
Introduction
Are you ready to embark on a culinary adventure at sea? If you're a seafood lover looking for a unique dining experience during your cruise, then look no further than The Catch by Rudi. This specialty restaurant, brought to you by Princess Cruises, offers a seafood-centric menu that will delight your taste buds. In this article, we'll dive deep into what makes The Catch so special, from its delectable offerings to its association with Princess Cruises. So grab a bib and a fork, and get ready to indulge in the finest seafood on the high seas!
The Catch by Rudi: A Seafood Lover's Paradise
The Catch by Rudi is the newest addition to the lineup of specialty restaurants on Princess Cruises. With its seafood-centric menu, it caters to those who can't get enough of the ocean's bounty. From succulent shrimp to tender lobster, The Catch offers a wide variety of dishes that showcase the freshest and most delicious seafood ingredients.
Whether you prefer your seafood grilled to perfection, sautéed in a flavorful sauce, or served raw and fresh, The Catch has got you covered. The menu features a selection of appetizers, mains, and even a few irresistible desserts that will satisfy your cravings. With each bite, you'll taste the care and expertise that goes into preparing these exquisite dishes.
A Feast for the Senses
As you step into The Catch by Rudi, you'll immediately be captivated by its inviting and lively atmosphere. The restaurant's elegant decor creates the perfect ambiance for an unforgettable dining experience. Whether you choose to dine indoors or take in the panoramic views from the outdoor seating area, you'll be treated to a feast for the senses.
Let the tantalizing aroma of perfectly seasoned seafood waft through the air as you peruse the menu. The attentive and knowledgeable staff are always ready to assist you in making the perfect selection to suit your taste preferences. Pair your meal with a glass of fine wine or a handcrafted cocktail, and let the flavors complement each other as you relish in the moment.
The Cover Charge: Worth Every Penny
To dine at The Catch by Rudi, there is a cover charge of $39 per person. While this may seem like an additional expense, it is an investment in an extraordinary culinary experience. The cover charge ensures that you receive top-notch service, access to the freshest ingredients, and a dining experience unlike any other onboard. So, if you're a seafood enthusiast, consider the cover charge as your ticket to seafood paradise.
A Perfect Addition to Your Alaska Cruise
If you're planning an Alaska cruise, The Catch by Rudi is an absolute must-visit. Alaska is known for its pristine waters and abundant seafood, making it the perfect backdrop for indulging in the finest catches. Immerse yourself in the local flavors and savor dishes that highlight the region's rich seafood traditions. Whether you're craving Alaskan king crab legs or wild-caught salmon, you'll find it all at The Catch.
Follow @eatsleepcruise for More
To stay up to date with the latest news, reviews, and recommendations from the world of cruising, be sure to follow @eatsleepcruise on Instagram, TikTok, Facebook, and Threads. Their team of passionate cruise enthusiasts will keep you informed about everything you need to know to make the most of your cruising experience. And if you're a Disney fan and want to explore the magic of Disney parks, you can follow @eatsleepdisneyparks for all things Disney-related.
Bon Voyage and Happy Eating!
In conclusion, The Catch by Rudi is not just a restaurant; it's an experience. From its seafood-centric menu to its association with Princess Cruises, The Catch offers seafood lovers a chance to indulge in a dining experience that is second to none. So, if you're ready to embark on a culinary adventure, make sure to include a visit to The Catch on your next cruise. Bon voyage and happy eating!
FAQs
What is the cover charge for dining at The Catch by Rudi?

The cover charge is $39 per person.

Is The Catch by Rudi only available on Princess Cruises?

Yes, The Catch by Rudi is associated with Princess Cruises and can be found onboard their ships.

Are there vegetarian options available at The Catch?

While The Catch specializes in seafood, they also offer a few vegetarian options to cater to all guests' dietary preferences.

Can I make a reservation at The Catch?

Yes, you can make a reservation for The Catch by Rudi once you are onboard the ship. It is recommended to book in advance to secure your preferred dining time.

Are children allowed at The Catch by Rudi?

Yes, children are welcome at The Catch. The restaurant offers a children's menu to cater to their tastes and preferences.