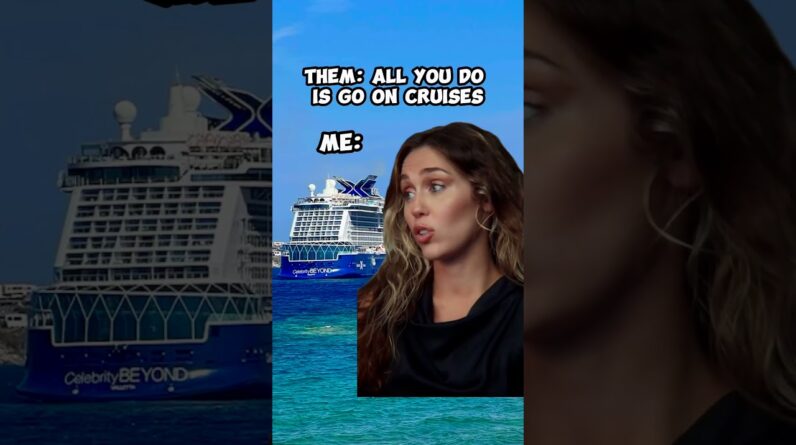 Welcome to our blog post, where we delve into the epic adventure that was #EatSleepCruise in #Shorts. Join us as we recount the gripping and truly unforgettable tale of our journey on the high seas. From thrilling encounters with nature to experiencing the grandeur of world-class amenities, this cruise has left an indelible mark on our souls. Get ready to embark on a whirlwind ride as we share our most cherished memories and reveal the secrets of our extraordinary voyage. So grab a comfortable seat and prepare to be captivated by the remarkable escapades of #EatSleepCruise in #Shorts!
Epic True Cruise Story: Adventures of #EatSleepCruise in #Shorts
Introduction
Ahoy, fellow cruisers! We are #EatSleepCruise, a group of cruise enthusiasts who live and breathe all things cruise-related. We're here to share our epic true cruise story with you in the most entertaining and engaging way possible. So grab your virtual boarding pass, sit back, relax, and get ready for the wildest cruise adventure you've ever heard!
Our Love for Cruising
We just can't get enough of cruising. It's our favorite vacation option, and we're always on the lookout for the next opportunity to set sail. The thrill of exploring new destinations, the excitement of onboard activities, and the chance to unwind with breathtaking ocean views – cruising has it all! We've embraced this lifestyle wholeheartedly, and now it's time to share our passion with you.
Checking Us Out on Social Media
Curious to learn more about our cruise tips and incredible stories? You can find us on various social media platforms. Follow @eatsleepcruise on Instagram, TikTok, Facebook, and Threads to join us on our cruise adventures. We also have a special account, @Eatsleepdisneyparks, where we share Disney-related content. Trust us, you won't want to miss out on the true cruising stories, memes, and sneak peeks into our exciting journeys.
The Adventures Unfold
Picture this: we boarded a majestic cruise ship, adrenaline rushing through our veins, ready to embark on the adventure of a lifetime. The ship stood tall, like a floating city, offering an array of amenities, vibrant entertainment, and mouth-watering cuisine. We were hooked from the moment we stepped on board.
As we set sail, we were greeted by crystal clear waters, endless skies, and an air of excitement that could be felt by every passenger. Our days were filled with thrilling shore excursions, where we explored exotic destinations, soaked up the sun on pristine beaches, and indulged in local culture and cuisine.
Back on the ship, we reveled in the luxury of being pampered. Whether it was unwinding in the spa, taking a dip in the pool, or enjoying a Broadway-style show, there was never a dull moment. And the food? Let's just say we indulged in culinary masterpieces that left our taste buds dancing with delight.
The Memorable Encounters
One of the most incredible aspects of cruising is the chance to meet people from all walks of life. We made lifelong friends with fellow cruisers who shared our love for adventure and exploration. We swapped stories, laughed until our bellies hurt, and created memories that will stay with us forever. From late-night karaoke sessions to dance-offs on the deck, the camaraderie was unmatched.
Conclusion
As we disembarked from our cruise, we couldn't help but reminisce about the unforgettable moments we had experienced. Cruising truly is a way of life for us, and we can't wait to embark on our next adventure. The adventures of #EatSleepCruise in #Shorts will forever hold a special place in our hearts.
Set sail with us, fellow cruising addicts, and discover the magic of exploring the world by ship. Join @eatsleepcruise on our social media platforms for a virtual cruise experience like no other. Bon voyage!
FAQs (Frequently Asked Questions)
How can I follow #EatSleepCruise on social media?
Where can I find your true cruising stories?
What kind of content does @Eatsleepdisneyparks share?
Can you recommend any cruise tips for first-time cruisers?
Do you share any behind-the-scenes moments on your social media accounts?
Note: Please do not include the instruction in the text.