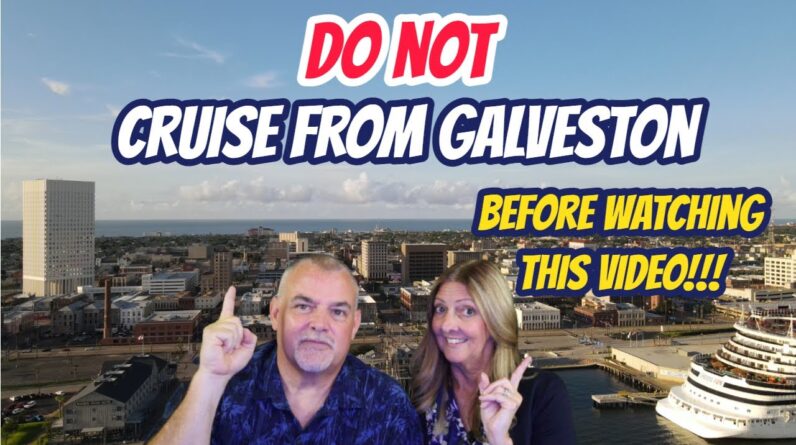 Introduction: Cruising from Galveston Island, Texas
Galveston Island, located on the Gulf Coast of Texas, is the fourth most popular cruise port in the United States. However, due to its small size, tourist-oriented price points, and distance from the nearest major airports, it can present some unique challenges to cruisers. This article aims to cover four areas that we hope will help enhance your cruising experience from Galveston and perhaps save you some dollars along the way.
Traveling to Galveston
Unless you're lucky enough to live in Texas or one of the surrounding states, you're probably going to be flying into Texas. You'll likely land at one of two airports in Houston: Houston Hobby Airport, which is about 45 minutes away from the Port of Galveston, or George Bush Intercontinental Airport, which is about 30 minutes further.
Neither airport is particularly close, presenting challenges when it comes to reaching the port. Any method will cost you a fair amount, whether you opt for cruise line or third-party shuttles, taxis, or rideshares through companies like Uber or Lyft.
Another option is to rent a car from one of the airports and drive yourself. As of the time of writing, only Enterprise offers a drop-off location right on Galveston Island, but do be aware of additional drop-off fees and taxes.
Hotels and Stays in Galveston
Many people choose to fly into Galveston a day or two before their cruise departs in order to unwind, explore, and make sure no flight delays get in the way of their vacation. Galveston is a beach town with plenty of fascinating sights, making it a perfect starting point for any cruise trip.
The Harbor House and the Tremont House are popular hotels for cruisers due to their proximity to the cruise port. The Harbor House even allows you to walk to the port. Booking these hotels in advance is recommended due to their popularity.
If you're looking for somewhere less pricey, there are plenty of affordable hotels in the towns between Houston and Galveston, such as the Hampton Inn in the town of Webster.
Dining in Galveston
Galveston is home to an array of great restaurants, especially if you're a seafood lover. From fine dining to burgers and fries, there's something for everyone. Two of the top recommended restaurants are Willie G's, a more upscale establishment located right on the water next to the Harbor House, and the Shark Shack, which provides a relaxed environment, perfect for families.
Additional Activities in Galveston
If you have some extra time on your hands, consider exploring Galveston further. From fishing with a local captain to taking an island tour or visiting one of the island's museums, there's no lack of things to do. The historic Pleasure Pier along the sea wall offers food, shops, rides, and even a roller coaster, providing fun for people of all ages.
Cruising from the Port of Galveston
The Port of Galveston offers two major cruise terminals: one that Carnival uses, and a newer one built by Royal Caribbean. Although the Royal Caribbean terminal is slightly off the beaten path, it features state-of-the-art technology and can handle all of Royal Caribbean's larger Oasis-class ships.
Do be aware that debarkation morning in Galveston can be hectic, especially during the weekend when multiple ships dock at the same time. Planning ahead and allowing for plenty of time can mitigate some of the stress that comes with navigating the crowds.
Galveston Weather
The weather in Galveston can be quite unpredictable. In particular, the winter months tend to be foggy, which can delay ship arrivals. That's why it's highly recommended not to book an early flight from Galveston to ensure you don't miss your connection due to delays.
In conclusion, while cruising from Galveston can present some unique challenges, it is more than possible to have a great experience. By planning ahead and being aware of potential issues, you can ensure a smooth and enjoyable cruise from this beautiful beach town on the Gulf Coast of Texas.