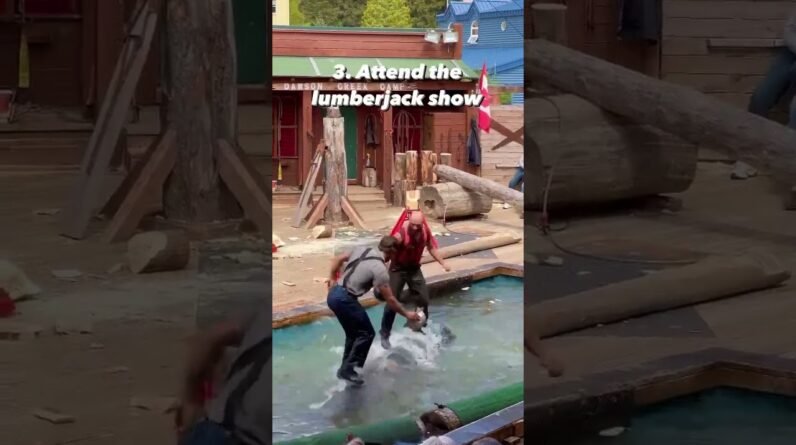 Are you ready to embark on an unforgettable journey to discover the exciting attractions of Ketchikan? If you're planning an Alaskan cruise, then this must-visit destination should be at the top of your list. Get ready to explore charming architecture, immerse yourself in rich Native American culture, and marvel at breathtaking natural wonders. Join us as we delve into the wonders that await you in Ketchikan – your ultimate adventure awaits!
Introduction
If you're planning an Alaskan cruise, one destination that should be on your must-visit list is Ketchikan. Located on the southeastern coast of Alaska, Ketchikan offers a unique blend of natural beauty, cultural heritage, and exciting attractions. From towering totem poles to lively lumberjack shows, there's something for everyone in this picturesque town. In this article, we'll explore the top attractions in Ketchikan that you just can't miss. So, grab your camera and get ready to embark on a thrilling adventure!
Visit one of the many totem pole parks
Ketchikan is renowned for its rich Native American heritage, and what better way to experience it than by visiting one of the many totem pole parks? Totem Bight State Historical Park is a must-visit destination where you can witness the stunning craftsmanship of these towering wooden sculptures. Take a leisurely stroll through the park and marvel at the intricate carvings, each telling a unique story. Don't forget to capture some Instagram-worthy shots with these incredible works of art.
Stroll along the popular Creek Street
Creek Street is a historic boardwalk that offers a glimpse into Ketchikan's past. Once known as the Red-Light District, this vibrant street is now lined with quaint shops, galleries, and restaurants. Take a leisurely stroll along the boardwalk and soak in the charming atmosphere. As you walk, you'll be treated to stunning views of Ketchikan Creek, with its crystal-clear waters and thriving salmon population. If you're lucky, you might even spot a bald eagle perched high above, keeping an eye on the fish below.
Attend the lively Lumberjack Show
For a truly unique experience, be sure to catch the lively Lumberjack Show in Ketchikan. This entertaining performance showcases the skills and daring feats of the Alaskan lumberjacks. From log rolling to axe throwing, the lumberjacks will keep you on the edge of your seat with their impressive athleticism. Sit back, relax, and let the excitement unfold as you cheer for your favorite lumberjack. It's an experience that you won't soon forget!
Go bear watching
Ketchikan is located in the heart of the Tongass National Forest, one of the largest temperate rainforests in the world. This pristine wilderness is home to a diverse array of wildlife, including the majestic brown bears. Embark on a bear watching excursion and venture deep into the forest, accompanied by experienced guides. As you keep a safe distance, you'll have the opportunity to observe these magnificent creatures in their natural habitat. Don't forget to bring your binoculars and camera for an up-close and personal encounter with Alaska's iconic wildlife.
Take a float plane to Misty Fjords
No trip to Ketchikan would be complete without exploring the mesmerizing beauty of Misty Fjords National Monument. With its towering cliffs, cascading waterfalls, and serene turquoise waters, this natural wonderland will leave you speechless. Hop on a floatplane and soar above the fjords, admiring the breathtaking scenery from the air. Touch down on one of the tranquil lakes and take a moment to immerse yourself in the peacefulness of this remote wilderness. It's an experience that will leave you in awe of Mother Nature's grandeur.
Conclusion
Ketchikan truly is a must-visit destination on an Alaskan cruise. From the awe-inspiring totem pole parks to the bustling Creek Street, from the thrilling Lumberjack Show to the breathtaking Misty Fjords, there's no shortage of exciting attractions to explore. Whether you're a nature lover, a history enthusiast, or an adventure seeker, Ketchikan has something to offer for everyone. So, pack your bags, embark on an Alaskan cruise, and get ready to discover the wonders of Ketchikan!
FAQs
How can I get to Ketchikan?

Ketchikan is accessible by air or sea. Most visitors arrive by cruise ship, while others opt for a flight to the Ketchikan International Airport.

Are there accommodations available in Ketchikan?

Yes, Ketchikan offers a range of accommodations, including hotels, lodges, and bed and breakfasts, to suit every traveler's needs.

When is the best time to visit Ketchikan?

The summer months between May and September are the best time to visit Ketchikan, with milder temperatures and longer daylight hours.

Are there any hiking trails in Ketchikan?

Yes, Ketchikan boasts several scenic hiking trails, offering opportunities to explore the surrounding wilderness and enjoy breathtaking views.

Can I go fishing in Ketchikan?

Absolutely! Ketchikan is known as the "Salmon Capital of the World," and there are plenty of fishing charters available for those looking to reel in a prized catch.