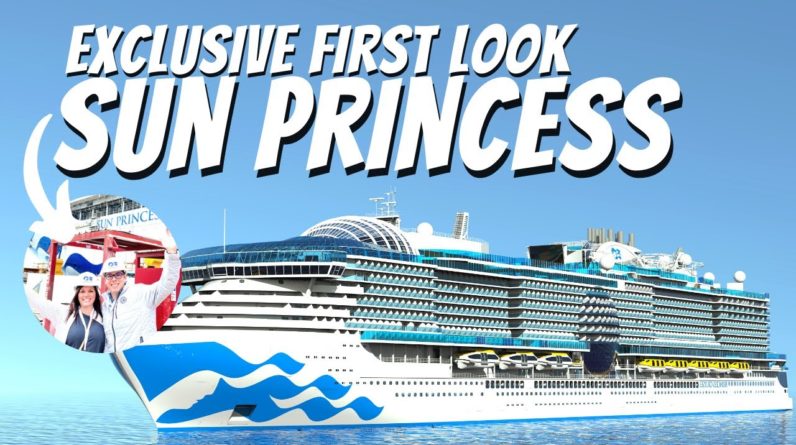 We have just returned from an Exclusive Sun Princes Ship Tour. This brand-new @princesscruises cruise ship is being built at Fincanteri ship yard in Italy. Heidi and I were invited to a sneak peek of this ship and we share all the details in this exclusive first look at Sun Princess!
Princess Cruises Sun Princess
0:00 Introduction
0:13 Exclusive First Look at Sun Princess | Princess Cruises (Subtitle)
0:22 YouTube Subscribe and Like Icons
0:55 New Sphere Class (Sun Princess as Subtitle for Remaining L3s)
2:19 Interior Public Venues
2:44 World Fresh Marketplace
3:35 The Landing
3:56 The Piazza
4:43 Main Dining Room and Restaurants
7:54 Entertainment Venues
9:25 Wake View Terrace
10:07 The Casino
10:30 The Staterooms
13:28 Medallion Class Experience
Sun Princess is the newest ship in Princess Cruises' fleet. The ship will set sail in February 2024. This 175K gross ton, Sphere class ship offers a number of new and innovative features. In this Sun Princess ship tour we showcase several of these features. During our two hour tour of the ship in mid-construction we got to explore several of the interior decks of Princess Cruises Sun Princess.
Led by new build director, Richard Parker, the two of us were able to discover venues like the Piazza, the Arena theater, and the main dining room. Parker was also quick to showcase Sun Princess new Cabana staterooms. These enhanced rooms also have access to a private sun deck.
During the tour of Sun Princess cruise ship we learned more about the unique entertainment venue the Dome, as well as several specialty restaurants and improved venues, like the International Café and Alfredo's Pizzeria.
Learn more with our exclusive first look at Sun Princess in this video.
READ MORE ABOUT SUN PRINCESS BACK ON OUR BLOG
https://eatsleepcruise.com/exclusive-sneak-peek-at-princess-cruises-sun-princess/
——TRENDING VIDEOS FROM EAT SLEEP CRUISE——
What's Included on Princess Cruises:
Princess Cruises Medallion Class Guide:
Our Picks for Best Alaska Cruises in 2023:
10 Best NEW Cruise Ships for 2023:
Make sure to SUBSCRIBE to our channel above to get the latest cruise tips, cruise reviews, packing guides, port guides, travel tips, and more.
Join us on Social Media as we "Sea the World, One Port at a Time."
Instagram:
Facebook:
Twitter:
TikTok:
Pinterest:
Royalty-Free Music Courtesy:
Some Promotional Video Courtesy of Princess Cruises
#sunprincess #princesscruise #cruise
---
Sun princess is Princess Cruise's newest Mega ship to date Heidi and I are gonna Sneak peek at Sun princess in the Thinking Terry Shipyard just last week And we want to share all the details With you with this exclusive look at Everything we know about Sun princess up Next Welcome Bora Cruisers I'm Don B from eat Sleep Cruise where we help you play in The perfect Cruise so you can see the World one port at a time and as mega Ship enthusiasts we were super excited When Princess Cruises invited us to Think in Terry Shipyard in Italy to get An exclusive tour of sun princess during Construction we were able to spend over Two hours exploring the ship and heard All about the Innovative new features From several of the executives of Princess Cruises and of course we want To share all those details with you in This video so let's Dive In Now those of you who aren't familiar With sun princess this is 175 000 gross Ton chip is the largest and most Innovative Princess ship ever Constructed and it's set to debut in February of 2024. Some princesses gonna be part of a new Sphere class of vessels and it's a 21 Deck vessel that will accommodate over 4 000 guests double occupancy the ship Will consist of redesigned and elevated
Amenities and venues but will still stay True the cruise Line's Heritage and will Feature brighter and lighter decor and Finishes inspired by rays of sunlight Now during our time of thinking Terry we Spent about two hours on board the ship And we were escorted by Richard Parker Princess Cruises director of new builds As well Executives from public relations Marketing and other departments According to that team some princess Will be an evolution of the Princess Cruises brand which is a word we heard Quite often during our trip there Now the Sierra class is very similar to The Excel classes ship which you can Actually find on several Carnival core Brand Cruise Lines such as Carnival Cruise Line and Costa however Executives indicated that designers were Given a blank slate when conceptualizing The venues and the layout of this new Cruise ship And as someone who sailed on Carnival Celebration another Excel class ship we Can attest that this ship seems a lot Different than that vessel now one of The major changes that we've noticed Right off the bat is that the cruise Line has shifted The Piazza which is the Made interior public spaces up to deck 7 Through 9 and they've moved the outdoor Promenade deck to deck 9. although the Ship's iconic sphere which is this
Curved wall of glass located on both the Port side and starboard side of the ship Actually stands from deck 7 to deck 16. Cruisers will also notice a few popular Venues are now in new locations Most notably you can say goodbye to the Pool deck Buffet the cruise line Signature World fresh marketplace is now Going to be on deck 9 on sun princess But don't worry there'll be plenty of Bites to grab near the pools Most of our tour of the ship did focus On decks 7 through 9. while the Directive new builds Richard Parker Wouldn't elaborate on the additional Dining options coming to the pool deck You can check out the deck plans which Do reveal some details for instance the Current deck plans on princess Cruise's Website shows several small eateries Near the pool including a pizza parlor a Taco stand a salad bar and a grill Now to us these outdoor eateries do Resemble similar venues found on Carnival's Excel class ship like Carnival celebration although for the Most part the similarities end there Princess Cruises also reimagined the Guest embarkation experience with the Landing on Deck 4. this embarkation Point will be utilized for both Tendering with Princess luxury transfers And docking parasite not to mention this Area can double as a meeting space as
Well For us the space seems very similar to The destination Gateway found on Celebrity Edge class ships As I mentioned Sun princess takes Princess Cruise's signature three-level Piazza to the next level with ocean Views in every direction it also Includes Central LED screen for live Entertainment and plenty of comfortable Seating for relaxing and socializing Now there will be entertainment in The Piazza and one design Improvement that This ship has over other Excel class Ship is that there's actually tiered Seating areas and tiered standing Locations surrounding three deck Piazza That way it gives individuals better Views Along with entertainment Piazza guests Will be happy to know that there are Plenty of food and drink offerings Nearby For instance there's a new coffee bar Coffee currents along with other Princess favorites like bellinis the Crooners bar and Alfredo's Pizzeria Featuring the best pizza at sea Another verse for Princess Cruises and Sun princess is a newly envisioned Horizons dining room which is a Three-story dining space the first ever On princess Cruise's Fleet this Reimagined venue is open and flexible
Featuring dining options to suit every Mood Spanning decks six to eight all the way After the ship the highlight of this Venue is a decorative sculpture along With stunning wake views and tons of Natural light the three decks of this Dining space will have their own Personality They will offer different dining Experiences the most casual deck 8 space Leading out to the wig View Terrace area Which we'll get to in a few minutes During our time there we did learn more About the dining options on sun princess But there's going to be so many eateries And restaurants that the cruise line Indicated that there will be a further Reveal sharing more details to come soon So make sure to stay tuned to eat sleep Cruise for those dining updates but for Now We do know that some princess will Feature a number of Firsts for the brand But will also include many familiar Favorites Chief among them as we already Mentioned is Alfredo's Pizzeria which Has an open kitchen and new open mouth Oven that reaches 960 degrees Alfredo's Pizzeria will also have an Outdoor seating on the Promenade Deck The Cruise Line favorite Crown Grill and Sabatini's Italian trattoria especially Restaurants will also be modernized
Cruise Line signature Steakhouse Crown Grill will feature leather seating Custom artwork and the largest show Galley on a princess ship Likewise sabatinis will feature Geometric designs an intimate Bistro Style nooks and a pasta room to reserve The pasta making process This pasta making display kitchen Actually makes all the pasta for the Ship and they hinted that they might Even offer classes and demonstrations or An upcharge when the ship's set sail While there will be new dining Concepts Coming to Sun princess as we mentioned The executives were a little hush on Details However this is where those deck plans On the Princess Cruises website comes in Handy as they do provide some initial Hits for example the deck plans is a Teppanyaki Restaurant a decade if this Is accurate it'll be the first ship in The fleet to offer such a Japanese style Steakhouse Also the deck plan showcased something Called O'Malley's Irish Pub We didn't receive any details about this New venue but it is possible that this Will replace a salty dog Gastropub found On several princess ships Finally touch around the corner midship A decade is a mysterious black door All Parker would tell us is that this
Will be the entrance to a brand new Immersive experience The secret new venue has us very Intrigued The city interior princess live on sun Princess has also been enhanced and It'll actually combine elements of the Princess lie found on other ships with The guest's favorite explorers Lounge in A semi-open space the venue offers Signature Cruise activities like game Shows trivia and the daily wake show Along with full beverage service Additional spaces which will have new Designs on sun princess also include the Shops of princess Crooners The Wheelhouse bar their International cafe Good spirits and the gelateria New to Princess Cruises Fleet is a Cutting Edge entertainment space Inspired by The Terraces Santorini the Dome on sun princess is a multi-level Covered deck and a first at Sea true Glass enclosed Dome during the day the Dome features an indoor outdoor pool so Guests can enjoy this area no matter the Weather outside there's also unique Water feature and plenty of comfortable Seating at night the Dome completely Morphs into an entertainment venue with The South Beach Vibe the pool transforms Into the stage with state-of-the-art Lighting effects and stunning aerial
Performances now a very unique space That we got to spend some time in is the New state-of-the-art Arena Theater The Arena Theater on sun princess will Be the most technologically advanced Entertainment area in the fleet to us The new design resembles the theater Found on the celebrity Edge class or Honda America Line's Pinnacle class of Ships with a circular Central stage However this in the round configuration Takes that designs everyone further with A semi-movable seat design we have to Admit that the theater is not as Morphable as say virgin voyages or the Norwegian Prima theaters has only a Small sliver of the seats actually can Move although the arena theater on sun Princess will feature three different Seating configurations to maximize sight Lines and deliver captivating Performances now all the way on the Other end of the ship on Deck 8f we Learn more about what might be our Favorite venue yet on the ship the Wakeview Terrace This area will be home to an upgraded Outdoor pool deck with a cantilevered Pool overlooking the wake Tiered seating areas and a bar This might be the best place to chill Out on a sea day According Executives this space will be Open to everybody and it will be all
Ages And another interesting venue that we Only got a little preview of overlooking The Terrace there'll be a brand new Specialty restaurant While the concept has not been finalized The ship designers are referring to this New Eatery as altitudes And while neither of us are big Gamers One area of the ship that actually the Executives were really proud of was a Sun Princess Casino as you would expect Since it's the largest ship in the fleet This will also be the largest casino in The fleet and it's located in The Piazza And will feature over 200 the newest and Most popular slots and video poker games And even though the ship is in big Construction you could definitely tell This is a very large wide open space Perhaps some of the most unique updates To the ship are the newly appointed State rooms some princess will feature 2157 total rooms including 50 swedes and 100 connecting rooms the staterooms Boasts more balcony space and all Balcony staterooms will now feature an In-room sofa essentially all of the Balconies are now going to be a deluxe Balcony category or better and honestly One of the critiques we've always had About Princess Cruises is their standard Balcony cabins are rather small when Compared to the competition in fact both
Times you sail with the cruise line we Were in a room that didn't even have a Love seat Perhaps something that's even more Interesting is that the ship will be the First in a fleet to offer no obstructive View Cabins that's right all outward Facing staterooms will have uninhibited Ocean views The cruise line was able to accomplish This by strategically placing Hardware Like the lifeboats In specific areas of the outdoor Promenade not to hinder stateroom views Another interesting tidbit we learned During our tour is that the staterooms On sun princess will not be any larger Than other ships in the fleet according To Parker the new design just better Utilizes the space in the cabins and They're reconfiguring the closets so There's no longer going to be that Walk-in closet near your bathroom but You can also be rest assured that there Will be no more shower curtains in the Bathrooms which again another knock We've had on Princess Cruises is that Their bathrooms are a premium Cruise Line are pretty small and pretty Meagerly outfitted Launching on sun princess is a new level Of Suite accommodations the Signature Collection This is very similar to The Haven on
Norwegian Cruise Line and The Retreat on Celebrity Cruises so guests staying in These Suites will have access to an Exclusive restaurant lounge and Sun deck However these spaces will not be Centrally located like others ship Within a ship Concepts Additionally the club class will now be Called The Reserve collection and this Is actually a change that they're making Across the entire fleet these mini Suites are situated in the best Locations on the ship and include access To the reserve collection restaurant During our tour I specifically asked if The reserve collection restaurant and Signature Collection restaurant would Have a different menu similar to Again The Haven or The Retreat on Celebrity Cruises and the executives wouldn't Confirm that it would have a completely Different menu Within the reserve collection you'll Also find the reserve collection Cabana Rooms these Resort style staterooms Offer a balcony and a private Cabana With an extra large outdoor lounge space These cabins will also have access to an Exclusive than a deck found both on the Starboard and the port side the ship Will have approximately 74 of these Cabana State rooms and if you've sailed On an Excel class ship like Carnival Celebration or Carnival Mardi Gras these
Cabins appear to be in the same area as The Havana rooms which also have their Own exclusive Sun deck Course guest sailing on the new Sun Princess you can expect a medallion Class experience Delivering personalized Cruise vacations With the use of a simple wearable device And The Medallion class app In fact Executives were really excited About the possibilities of Medallion Class on the ship as they claim this is The first ship that was designed from The ground up to completely utilize this Technology Of course The Medallion class enables a Number of technologically enhanced Features from a seamless check-in to Locating your Shipmates once on board to Even a point-to-point wayfinding system Picking a princess cruised on sun Princess using this technology will be Effortless Plus there's also ocean now where you Can order food and drinks to your exact Location on the ship and while the ocean Now can be hit or miss Parker did Indicate that another benefit of Designing the ship is that they've Strategically designed even crew areas By strategically placing galleys or Service bars in certain areas so you can Fully utilize the potential of The Medallion class technology
Also there's The Medallion pay where you Can make contactless payments on the Ship and Assurance like locations After seeing Sun princess in person we Can't wait to see all these new Concepts Come to life and get back on board this Really unique vessel if you're like us And you need to get on board as soon as Possible Sun princess will sail an Inaugural spring summer season of Mediterranean Cruises with departure Points in Barcelona Rome and Athens Following a transatlantic crossing the Ship will sail Eastern and Western Caribbean voyages from Fort Lauderdale In the fall of 2024. and don't worry if You're not able to get on the ship the Cruise line has already ordered a second Sphere class ship which is slated to Arrive in Spring of 2025. if this Exclusive first look at some princess as He's super excited to sell with Princess Cruises but you're new to the brand Don't worry we have you covered you Should check out our complete video of Everything that's included in a Princess Cruise trip plus what will cost you Extra in that video we detail all the Inclusions that are part of cruising With Princess Cruises dining the Entertainment and onboard activities Plus we warn you about some of those Hidden fees that Cruise Line doesn't Tell you about that way you know exactly
How much to budget for your trip and you Won't return home with sticker shock