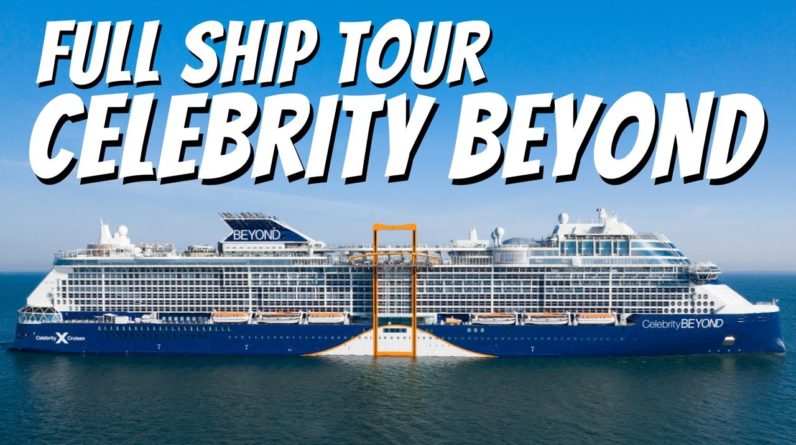 We have the most complete and detailed Celebrity Beyond Full Ship Tour. In this Celebrity Beyond Tour and Walkthrough, we go deck-by-deck showcasing all of the ship's public venues, restaurants, bars and lounges, entertainment venues, and more!
Subscribe to the Eat Sleep Cruise YouTube Channel if you love to travel and cruise the world!
https://www.youtube.com/c/EatSleepCruise1
If you enjoy the video, please make sure to give it a BIG THUMBS UP!
CELEBRITY BEYOND CRUISE SHIP TOUR
0:00 Introduction
1:10 Celebrity Retreat Decks 17-15
5:10 Outdoor Deck 16
5:55 Deck 15 Outdoor Decks
10:35 Deck 14 Celebrity Beyond Resort Pool Deck
19:54 Decks 12-6 Staterooms
21:25 Decks 5-3 Grand Plaza and Interior Spaces
OUTDOOR DECKS ON CELEBRITY BEYOND
In this Celebrity Beyond tour, we start at the top of the cruise ship.
On Decks 15-17 all the way forward is the Retreat. This is an exclusive "ship within a ship" area for suite guests. It includes a private sundeck on decks 16 and 17; the Luminae restaurant which is open for breakfast, lunch, and dinner; and a lounge and bar on Deck 15.
Further, Deck 16 includes an elevated sundeck overlooking the pool and the new Mast Bar. There is also the jogging track that ascends and descends two decks.
On Deck 15 forward, cruisers can find the 24 hour fitness center. Aft on Deck 15, there is the tranquil Rooftop Garden and the newly enhanced Sunset Bar. This space has been completely redesigned with a Moroccan vibe.
On this Celebrity Beyond full ship tour, we made sure to include the Spa on Deck 14 and all of the experiences in the Spa Thermal Suite. Additionally, the adults only Solarium is all the way forward with an enclosed pool. The Resort Pool is an asymmetrical space that is simply stunning.
Finally, on Deck 14, there is the Oceanview Café. This buffet is open for breakfast, lunch, and dinner.
CELEBRITY BEYOND CRUISE SHIP TOUR INSIDE DECKS
Heading inside, decks 3-5 are the heart of the ship. On Deck 5, there is the new World Class Bar. Also found on Solstice Class ships, this bar serves up a new menu of handcrafted and unique cocktails and overlooks the Grand Plaza.
There are also specialty restaurants on this deck including Raw on 5. This is the perfect place for seafood and sushi lovers. Carnivores will want to try the Fine Cut Steakhouse, one of the best steakhouses on a cruise ship.
Continuing aft on Deck 5 is the Blu main dining room for those staying in Aqua Class cabins and Eden on Celebrity Beyond. This unique and transformational space includes a bar, a café open for breakfast and lunch, as well as a sit-down restaurant open for dinner. Live music, cruise staff activities, and two shows also call Eden home.
Continuing this Celebrity Beyond ship tour on Deck 4, we come to the main theater. Home to three production shows, as well as headliner acts, there was something new every night. Not far away is the Club, another entertainment space which is home to daytime and nighttime activities.
In the center of the Grand Plaza on Deck 4 is the coffee shop Café al Bacio. There is also the specialty restaurant Le Grand Bistro which serves lunch each day. At night, this venue hosts the Le Petit Chef experience with a 4-course dinner and show. There's also the brand new Le Voyage serving a globally inspired menu from chef Daniel Boulud.
Deck 4 is also home to the Craft Social, the perfect bar to grab a brew and watch the game, as well as the casino and two of the 4 complimentary restaurants, Cosmopolitan and Cyprus.
Deck 3 forward is home to Camp at Sea, Celebrity Beyond's youth center for those 3-12. At the center of the Grand Plaza on Deck 3 is the Martini Bar. This is the most happening bar on the ship, complete with talented bartenders, signature martinis, and a vibrant chandelier.
Lastly, there are the two remaining MDRs, Tuscan and Normandie.
Finally, Deck 2 has the Basement for teens 13-17 and the Destination Gateway, an inviting embarkation portal.
LEARN MORE ABOUT THE CELEBRITY BEYOND CRUISE SHIP ON OUR BLOG:
https://eatsleepcruise.com/celebrity-beyond-cruise-ship-scorecard-review/
TRENDING VIDEOS FROM EAT SLEEP CRUISE:
Celebrity Beyond Cruise Review:
Wonder of the Seas Cruise Review:
Top New Cruise Ships:
Make sure to SUBSCRIBE to our channel to get the latest cruise tips, cruise reviews, packing guides, port guides, travel tips, and more.
Join us on Social Media as we "Sea the World, One Port at a Time."
Instagram:
Facebook:
Twitter:
TikTok:
Pinterest:
Some Cruise Ship B-Roll Courtesy of Celebrity Cruises
Royalty-Free Music Courtesy:
#celebritybeyond #celebritycruises #celebritybeyondtour
---
Celebrity Cruiser's newest ship Celebrity Beyond is the cruise Line's Largest and most elegant ship to date Taking the Edge class to another level Quite literally this 140 000 gross ton Ship is perhaps our favorite new ship if You want to know what it's like on Celebrity Beyond then this video is for You as we have the most complete Celebrity Beyond ship tour and Walkthrough up next Foreign Cruisers I'm Don B from eat sleep Cruise Where we help you plan the perfect Cruise so you can see the world one port At a time And we're super excited to share our Latest ship tour of celebrity Beyond as The ship is Simply Amazing Like we do for all our ship tours we're Gonna start at the very top of the ship And go deck by deck showcasing all of The public venues from the dining to Bars and lounges entertainment venues And more we cover every square inch of This ship showcasing everything Celebrity Beyond has to offer So let's get started And we're actually going to start the Ship Tour on a brand new deck deck 17 at The retreat The retreat has been elevated on Celebrity Beyond with expanded two-story Sun deck and redesigned exclusive spaces
That are all in one Central Area This helps to create a true Resort Within Resort feel much like the Haven On Norwegian Cruise line or the yacht Club on MSC When compared to its two sister ships The Retreats on Deck is 40 bigger on Celebrity Beyond when compared to Celebrity Edge and celebrity Apex This provides more open air spaces with Plenty of loungers and seating areas on Both deck 17 and 16. At The Retreat Sun deck Those staying in Suites have access to a Private pool This inset pool faces out towards the Bow of the ship There are also two hot tubs for Additional relaxation Just past the pool is the Outdoor Retreat bar with some additional seating The bar serves a ship's standard menu so You can relax and sip your cocktails Here or take it back to one of the Loungers Further Cruisers can curl up with a book And one of the secluded Cabanas Or in one of Kelly hoppin's Chic new Seating areas found on both sides of the Retreat This space creates a calming zen garden Vibe Also on Deck 16 in the retreat you'll Find the luminae restaurant
Luminae at The Retreat is the exclusive Restaurant for sweet guests on Celebrity Cruises On Celebrity on this menu features a Unique new design that says bold as the Cuisine served here This prior restaurant has been moved to The front of the ship and now offers Panoramic floor-to-ceiling views for Guests to enjoy during every meal Luminae is open for breakfast usually Around 7 30 a.m to 9 or 9 30 A.M For lunch on sea days from noon to 1 30 Pm and is open for dinner from 5 PM to 9 30 pm The menu at illuminae does rotate and Offers more upscale selections than the Main dining rooms Some featured items include dishes Designed by Chef Daniel ballude the Cruise Line's Global culinary ambassador Finally all the way forward you'll find The retreat Lounge located on Deck 15 Which also boasts a dividing new design And a new location with dramatic floor Distilling views You can take an ever-changing scenery Whenever you stop by this Lounge For complimentary beverages Gourmet Bites or to Simply unwind You also have access to an exclusive Concierge who will make any Arrangements You need [Music]
There are over 200 Retreat Suites on Celebrity Beyond including Penthouse Suites Edge Villas Iconic Suites Royal Sweets Celebrity Suites and a variety of Sky Suites We had the opportunity to stay in a sky Suite cabin 9148 and can attest the room Was more spacious elegant and well Appointed than the aqua class balcony Cabin we stayed in during our second Cruise on the ship All Suites in the retreat come with some Additional Parks like personal Butler Service priority service at check-in Disembarkation And tendering ashore Reserve theater Seats expanded in Cabin dining Premium robes and slippers Upgraded bathroom amenities and more are Additional benefits All the way forward the retreat area Takes up decks 15 16 and 17. moving Towards the middle of the ship on Deck 16 you'll find an open sun deck The sun deck includes loungers mostly on The starboard side With part of the jogging track here However a new addition on Celebrity Beyond on Deck 16 that you won't find on Any of its sister ships is the mass bar The mass bar is actually a staple bar
You find on other classes of flurry Ships In response to Cruiser demands for more Bars and lounges this outdoor bar is now Conveniently located on the starboard Side of deck 16 Sun deck and serves a Pool bar menu Now Cruisers lounging on this upper Outdoor deck don't have to go far for a Classic Cruise cocktail There are actually additional loungers And some seats near the mass bar that Offers shade if you want to distance Yourself from the pool deck Heading down to deck 15. there is one Public area that is all the way forward And that is the fitness center Tucked away on Deck 15. the State-of-the-art fitness center includes Weight machines and cardio equipment and Will take your fitness goals to the next Level there are also plenty of free Weights A stretching area And several dedicated spaces for Fitness Classes Not to mention the floor-to-ceiling Windows offer great views while getting In your workout Here you can also find an expanded f-45 Training Studio Specializing in high intensity group Workouts And ride cycle classes
Powered by techno gym these classes give You a real Road cycling experience Fitness classes on Celebrity Beyond are An upcharge unless you're staying in an Aqua class cabin And the fitness center is open 24 hours A day If you want to take your workout Outdoors You'll enjoy the dedicated multi-story Jogging track Rising two full decks the Johnny track On Celebrity Beyond is uniquely worked Into the design of the pool deck and Outdoor sun decks Whether you walk or run most of the path Is a dedicated space It takes approximately five laps to Equal one mile Midship on Deck 15 you'll find some Lounge chairs Including some areas that are in the Shape Heading aft you'll find one of our Favorite outdoor spaces The rooftop garden on Celebrity Beyond Has been enhanced An even more tranquil space With a reconfigured seating area and Stage And even more Greenery this Urban Playscape is one of our favorite areas On the ship Rooftop garden hosts a number of
Different activities and events Throughout the cruise it's home to live Music Crew staff-led activities Lawn games like ladder ball and Bago As well as outdoor movies Along with the redesign the cruise line Has added two cantilevered flow pools Off the starboard side of the ship This tucked away pool space offers an Alternative to the resort pool Coupled with more relaxed Vibes and Stunning ocean views The rooftop garden Grille is an Alfresco Specialty restaurant which features some Mouth-watering options Fresh Off The Grill Situated in the rooftop garden you'll Have fantastic views while you dig into Classics like baby back spare ribs Roasted chicken And other barbecue favorites in the Sophisticated Alcove this Alfresco Restaurant offers Cruisers a unique Dining experience with some newly added Wind protection for enough charge of 25 For lunch And 45 for dinner The venue is open select days for lunch And open nightly for dinner from 5 45 pm To 9pm reservations are required Perhaps one of the biggest enhancements On sort of Beyond Is the reimagined Sunset Bar all the way
Off on Deck 15. quite literally this Space is nearly twice as large as Previous Sunset bars it is now a Two-story space That offers unobstructed views [Music] Designed by interior designer Nate Burkus this Alfresco bar derives Inspiration from summer days around the World to create a casual yet elegant Beach Club vibe the result is an Expansive space with the pergola covered Entrance and artistically designed Walkways Guiding guests to the u-shaped bar Along the way you'll find plush covered Sofas as well as some comfy tables and Chairs to enjoy some drinks and good Company With live music in the evenings and Updated Bar menu and even some Mediterranean Tapas it's no surprise This is one of the most popular bars on The ship Most days the Sunset Bar was open from 10 AM to midnight At the heart of the spa on Celebrity Beyond is the sea thermal Suite This thermal Suite located All the Way Forward on Deck 14 features eight Distinct spaces Access to the thermal Suite is Complementary for all Aqua class guests And other guests can purchase thermal
Sweep passes For the day or the entire length of the Cruise During our sailing passes were priced at 82 for the day or 259 dollars per person For a week The experiences in the sea thermal Suite Include A traditional Turkish bath A crystallarium A salt room A steam room Infrared sauna room Float room Rainfall water therapy And some heated loungers The thermal Suite is open most days from 8 AM to 10 P.M Of course celebrity Beyond also features A spa with your typical treatments from Massages to facials Manicures and pedicures and more One tip we always have is to take a spa Tour on embarkation day Not only will you learn about all the Treatments offered they often offer Discounts and Raffles that include free Treatments if take the tour Within the spa on Celebrity Beyond There's also a barber shop and a salon The barbershop offers shaves cuts and Beard and neck trimming While the salon offerings include Collars cuts and styles makeup sessions
And more Leaving the spa on Deck 14 and heading Towards the center of the ship you will Find the solarium The solarium is the adult's only pool Area which to reserve for those who are 16 years of age or older The Central Pool is enclosed by glass Dome Meaning it's always a pool day no matter The weather outside in the solarium The bright blue decor and sculptures Give this area its own unique vibe Separate from the resort deck pool Not to mention the solarium pool is Surrounded by plenty of loungers for Those looking for a relaxing sea day Either facing the pool Or outward facing loungers which have Views of the surrounding landscapes Located in the solarium you will find The spa Cafe and Juice Bar serving up Healthy options as an alternative to the Buffet for breakfast and lunch The spa Cafe is open for breakfast Approximately 7 A.M to around 10 a.m and For lunch open usually around noon to 2PM The venue features small plates and Smoothies which are covered in the Premium beverage package All the food here is complementary So this is the perfect spot for a quick Bite to eat while relaxing the slurium
Do you know however that the solarium on Celebrity Beyond does not have a bar Now if you're like me and looking for Something with a little bit more Substance to eat axing the solarium on The starboard side you'll find another Casual dining spot the mass Grill This outdoor casual Eatery is a great Place to grab some lunch or a midday Snack while launching poolside Serving up Burgers and Fries and some Other grilled favorites the mass Grill Is open daily from around 11AM to 6 p.m It does offer some tables in the shade Or you can just grab a snack and head Back to your Lounge here on the resort Deck Another tip here is that you will find a Self-serve soft-serve ice cream stand in The mass Grill on slower to Beyond Heart of deck 14 is the resort pool The stunning asymmetrical space boasts a 25 yard lap pool surrounded by terraced Pool deck and new sunken seating areas This wide open space is similar to Beyond sister ships but it feels more Open With laundress facing both the pool and The ocean Cruisers can have their pick of views This pool deck is certainly one of the More visually stunning pool decks on any Cruise ship It definitely felt as much more
Sophisticated upscale feel than the Competition Truly making you feel like you're at a Resort rather than on a cruise ship While in the pool deck you can't miss The signature art installation While it might not be our favorite of The signature Hallmarks it's certainly Instagram worthy Of course the resort pool deck Has its own bar Visually you can't miss this bright bar As the art installation above it is the Focal point if you're looking forward on The stack The bar serves up the pull bar menu With favorites like frozen daiquiris Beer wine and zero proof cocktails We're big fans of the traditional Seating on the starboard side as well as The new furniture and open deck space Located right in front of the bar Another enhancement made to celebrity Beyond is repositioning the resort pool Cabanders Now these starboard side Cabanas face The pool deck This makes them feel more inviting as Opposed to the orientation on the other Two ships Which actually has like a band is facing A walkway Besides the positioning Look Obama is on Celebrity Beyond look
About the same in terms of style size And accommodations Cruisers looking to reserve a cabana can Do so pre-cruise or talk to one of the Attendants once on board Typically reserving a cabana comes Complete with a selection of cocktails Food and personalized service for the Day While technically the Magic Carpet can Be found on different decks throughout The day we tended to spend the most time At this cantilevered multi-use space Una's parked poolside on Deck 14. The starboard side floating deck offers Some comfy Furniture a signature drink Menu And unaltered views When on the upper decks this is a Popular spot for those wanting to feel The ocean breezes while enjoying a Vanilla mojito Went down on Deck 5 Cruisers can enjoy Dinner on the edge Of the ship The venue becomes an extension of Veron 5. serving a distinct food menu Although during our cruise we don't Recall this experience being open Finally went on the Gateway on Deck two The Magic Carpet becomes a tender Platform making it easier to get ashore [Music] Finally aft on Deck 14 you'll find the
Ocean View cafe The Ocean View cafe is your typical Cruise ship Buffet This casual dining spot offers Traditional favorites as well as Cuisine From around the world with a menu that Varies daily For breakfast which usually runs from 6 30 a.m to 10 AM there's your typical Selection of eggs pancakes Custom omelet station Breakfast meats And various fruits and content of Breakfast options Lunch is available from noon to 2 30 pm Dinner is offered in the Ocean View cafe For around 6 pm to 9 30 pm Pasta pizza and salad available to 1am The venue serves a wide variety of Globally inspired cuisine in a casual Setting The options to rotate but you can often Find a grill Indian specialties Lan favorites Cheese and cold cuts Pasta station salad bar and more For dinner there are also various theme Lights [Music] The Ocean View cafe offers plenty of Comfy indoor seating [Music] As well as Alfresco dining that blends
Seamlessly with the newly designed Two-story Sunset Bar Further located inside the ocean view Cafe is il sakendo Macho which offers Espresso base drinks And a limited menu of spirits and adult Beverages Located on the port side near the Entrance the Ocean View cafe The very Act of the cafe You'll find the Ocean View Bar Which serves up all your adult beverages Another good tip is they actually do Have espresso at the Ocean View Bar as Well And in the mornings there's usually not A long line at the Ocean View Bar to Grab drinks Decks 12-6 are all staterooms during our Five night sailing we stayed in an Infinite Veranda Aqua class stateroom Cabin 9246 was our starboard side Stateroom located next to the AFT Elevators It offered the ideal location for Accessing either the pool deck or indoor Areas Corian Hills Library Cruise's website The room measured 243 square feet with a 42 square foot balcony Immediately upon entering the room our Bathroom was on the left Likewise our bed was located right after The bathroom facing aft
With the closet tucked around the corner Beyond the bed there was a sofa on the Left And a desk and dresser on the right The desk includes several outlets in one Centralized location for charging Multiple devices Honestly we're not fans of the infinite Veranda we prefer a more traditional Balcony For us this Arrangement is essentially a Glorified window Inside the main Hub the ship is found on Decks three through five This area includes venues familiar to Those who have sailed on the Edge class As well as some new additions found on Celebrity Beyond On the starboard side starting forward And walking toward the middle of the Ship on Deck 5 you will find the art Gallery We suggest you admire the artwork and Just continue walking As you continue walking to the heart of The ship you'll find the next new Addition to the Edge class On the solstice class ships on Saturday Beyond the world class bar makes a Comeback Luau class bar features a newly crafted Drink menu With favorites like the rose water and American Pie cocktails
This deck 5 midship establishment Showcases fresh ingredients And the finest Spirits for a Sophisticated night out The bar is the perfect spot to grab a Pre-dinner cocktail before dining at one Of the nearby specialty restaurants The venue tended to open around 4 pm in The afternoon and stayed open late Across the way you'll find Rod five This a la carte restaurant on Deck 5 Offers a variety of seafood favorites Including Sushi mussels The Famous Seafood platters And other Lan meat sea options With a fresh and open dining room Concept offering ocean views you can Enjoy lunch here on sea days from around Noon to 1 30 pm and dinner nightly from 5 45 pm to 9pm Across the way on the port side you'll Find the fine cut Steakhouse Perhaps one of the most upscale Steakhouses at Sea fine cut on Celebrity Beyond is certainly A Slice Above other Similar venues This restaurant offers succulent Starters like a lobster cocktail and Rigotho Yaki Further there are several premium cuts Of beef which pair well with Gourmet Sides like bacon mac and cheese And the Guerrera tater tots With a Sleek sophisticated dining room
Overlooking the Grand Plaza this Upcharge restaurant is open nightly from 5 45 pm to 9pm for a cover charge of Sixty dollars Of note there's an additional 20 charge For additional entree orders Like our previous experiences our email At fine glut did not disappoint and Still ranks is one of the best Steakhouses at sea As you continue walking after deck five You'll walk by a few Boutique shops Featuring high-end watches and jewelry As you continue towards one of the more Unique areas of the ship To get from midship to app to deck 5. Cruisers pass through the interactive Art installation known as Odyssey This trippy hallway is as mystical as The remainder of this deck With sculptures light and sound the Multi-sensory experience transport you To a whole new atmosphere Exiting Odyssey you are now at the AFT Of deck 5. here you'll find the Blue Restaurant Blue is the exclusive restaurant for Aqua class guests on Celebrity Cruises This intimate space features elegant Blue and white Decor alongside a menu With cleaner healthier options Blue's open for breakfast and dinner Daily Revenues usually open for breakfast from
Around either 7 30 or 8 A.M running to About 9 or 9 30 A.M And dinner is nightly from 5 30 pm to 9pm The dinner menu does change nightly Offering guests plenty of choices if They choose a dine here each evening Also Cruisers can order from that Evening's signature menu items So you have the best of both worlds Our experience at Blue was honestly on Par with the MDR in our opinion Across from Blue and new to celebrity is A small gourmet chocolate shop we may Sondi chocolate Since opening the first luxury Parisian Boutique in 1977 when they saw in the Chocolate has reimagined the world of Chocolate Celebrity Beyond marks the first Boutique at sea offering the signature Kofrit Maison and gesture gift boxes Along with select chocolate bars Other retail changes on Celebrity Beyond Is replacing the Tiffany's Boutique in This area With Mount Blanc Which features watches leather goods and More Finally after deck 5 Cruisers arrive at Eden Awaken all your senses and this Breathtaking three-story venue like at Sister ships even on Saturday Beyond
It's a dynamic space that transforms Throughout the day and the cruise Wallet Eden cruises are immersed in the Ever-evolving multi-sensory experiences That transition from chillfull to Playful to wonderful During the day guests can enjoy the Outward facing views from the variety of Seating options on decks 5 and 6. And participating activities like arts And crafts or take in some easy Listening music In the evening cruises are treated to Interactive experiences unlike anything Else at sea Two new shows are part of Wonder at Eden Entertainment series Decadence invites Cruisers to a Magnificent manner Champagne flowing from every corner of The space The show features a completely different Performance cast with two lead singers A small dance group and circus style ax The second show Paradise is a Celebration of the vibrant and lush World of Eden with the same performance Cast this show entices the audience with A mix of song Dance And impressive feats Of the two shows in Eden this one was Our favorite Beyond the actual multi-use
Entertainment space Eden is also home to A cafe Far And restaurant Found only on the Edge class of ships The eating Cafe is a casual and Complimentary venue which is open for Breakfast and lunch For us the eat-in Cafe is a nice change Of pace from the buffet The location allows for a beautiful fuse And some comfy Furniture to go along With it There's also limited Alfresco seating on Both sides of the ship Offering warm breakfast sandwiches and a Few other favorites like homemade Cinnamon buns this is a great morning Stop for a quick bite The eating Cafe is open for breakfast on Sea days from around 8 A.M to 9 30 A.M For lunch the venue has paninis warm and Cold sandwiches a few specialty salads And a daily carb sandwich This venue is open for lunch daily from Noon to 1 30 pm For something more exotic the Eden Bar Offers some of the most unique drinks at Sea This craft cocktail venue mixes up Unique and adventurous Libations that Are just as tasty as they are photogenic So be sure to grab a drink while Enjoying the signature nighttime
Productions here While tasty several beverages at this Bar are above the allotment on the Premium beverage package Thus you'll need to pay the difference Plus the gratuity Perhaps the most unique restaurant on Celebrity edges class of ships is the Eat-in restaurant When you enter Eden you'll want to head AF and down the fire stairs to discover The specialty restaurant venue On summer and Beyond this restaurant now Offers both a seven course tasting menu Or you can choose your own appetizers Entree and dessert Some of the tantalizing options include A GNC ceviche Pan roasted Carbonaro shrimp and fresh Grouper The price of dine at Eden is sixty Dollars and the venues open nightly from 5 45 pm to 9pm of note you do not need To die at this restaurant to enjoy Everything else Eden has to offer [Music] [Music] The main entrance to the multi-deck Theater on Celebrity Beyond is All the Way Forward on Deck 4. The circular stage has a thoughtful Design And function affording uninhibited views The 180 degree stage and screens
The theater on Celebrity Beyond Introduces all new Production shows They're an exclusive to the ship A 20-foot tall 4K LED screen curves Around the stage And integrates with new floor projection Technology for Next Level Production Shows during our cruise we were able to Watch all three of the new signature Productions The award-winning Arte features a Talented cast of dancers Singers And free tracks to bring famous art Pieces to life While toss-up my next favorite show was Stage Door While Heidi enjoyed elements more Stage Door is a more traditional Broadway review show Featuring a varied range of songs And energetic dance numbers Elements showcase various acts from Acrobats to strength and balance Performance Again it was also a captivating show With strong vocals and talented Performers While exiting the theater on the Starboard side you'll find the celebrity Shops Along with duty-free options this is the Main logo shop on the ship where you can Pick up Celebrity Cruises and celebrity
Beyond branded merchandise Ship models t-shirts and other Accessories are available Other fashion items are also available For purchase On the port side is the club This two deck multi-purpose Lounge is Open day and night During the day the club hosts a variety Of activities including trivia game Shows like Deal or No Deal and even an Escape room type challenge In the evenings the venue comes alive With music and signature entertainment Including resident performers and brand New shows Late night Cruisers can even dance until The wee hours with the resident DJ Whether on the dance floor or relaxing The ultra hip Lounge area you can sip Some musically inspired cocktails from The nearby bar Soul Town at the club is a lively Tribute to the classic tunes of Motown Found exclusively on Cyber Beyond Also new to the ship is jazz joint Featuring the same cast performers from Eden Jazz joint invites Cruisers to a Speakeasy with swinging jazz tunes and a Pro ambition inspired show the singing Dancing and aerial Acts This intimate show should not be missed But make sure to get there early for Optimal seats and who knows you could
Become part of the show As you head towards the Grand Plaza on Deck 4 you'll find several service areas On the interior of the ship there's a Future Cruise planner's desk Here guests can take advantage of Onboard deals and promotions to book Their next Celebrity Cruises vacation Across the way from The Cruise Planners Is a shore excursions area With several touchscreen kiosks Cruisers Can review tour options and excursions For upcoming ports of call Staff members are available select hours To answer questions or to help Individuals with pre-booked tours who Might have issues or need to make Changes Beyond the shore excursions kiosks is The photo gallery Here Cruisers can review all their Onboard photos at the digital touch Screens Like many contemporary and premium Cruise Lines photographers can be found Around the ship snapping photos of your Cruise vacation With a swipe of your room key card you Can use the screens to determine if any Of the photos are worth purchasing Perched above the Grand Plaza is a new Declarative Beyond specialty Restaurant Le voyage This restaurant is in partnership with
Chef Daniel belud the cruise Line's Global culinary ambassador Travel is an inspiration for the menu Featuring a variety of global flavors At this Exquisite and intimate Restaurant guests can opt for a set five Course meal for 125 dollars or choose Their own selections for an appetizer Entree and dessert for 75 dollars There's also an optional wine pairing For additional hundred dollars The meal was one of the highlights of Our dining on Celebrity Beyond Some popular dishes include The Tamarind And peanut crusted prawns And the Brazilian mokeka Also located in the Grand Plaza is Cafe Abasho Which is the go-to venue for Java lovers On Saturday Beyond As your coffee bar at Sea Cafe abasho Serves up signature espresso base drinks Coffee cocktails and tasty sweet treats Lattes and other specialty coffees and Teas are included in both celebrity Beverage packages All pastries and food items are Complimentary and they change throughout The day The cafe features content little Breakfast items in the morning to cakes And other items later in the afternoon Unlike other Atrium Cafe so this venue Does not offer sandwiches or other such
Lunch type items The venue is typically open around 6 or 6 30 a.m to around midnight And it's the perfect spot to hang out And people watch day or night Across the way on the port side of the Ship you'll find Le Grand Bistro this French-inspired eatery on Deck 4 offers Specialty dining for lunch At night this venue turns into the La Petite Chef a digitally enhanced dinner Experience which includes a four course Meal and a show [Music] A little petite Chef on Celebrity Beyond Does have a different show and menu than The other Edge class ships During the show you learned how to Become the world's greatest celebrity Chef Unfortunately the show nor the menu Items were a favorite of ours Still this digitally enhanced meal is Always a fun time a liberty Chef is Available for dinner at either 6 pm and 8 PM nightly for a cost of 60 dollars Of note this is a set menu but there's An alternative menu that does not go Along with the show For lunch Le Grand Bistro is priced at 30 per person it is open noon to 1 30 PM Usually on sea days Menu options include Los fritas escargot Baguette sandwiches
Soups steak fruits and More in addition To a daily special Debuting on Celebrity Apex the new craft Social is also found on Celebrity Beyond On Deck 4 port side This casual Lounge features a large Selection of craft beers Along with wine and Specialty cocktails The menu also includes light bites like Truffle fries beef sliders and chicken Wings at all a car prices This is the perfect place to gather with Friends and perhaps catch a game on one Of the large screen televisions Midship on the port side of deck 4 near The craft social is a casino For a ship of the size the casino seemed To be an adequate size one big Improvement is that there's no smoking Allowed in the casino Like most cruise ships The casino includes a mix of slot Machines and table games surprisingly They did have the wife's favorite slot Machine but the bank was almost always Occupied As usual the casino was only open Whenever the ship was not docked at a Port of Call Finally the first two of the four Complimentary restaurants are found on Deck 4 aft on the starboard side it's a Cypress restaurant And on the port side is cosmopolitan
With celebrity select dining anytime Cruisers have the option to dine at any Of the four complimentary dining venues Each of these restaurants features the Same list of synergy dishes that rotate Nightly as well as a list of classic Dishes that remain the same throughout The cruise Where these restaurants differ is the Exclusive sections of the menu Cosmopolitan is married after an upscale American Eatery it's actually the most Similar in design and layout to the Typical main dining rooms you find on Most cruise ships From the walk through wine display at The entrance to the venue's warm Decor Do you feel right at home here The cosmopolitan's exclusive menu Includes items such as salmon Oxtail Pan seared black cod and carrot cake Cyprus is a Greek theme complimentary Main dining room on Sovereign Beyond The color palette has been updated in This venue from the other Edge class Ships to now feature Regal red and gold Tones with nods to the Sea Representing the company's Greek Heritage the exclusive menu items Remain focused on seafood and other Mediterranean dishes Like Chi sakanaki grilled octopus lamb Shank
And short ribs On Deck 3 Camp At Sea is celebrity Cruiser's youth program which can be Accessed via the Ford staircase This program offers some 500 activities All supervised by youth staff and Organize based on age groups These activities can include arts Classes games and challenges and even The cruise lines stem at Sea program Which engages entertains and informs Kids on varying topics such as Marine Wildlife and conservation Shipmates is for kids aged three to five Years old While Cadets are for those six to nine Years old Cadets can also participate in Activities spread throughout various Venues including the lawn Club games Camp outs and movie Nights Older kids aged 10 to 12 are known as Captains and they can enjoy even more Freedom while on board while Participating in scavenger hunts And various Sports and gaming Tournaments with kids their own age While we've been walking around it the Whole time inside the centerpiece to the Interior of the ship is the Grand Plaza The centerpiece of celebrity Beyond is a Three-story Grand Plaza This transformational space offers a Different experience every time you
Visit With more space a centralized bar and Cascade seating The Grand Plaza is more invited than Ever before It is more spacious and open than the Similar atriums on Celebrity Edge and Celebrity Apex featuring lighting that Changes from day to night and Lively Chandelier shows alongside live music In great ranks from the martini bar in Deck 3. you'll find yourself spending a Lot of time here Not to mention there are several Restaurants and bars that Overlook the Grand Plaza index four and five which You already know all about so you can Always be part of the action even if You're grabbing drinks somewhere else or Having dinner The larger and more centrally locate Focal point of the Grand Plaza is a Martini bar And honestly this is the most happening Bar onboard celebrity Beyond The martini bar is filled with an Energetic crowd And highly talented bartenders with a Beautiful grand chandelier It's certainly a hub of nighttime Activity The specialty Martinez includes Favorites like banana fosters and the Uber popular espresso martinis now on
Tap These strings pair perfectly with the Craft Mixology skills of the friendly Bartenders Continuing with f and deck 3 you'll come Upon guest services Open 24 hours a day the guest relations Desk is staffed with helpful crew that Can answer questions you have Or resolve any issues that might pop up During your voyage For more casual Hotel lobby like feel of this area on Saturday on gives the space a warm and Inviting charm Nearby is the eye Lounge This is celebrity Chic approach to the Internet Lounge it's also the first Authorized Apple specialist at sea Here you'll find state of the art Apple Technology to use as well as purchase This convenient out of the way location Is a nice new addition to celebrity Beyond as it frees up space on the upper Decks for other public venues All the way aft on Deck 3 are the two Remaining complimentary restaurants On the starboard side is Tuscan [Music] On the port side is normally Like the other two dining venues these Nine venues are open nightly from 5 30 Pm to 9pm for dinner Cruisers can make reservations
Pre-cruise or choose to walk up when They are hungry at any of the four Locations We did both options and never waited Long for a table Every morning of the cruise one of these Main dining rooms is also open for Breakfast The restaurant normally opens around 7 30 or 8 A.M and stays open till around 9 9 30 am This venue serves all of your typical Breakfast selections miss it down format Further one of the main dining rooms Offers lunch from around noon to 1 30 pm On sea days Like the two other restaurants on Deck 4 These two restaurants on Deck 3 Each offer their own exclusives menu of Course cruises can also opt for one of The sandwich dishes on the rotational Menu or one of the classics that are Available every night Tuscan is a complimentary Italian Restaurant on Saturday Beyond The venue is designed with the influence From Modern Italian fashion and film With mostly black and white decor and Pops of yellow The exclusive menu items include Tuscan Shrimp soup Eggplant bruschetta Tuscan pork chop [Music]
Razabrita carbonara and more Normandy is a complimentary French Inspired main dining room on Saturday Beyond With Decor influenced by summertime in Paris this restaurant features warm pink And red tones Ornate chandeliers And large accent furniture The exclusive menu items include dishes Like baked brie A beef tenderloin Pan seared duck and more [Music] Lastly heading down to deck 2 you'll Find the basement No literally that's what it's called Located midship this is the teen's only Area for those aged 13 to 17 years old It's accessible only via the midship Elevators and steers Here teeth can hang out as space Designed exclusively for young adults Where they can socialize and participate In team Focus activities and events These can include Sports competitions Silent disco parties and video game Tournaments Youth activity staff are on hand to Supervise teens and Lead group Activities Also on Deck 2 you will find the Destination Gateway This area is a modern multi-purpose
Space that transforms from a luxury Embarkation station into an intimate Setting for a destination enrichment Talks and additional programming When docked those wishing to go ashore Are able to easily exit the ship from This open and well laid out space When returning Cruisers are quickly Processed by security and welcome back On board When tendering is required go ashore the Magic Carpet becomes an extension of Destination Gateway and serves as a Launching platform to Ferry cruises Ashore When not used for embarking or Disembarking guests the space can also Host private events or talks Now that you've explored every single Deck of celebrity Beyond do you want to Know what's really like sailing on the Ship well you should check out our Celebrity Beyond Cruise review in that Video we go into detail about everything You would like to know about the dining Onboard activities entertainment and More we cover everything about a cruise And sorry to Beyond to help you decide If this cruise ship is right for your Next Cruise vacation