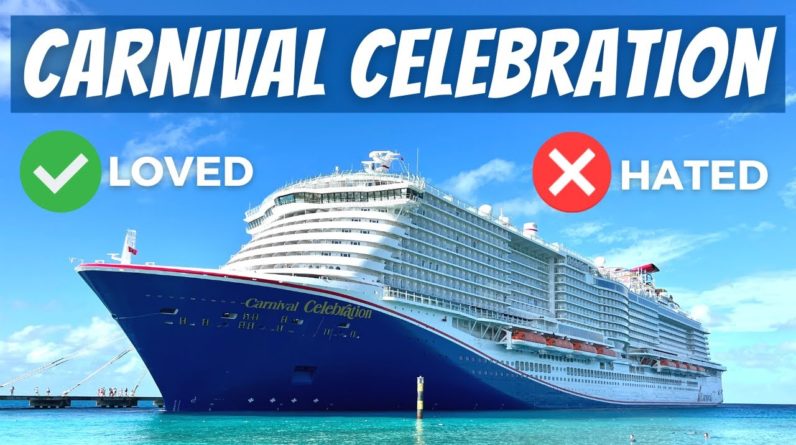 As mega-ship enthusiasts we have sailed on the world's largest cruise ships. So when the new @Carnival Celebration launched last month we had to hop onboard. How does this ship compare to the competition. We break everything we loved and hated with our Carnival Celebration review.
I
CARNIVAL CELEBRATION REVIEW
0:00 Introduction
1:02 Casual Dining
3:37 Sports Deck
6:25 Service
8:36 Pool Deck
10:58 Onboard Activities
13:50 Staterooms
15:53 Bars and Lounges
19:09 Entertainment
21:45 Main Dining Room
23:58 Specialty Restaurants
CARNIVAL CELEBRATION REVIEW
For this cruise review of Carnival Celebration we share what we loved, liked, and hated about this new cruise ship. Both of us absolutely loved about the Carnival Celebration cruise ship was the casual dining. The ship offered so many delicious options. From Guys Burger Joint, to the Tex-Mex at the Blue Iguana, to fresh slices of pizza at Miami Slice, you could try something new every day.
Further. another thing that really surprised us about arrival Celebration was the sports deck. This outdoor space is perfect for families. The upcharge Bolt Rolle coaster was well worth the upcharge. Complimentary fun included a ropes course, mini-golf course, and waterpark with three good-sized slides.
Lastly, the service was amazing on the ship. For this review of Carnival Celebration we give the crew two big thumbs up. From the bars and restaurants, to our stateroom attendant, and the Fun Squad, the crew were fantastic all week.
CARNIVAL CELEBRATION REVIEWS
Where Carnival Celebration ship was just okay included the staterooms. While a decent size, Carnival Celebration's room were rather bland, with little decoration. Plus, the cabin lacked outlets, and had no side tables.
Further, the we did not find the entertainment to be on par with the competition. For this Carnival Celebration cruise review we went to every single show in the theater. Of the four main theater productions, our favorite was the Most Magnificent Circus. However, the Celebration Central theater is an awful location for shows. In the main theater, Color My World was better than the first night's offering of Amor Cubano. But, neither show raised to the level of RCI or NCL.
Although, we did enjoy the variety of onboard activities during the day and evening. Cruise Director Lee and the Squad offered a variety of activities throughout the cruise.
The bars on Carnival Celebration offered a variety of live music. During our six night sailing, there were two pub guitarists that rotated between a couple of venues. A string trio, two pianist, a rock/country band, and DJs. While the music was diverse, the drink menus at the lounges were rather standard.
WHERE CARNIVAL CELEBRATION DISAPPOINTED
Sadly, one area Carnival Celebration let us down was the night time dining. While the casual options were great, the main dining room and specialty restaurants fell well short. We dined at the main dining room tice. Both times our entrees were not well prepared, and our starters and desserts just average.
During our cruise, two additional venues were complimentary. The fusion restaurant Chibang mixes Asian and Mexican cuisine. While we did enjoy the food here, the quality was no where near other cruise lines specialty restaurants. Same could be said for Cucina del Captiano. This Italian restaurant had good apps and desserts, with okay entrees. But, it certainly isn't worth a per-person up charge.
We did pay for two speciaty restaurants. With so many compliemntary options, we would probably stick to those on a future Excel-class cruise. My filet at the Fahrenheit 555 steak house was well prepared, but the sides and starters where just okay. Likewise, I did like my lobster at Rudi's SeaGrill, but the starters lacked flavor. This restaurant was nothing like Rudi's on Holland America ships.
READ OUR COMPLETE CARNIVAL CELEBRATION CRUISE REVIEW ON THE BLOG:
https://eatsleepcruise.com/carnival-celebration-cruise-ship-review/
TRENDING VIDEOS FROM EAT SLEEP CRUISE:
Celebrity Beyond Cruise Review:
Wonder of the Seas Cruise Review:
Top New Cruise Ships:
Make sure to SUBSCRIBE to our channel to get the latest cruise tips, cruise reviews, packing guides, port guides, travel tips, and more.
Join us on Social Media as we "Sea the World, One Port at a Time."
Instagram:
Facebook:
Twitter:
TikTok:
Pinterest:
Cruise Ship B- Roll Coutesy of Royal Caribbean, Celebrity Cruises, and Norwegian Cruise Line
Royalty-Free Music Courtesy:
---
Carnival celebration is Carnival Cruise Line's newest and biggest ship today we Just returned from the inaugural cruise To Miami Florida and share all the Details about this brand new mega ship And our exclusive Carnival Celebration Cruise review Up next Welcome aboard Cruisers I'm DB from eat Sleep Cruise where we help you see the World one part A Time with our exclusive Cruise reviews ship tours and tons of Cruise planning advice now the wife and I have been on over 60 cruises and were Big mega ship enthusiasts so we've sat On the largest ships in the world and Cruise lines like Royal Caribbean Norwegian Cruise Line and Celebrity Cruises among others so of course we had To get on board Carnival celebration Combo Cruise Line's newest shift to date To test out this brand new vessel and in This review we're going to tell you what We liked about Carnival celebration Where the ship was just okay and where a Carnival celebration fell short for us And we start one area where we thought Carnival celebration really shine and That's with the casual dining When it comes to casual dining convo Cruise line does laps around the Competition the variety of options food Preparation and flavor and atmosphere The venues on Carnival celebration are
Intertwined to the ship's different Zones Guys burger joint remains one of The best Take Out burger joints at Sea On Carnival celebration this venue has Been enhanced with more seating And a larger counter for quicker service Another one of our favorite spots on the Ship was the Blue Iguana Cantina in the Morning the burritos are among my Favorite breakfast option on any cruise Ship at lunch time you can get burritos And taco options that include chicken Steak or shrimp with custom toppings and Of course the salsa bar Not too far away on Deck 16 in the Afternoons Street Eats served up small Bites with options like loaded french Fries dumplings Pad Thai or chicken Sautes these plates are just the right Size for a quick snack especially after Spending a long day ashore at a Port of Call Aft on Deck 16 is Shaq's big chicken This venue debuted on Mardi Gras Carnival celebration sister ship and has Been a Smash Hit Ever since with Addictive crispy chicken sandwiches and Chicken tenders now we know why Throughout the Six Days on board we made Several stops here Down On Deck 8 in the 820 Biscayne Zone Is the Miami Slice Pizzeria while it's Not the best pizza at Sea it features Five different options and remains open
Until the wee morning hours for late Night snacks I definitely thought the Pizza here was better than the Competition like Royal Caribbean or Norwegian Cruise line but it didn't Necessarily rise to the likes of Princess Cruises or virgin voyages Right next door is a Deco Deli which Features 12 different sandwiches and is Open most of the day On Deck 6 you'll find the Java Blue Cafe Which serves up some grab-and-go bites During different times of day In the morning you'll find breakfast Sandwich and Continental items like Breakfast pastries While in the afternoon you'll find Things such as sandwiches chicken pies And empanadas Now you knows we didn't mention lolito Marketplace yes Carnival celebration Does have your typical cruise ship Buffet but honestly we're not big fans Of Buffets and with so many other Options on the ship we actually never Ate in the cruise ship Buffet Another area we really liked our Carnival celebration was a sports deck Deck 18 all the way after the ship Carnival Cruise Line is a Family-centered cruise line so of course A sports deck offers a variety of Activities that are suitable for all Ages
Of course the main attraction here is The upcharge bolt this electric roller Coaster at Sea is 15 for two continuous Laps around the track While it's a little pricey we did enjoy This activity one tip we have is to get Into the front car because the front car Actually goes faster than the back car On the track in addition if you're Cruising with multiple people you are Able to go on the ride by yourself So Heidi and I went separately so we Could get pictures and videos of each of Us riding the bull But there are plenty of other Attractions on the sports deck that are Complementary All the way aft on this deck is a nine Hole mini golf course Honestly I did expect more theming and Creative elements more like say Royal Caribbean's mini golf courses yet the Little kids didn't seem to mind the lack Of more advanced features and of course The nine holes we played were still fun Now I'm not gonna let you know who won But let's just say my wife wasn't happy Nearby the mini golf course is the Carnival Waterworks this water park is Home to several attractions for little Kids as well as a fuel slides for us big Kids The three more adult slides include the Face forward matte slide blue Lightning
A drop slide called the Orange Crush and Then finally the Twister which was more Of a traditional body slide similar to Slides you might have on say Royal Caribbean I rode each slide twice on one C day and Surprisingly the water park was never Overly busy so there wasn't long waits For the rides and my favorite was Definitely the matte slide For those without a fear of heights the Rope course is suspended over deck 18. Cruisers who have Crews on the Vista Class I would say the Rope course here Is about the same size even though the Ship is much larger than those class of Ships There are several options to make the Challenge easy or hard So this certainly has a replay potential The course even includes a zipline and a Beam that extends over the edge of the Ship similar to the plank on ncl's rope Course The sports deck also had other Staples Like a full-length basketball court and Games such as foosball and Bago Additionally Grand into the stack is the Jogging track it takes seven laps around The track equal on mile If you plan to use this track for a walk Or run be on the lookout for others Strolling along as well as some day beds Lining the path
It can get quite crowded And honestly I would expect the jogging Track to be a little bit wider on a ship Of the size Another way that Carnival celebration Really wowed us was with the service Given it was a Thanksgiving week and one Of the first sailings on the new ship we Were concerned that the service might Suffer but we're happy to report that This was not the case at all The service throughout the ship was Friendly and efficient in fact the Service on Carnival celebration was Better than some of our more recent Cruises on premium Cruise Lines It started with our state room attendant Alvey even though our embarkation was Delayed he made a point to introduce Himself on day one he was always visible In the hallways and he took good care of Our stateroom even though our schedule Was anything but predictable on this Trip At the bars and lounges a variety of Servers were quick to strike up a Conversation Nikola and the Jubilee bar like to joke While showing off his Mastery bartending Skills and other bartenders were equally Eager to add some Flair while mix up Cocktails Many of the bars and lodges did not have Weight staff so Cruisers did need to
Order at the bars itself Still the wait times were pretty minimal 2D at the Java Blue Cafe made my Multiple trips his coffee shop a Pleasure she always had a big smile on Her face and knew my name in order by The third morning For dinner we had your time dining each Evening we joined a virtual Queue at one Of the restaurants and we never waited More than 10 minutes to get our table Assignment even though we didn't have The same weight stop service was always On point Food would start at the appropriate Temperatures and each course was well Paced with most meals taking about 60 to 75 minutes This gave us plenty of time to enjoy the Evening entertainment around the ship Further a big shout out to cruise Director Lee and the rest of the fun Squad for doing a fabulous job keeping The energy up all Crews Lee was an Excellent host for the game shows like Family Feud and love and marriage he was Very visible throughout the ship and Always willing to say hi or take a Selfie We've noticed lately in a lot of our Cruises that it seems to be less common For the cruise directors to be out and About so Bravo to Carnival for keeping This important element of the cruising
Experience intact Another thing we really liked about Carnival celebration was the pool decks Like other new Mega ships say Norwegian Prima Carnival celebration has several Smaller pool areas to disperse the Crowds the main pool is deck 16 the Peach Pool the central Lido pool is a Lively space with music afternoon Sing-alongs and other fun Squad events Nearby are several outdoor eateries and The two-story Red Frog Tiki Bar While the busiest you could find deck Chairs on the deck 17 Sun deck or of Course chairs near the pool if you're up Early enough for something a bit more Quiet there's a Tides pool aft on Deck 16. This infinity pool and adjacent Whirlpools offer unparalleled ocean Views not to mention they are closely Located nearby the little Marketplace Shaq's big chicken and the tides pool Bar While smaller again this polarity never Seemed too busy throughout the day You'll find a similar setup on the patio On Deck 8 which features an infinity Pool and two nearby whirlpools This area is a little bit smaller and Tighter with less Sun loungers but you Can find seating on both the port side And starboard side ocean Promenade in Deck 8.
Here Cruiser only steps away from The Watering Hole Bar and a short walk Inside to the deli and Miami slice as Well as guys Pig and acre Smokehouse Brewhouse While none of these areas were too busy We tend to spend our time outside at Serenity on Deck 18. this adult's only Area encompasses a large space in fact One of the largest adults only areas at Sea This forwards on Deck features a variety Of loungers chairs day beds and other Seating options thus we never had issues All week finding a seat There's also a small pool A bar and the fresh creation salad bar Conveniently located in the center of This 18 plus space Well we didn't really see it as Necessary lastly cruises can upgrade to The loft 19. this sun deck is All the Way Forward on Deck 19. this private Space offers Cabanas whirlpools and Dedicated staff Shockingly though even on sea days none Of the pools felt overcrowded during This holiday week sailing Another thing that really impressed us About carnal celebration were the Onboard activities Our six night Crews had three ports of Call and two full sea days throughout The entire day the fun Squad was out
With a full lineup of classic Cruise Activities there were things like Several dance classes including the Jam-packed Thriller dance class in The Havana Club not to mention there were a Variety of trivia and games There were trivia sessions focused on Music Sports and general knowledge with Several sessions each day There were other organized activities Too including things like Bingo and game Shows like majority rules walk the plank And even flip copy but the cruise line Did scatter these events throughout the Ship they were held in different places Like the Limelight Lounge The Havana Club or the summer Landing While we didn't participate in many Events we couldn't help but enjoy all The fun just watching these different Activities There are karaoke sets featured during The afternoon and the evenings on Several days of the cruise Occurring at either the Limelight lounge Or the Ivana club Cruisers could show Off their vocal cords while the admiring Spectators sing along Further there was live music scattered Throughout the ship during the day and The evening There are two featured guitars Paul and Reggie which seem to rotate between the Dexix latitudes bar
And the deck 6 golden jubilee bar as did The quarro string Trio In the piano 88 and golden jubilee bars You can find Oscar or Eden tickling the Ivories The Backyard Band belted out country and Rock music at the deck 8 summer Landing And Ivana Club on Deck 8 was jam-packed With mambo magic playing Latin hits most Night of the cruise Along with live music Carnival Celebration also showcased several Comedians In fact there were five different Comedians offering several sets in the Punchliner comedy club and the Limelight Lounge On multiple nights there were adult only Comedy shows in the main theater as well Other game shows included Family Feud Deal on no deal and cash bash here Cruisers could compete for real cash Prizes Finally there were deck parties on the Lido movies on the big screen and the New evolution dance party As well as plenty of other options to Keep cruises busy day and night Honestly we had a hard time trying to Fit everything in to just six days Another thing we really liked about Carnival celebration was the diversity Of onboard activities both during the Day and during the evenings
Now there was a lot of things we did Enjoy about our Carnival Celebration Cruise but there were a few things where Carnival celebration was pretty typical Or just average in our opinion in one Area where the ship was just blah was The state Rose we stayed in State Room Ten four to six this Portside cabin was Only a few steps from the midship Elevators and a short walk or elevator Ride to most of the public venues According to the Carnival Cruise Line Website the stateroom is 205 square feet With a 44 square foot balcony Immediately upon entering room the Bathroom was so right and the closets Were to the left In all fairness the closets offered Plenty of storage with plenty of shelves And Hangers On the clothesline Continuing past the bathroom and closet The desk was to the left and the love Seat was to the right Both Furnishings were a good size and The desk had enough counter space to Double as my office and the life's Makeup area during the week Above the desk were two shelves for Additional storage for my gear The bed in our balcony cabin on Carnival Celebration was on the forward wall Facing aft and located right next to the Balcony door While there were a USBS next to the bed
We were surprised in lack of power Outlets throughout the cabin there was Only one area on the desk Further near the beds there were these Small little shelves not nightstands Which honestly were a little difficult To put things like your cell phone or Other gear on during the week Overall the cabin felt just on par with The competition in terms of size though The decor and Furnishings were rather Plain and basic the same could be said About the bathroom it was very tight and Lacked counter space and Storage Surprisingly though Our balcony felt much larger than the Appetite size It might have been due to our location As deck 10 includes additional rail Space when compared to the decks above It the balcony was deep with plenty of Room for our two chairs and a small Table so overall the stateroom met our Needs but there's nothing special or Unique about it Same could be said about the bars and Lounges on celebration There are over a dozen bars on Carnival Celebration and many of them do include Signature drink menus Although you might notice that some of The menus have different names but are Essentially serving the same drinks Further the drinks tend to be more
Caribbean inspired than they are crap Cocktails thus you won't find many Bourbon or whiskey based beverages here One of our favorite Carnival bars is the Alchemy bar located on Deck 7 Overlooking the Gateway the mixologists Here cropped up signature cocktails The sidecar N40 is new 20 cocktails were A perfect fit for us Below this venue on Deck 6 is a new Latitudes bar serving up an International menu Here you can listen to a guitarist or String Trio while you sip one of the 20 Globally inspired offerings But again many of these tricks are Pretty standard across bars both on land And on other Cruise Lines Still some of our go-to's here were the Old-fashioned the Sazerac and of course The life's favorite cosmopolitan Bar 820 on Deck 8 captures a Vibrance And diversity of Miami With tropical ingredients and neon Lights the venue features Cuban coladas Classic specialty coffees And cafesitos It's a great spot for pre or post dinner Drink After heading to one of the nearby Specialty restaurants Craft beer and fresh drafts are on top Of guys Pig and anchor Smokehouse Brewhouse after that gate
Not to mention venue has regular live Rock and country music New to Carnival celebration is a golden Jubilee bar this retro cocktail menu is Reminiscent of the classic style of Cruising that was popular during the Early 20th century It was actually one of the bars we Frequented the most Scattered throughout this port side deck 6 venue are some historic artifacts from Carnival Cruise Line's 50 years of Sailing Many of the other bars found on Carnival Celebration are familiar favorites for Those who Cruise quite often on Carnival Cruise Lines there's Latin inspired Havana Club shaking things up with a Theme menu and live music most nights at The cruise There's a Heroes tribute bar paying Homage to those who have served in the Armed forces although this Lounge is Basically a small cutout section of guys Pig and anchor Smokehouse Brewhouse Piano 88 Blends live piano music with a Variety of drinks each evening And cruises can also order up cocktails At the punchliner comedy club and Limelight Lounge Outdoors there's a two-story Red Frog Tiki Bar which serves a rum-based tiki Inspired menu Other outdoor bars include the tides bar
On Deck 16 and The Watering Hole on Deck 8 located right next to the pools and Whirlpools as well as the tiny bar Featuring sangrias on Deck 18. While not the most inspiring lineup Needless to say we didn't have any Issues using our 15 drinks on the Carnival cheers ring package during this Cruise Wally enjoyed many aspects of our Carnival Celebration Cruise there were a Few areas where the cruise ship really Let us down Chief among them was the main theater Entertainment This Cruise review we made a point to See every single show during the six Nights there were four signature shows Two are featured in the main theater The grand Spectrum theater on Deck 6 and The other two were presented on Center Stage in the celebration Central Zone on Deck 678 Honestly many of these shows felt like Shows you would see on a cruise ship That was 10 years old And didn't really compare to the Spectacles and Broadway caliber shows You see on other Mega ships from Royal Caribbean or Norwegian Cruise Line In the main theater the playlist Productions cast presented more Cubano And calamari world each production Occurred on two different evenings with
A total of three showtimes Maura Cubana Was a typical cruise ship review show Featuring classic and contemporary Latin Music this production fell short when Compared to the great entertainment Offerings on other Cruise Lines Color My World was a little bit better The show had a bit more narrative the Song selection was more in our jukebox And it Incorporated some Modern digital Elements to help the story come to life Still it didn't compare to the Performances on our recent celebrity Beyond Cruise which had a very similar Show In the celebration Central Center Stage Is home to the more Dynamic Productions These include two performances of Celestial strings and the most Magnificent circus Heidi and I enjoyed these shows more Than the theater Productions Featuring a different cast these shows Included more props aerialists and Unique elements for a more immersive Experience These shows were more in line with the Baseline shows you would find on other Cruise Lines Celestial strings takes the audience on A journey through the seasons while the Most magnificent circus is an intriguing Variety show with magic dancers acrobats And singers
The latter was my favorite of all four Shows We like the idea of Celebration Central But the space is not ideal for shows There's not much seating near the stage And there are several areas that have Obstructed views Not to mention it's almost impossible to Find a seat there unless you show up 45 Minutes before Showtime so make sure to Show up extremely early if you even want A chance at securing some prime seats And perhaps the biggest letdown on our Carnival Celebration Cruise was the main Dining room and Specialty dining With your time dining Cruisers use a Carnival Hub app to join a virtual Queue At either the festival in dining room Chibang or Cachino Del Capitano We entered a virtual queue to reserve a Table whenever we were hungry for dinner The app gives you an estimated wait time And in our experience the way times are Fairly accurate and we never waited more Than 10 minutes for a table when we Dined around 6 pm on most evenings We dined in the main dining room twice Chi bang once and cucino Del Capitano Once and unfortunately we were not Impressed with any of our visits We died in the main dining room for the First time then the cruise Line's first Elegant night While the lobster tail was pretty
Typical the primer was dry and tough Our second attempt at the mdara was Thanksgiving the meal of this night was Very disappointing and did not compare To the Thanksgiving meal we had on Oasis Of the Seas previous year The apps and desserts at the main dining Room were on par with other cruise lines But nothing really impressed us except The cruise Line's signature chocolate Melting cake Currently Carnival Cruise Line has Brought in the options for complimentary Dining and its Excel class ships on our Sailing both chibang and Cucina de Capitano for a complimentary The meals here were better than the main Dining room but neither of them were at The caliber of a specialty restaurant on Other Cruise Lines So hopefully the cruise line doesn't Start charging for these venues Chibang is a mix of Asian and Mexican Cuisine Heidi and I enjoyed the food here but Given the basic offerings and up charge Of this venue doesn't seem appropriate As a food here we're slightly better Than the street eats food offerings you Could get during the day for snacks Likewise the Italian cuisine at Cocina Del Capitano was freshly prepared and More flavorful than the main dining room Yet it doesn't even compare to Specialty
Venues like Anda on NCL or Giovanni's Italian Kitchen on Royal Caribbean Overall the trend of sub par main dining Room food quality across the board in 2022 continued on our Carnival Celebration Cruise Similarly we were not impressed with the Specialty dining on the ship For this Cruise we've done it two Specialty restaurants for dinner and one For lunch Pre-cruise we made reservations at the Steakhouse Fahrenheit 555. and Rudy's Sea Grill While both these meals were better than The main dining room The restaurants had rather simple menus And lackluster food preparation Especially when compared to other Cruise Lines steakhouses and seafood Restaurants The fahrenheit 555 Steakhouse offered Classic Cuts and sides although the food Here did not rise to the level of other Steakhouses are Brands like Princess Cruises or Celebrity Cruises My filet mignon was properly seared to a Medium-rare temperature It was lightly seasoned and I had no Complaints about the portion or the Flavor Though the pork belly tuna tartar and French onion soup were not all that Flavorful
Heidi's chicken dish and the sides were Very basic as well my dessert was better Than expected the apple tart had a Slightly sweet filling that complemented The vanilla ice cream and Flaky crust Likewise the menu at Rudy seagrel was Not very inventive either especially When compared to Rudy's restaurant and On America line fry calamari appetizer Was hot and crispy but not as flavorful As I would have expected The raw oysters were uninspiring as well Although my crab stuffed lobster tail Imperial was far superior to the lobster Tail served in the main dining room This entree was more akin to a meal you Would get a specialty restaurant on Other Cruise Lines I also enjoyed the apple cheesecake Dessert given the price tag food quality And availability of other complementary Options on the ship we would probably Skip specialty dining on future Excel Class ships We also tried launch at Emerald's Bistro Bistro I had high hopes for this venue And sadly it did not live up to my Expectations The a la carte menu here featured New Orleans specialties But the two menu items I ordered were Nothing like their counterparts on land The fried oysters had a thick heavy Batter and were no better than the main
Dining room option a shrimp poor boy was Similarly disappointing although the Beignets were a light Airy and sugary Exception and well worth the upcharge Now if you're not sure if Carnival Celebration is right for your next Cruise vacation why not check out our Recent review for the world's largest Cruise ship wonder of the seas in that Cruise review we cover it all from the Dining to the entertainment bars and Lounges On-board activities and more we detail What's like sailing on the world's Largest cruise ship Royal Caribbean's Wonder the Seas to help you decide if That ships right for your next Cruise Vacation